Move over, World Cup. The fur will fly Thursday when Animal Planet kicks off its first-ever "World Pup", a cuddly competition that pits 16 dogs — paw-to-paw — in a battle of downright cuteness.
Much like the Puppy Bowl is to the Super Bowl, the online tournament is the network's canine take on the 2014 World Cup, which gets underway Thursday in Brazil.
"The World Cup is so exciting because tens of millions of people from around the world watch in anticipation of their country's performance and pin their hopes and dreams to the outcome," Miguel Monteverde, Vice President of Digital Media for Animal Planet, told TODAY.com. "We thought 'Why just soccer? Why not puppies?'"
For these four-legged matchups, fans will get a chance to vote for countries based on the dog breed that represents them. Furry ambassadors include Belgium's Brussels Griffon, Portugal's Portuguese Water Dog and Germany's Dachshund.
Fans can visit the event's site to watch clips about the canine contestant's breed before casting their votes.
"One of the great things about an international event like the World Cup or the World Pup is that you end up learning things about your neighbors overseas," Monteverde said. "At its core, we think people will learn about breeds they didn't know before."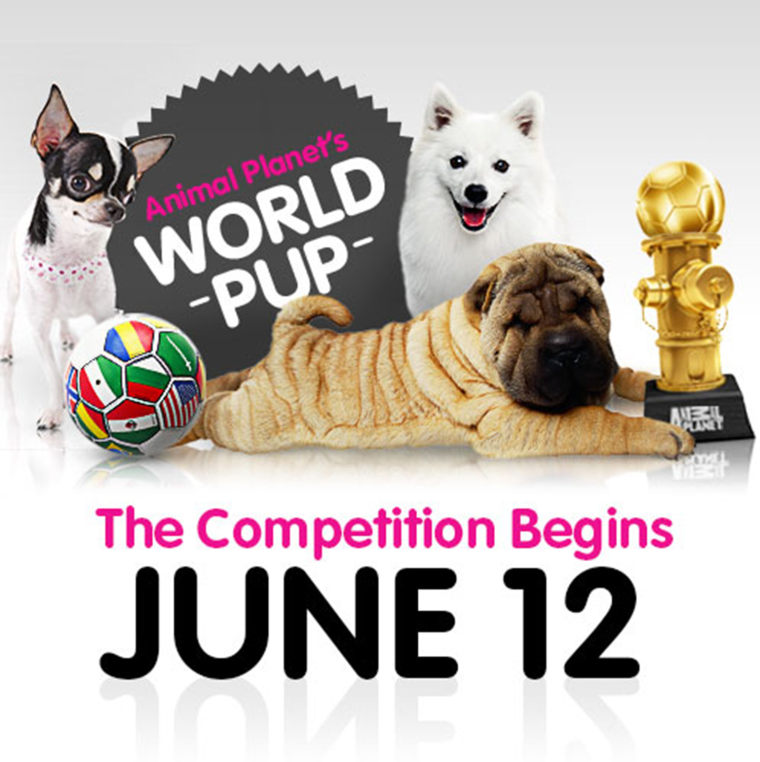 The first two matchups pit Spain's Great Pyrenees against Netherlands' Keeshond and Cameroon's Basenji against Mexico's Chihuahua. Voters can either fill out brackets or take to social media, like Twitter, using each dog's hashtag.
So if you fancy the French? Then the French Bulldog is the way to go. Feeling patriotic? Throw a bone to the Alaskan Malamute.
Each single-elimination round will last for a week and reduce the field of competition in half. The "top dog" will be announced July 10 at AnimalPlanet.com.
"We're not sure if people will be voting based on breed popularity or if they'll show national pride and vote for their own country," Monteverde said. "We just don't know how this will play out, which is what makes it fun."
Even the adorable stars of Animal Planet's L!VE's Puppy Cam are getting in on the action by kicking around a few balls themselves. 
Organizers are hoping the puppy showdown could be a predictor of the actual World Cup champs, in the way that Paul the Octopus predicted victors four years ago.
"You never know," Monteverde laughed, "but how crazy would that be?"