Rebecca Hernandez and her husband, Frankie, adopted Apollo the dog together when he was just a tiny puppy. That was four years ago. Frankie Hernandez was in the Marines, and the three lived together in California.
Frankie and Apollo were inseparable then. So much that Apollo would get jealous when Rebecca, who is 25, cuddled her husband on the couch.
"He would come and sit right in between us. It was adorable," she told TODAY in an email.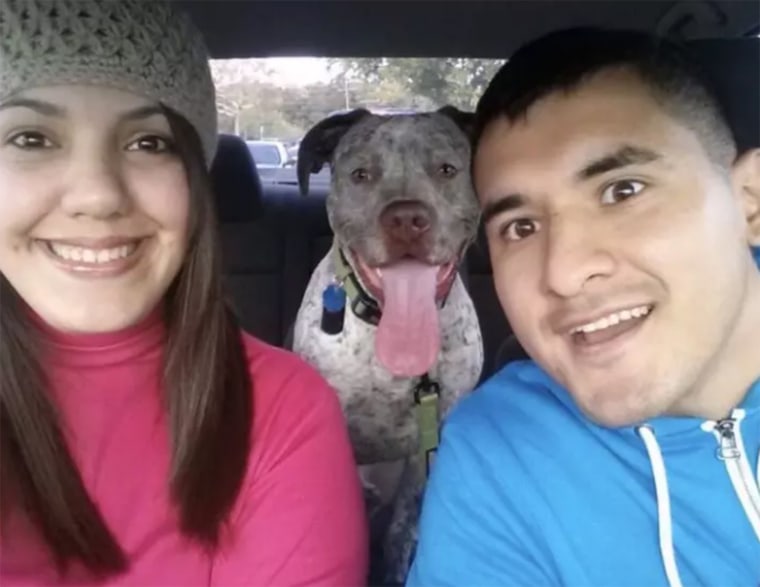 The couple split up in 2015. They'd been high school sweethearts who married young — in 2012, when Rebecca had just finished college.
Somewhere along the way, they just "sort of grew apart," she said. Now Rebecca and Apollo are in her hometown of Mercedes, Texas. (Apollo lives with Rebecca's parents there, since her apartment complex doesn't allow pets.) Frankie, no longer in the Marines, is living in Houston.
But the 26-year-old doesn't let the distance stop him from celebrating Apollo.
RELATED: Pit bull with a heart 'too big for this earth' needs a home
It was recently the dog's fourth birthday. Like usual, Frankie sent his beloved pet a sweet birthday card — as he's done for every birthday and major holiday since the breakup.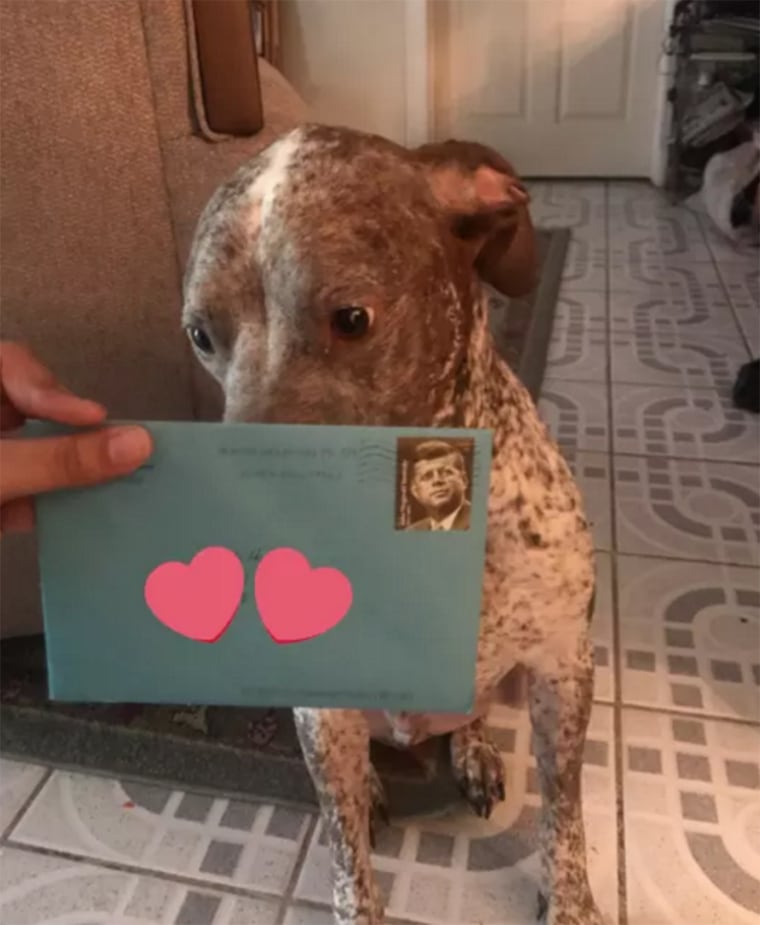 In his latest note, Frankie told his dog he "loved every moment" of watching him grow up from "a puppy that fit into the palm of my hand."
He shared more tender thoughts and memories before closing — by asking Apollo to "continue to be there for her like you were for me. I miss you buddy. See you when I see you. Love, Dad."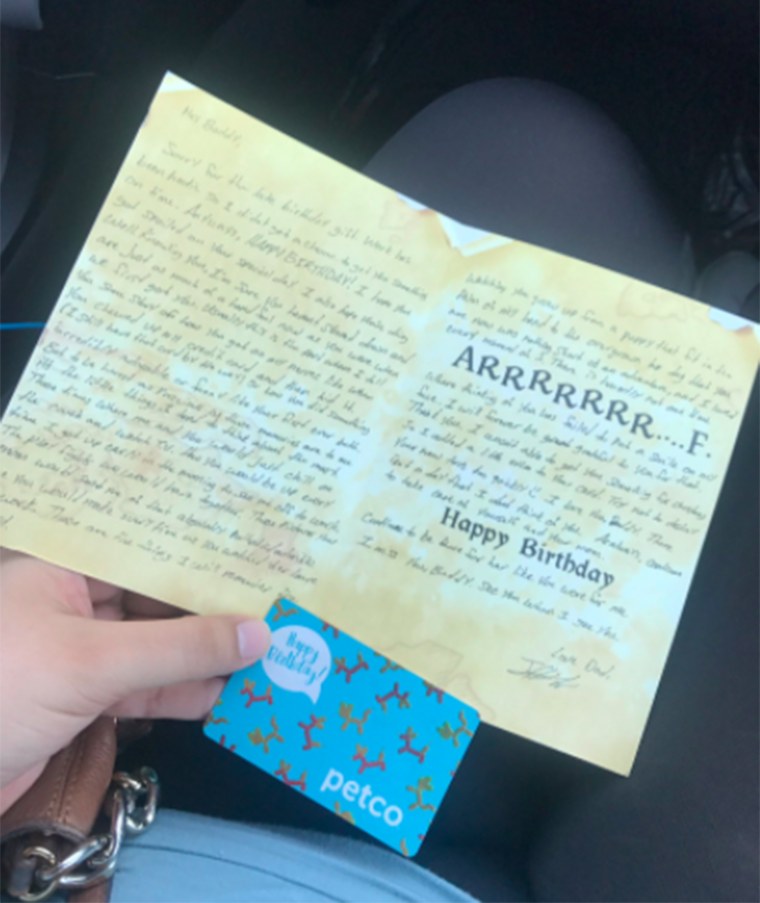 Rebecca was deeply moved. She tweeted photos documenting the touching gesture on April 17.
"My ex and I split up two years ago and he still sends our dog, Apollo, a birthday card and gift card to Petco on his birthday," she wrote, along with the hashtag #NoBadBlood.
Soon it wasn't just her and Apollo feeling the love. The tweet spread far and wide. Folks from all over began urging Rebecca and Frankie to give it another shot.
It's gotten so intense that the other night, when Rebecca was out to dinner at Chili's with her parents, a stranger even approached to say she'd seen the tweet.
"Then she gave me the biggest hug," Rebecca recalled, "and said, 'I hope you guys can work things out. We are rooting for you.'"
RELATED: Patrick Stewart isn't adopting his foster pit bull for this sad reason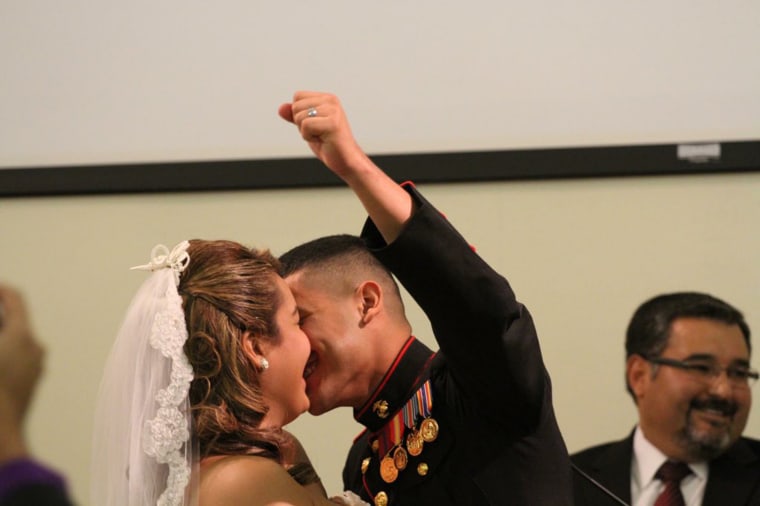 Frankie told TODAY he sent this card — all the cards — because he misses and loves his dog. Truly, that was the primary reason.
"I genuinely wrote those cards to wish my dog a happy birthday," he said.
But it wasn't the only reason. He also wanted Rebecca to know that he was there, if she needed him, even after all this time apart.
"I wasn't going anywhere," he said. "I could either keep being bitter and prideful. Or I could let it all go and humble myself and set all that bitterness and hurt aside to show not just Apollo, but my wife as well, that I was there if they ever needed me."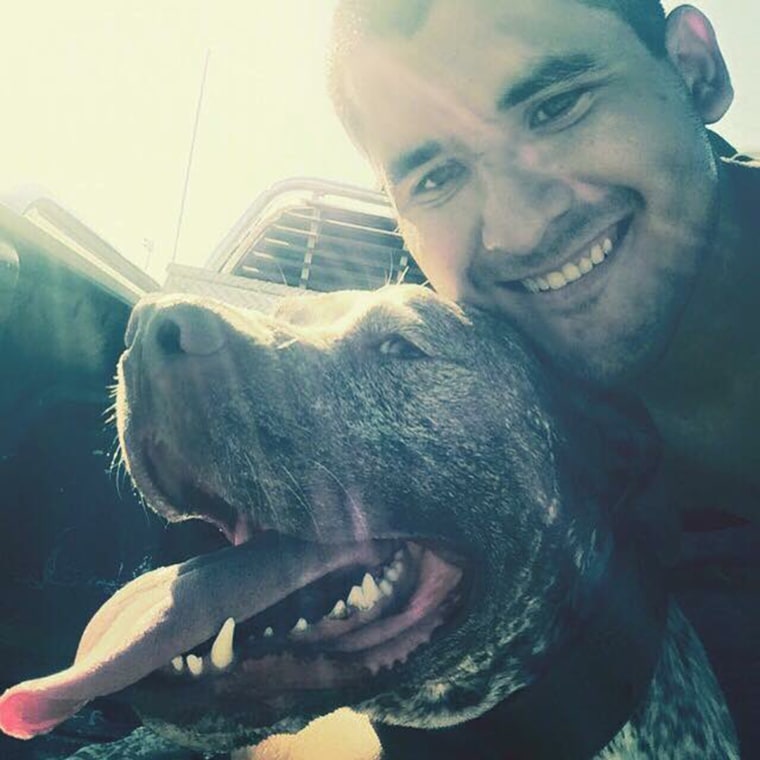 The thing is that just before Frankie's card arrived, Rebecca had been thinking a lot about Frankie.
Neither she nor Frankie had ever filed for divorce, despite being separated for a couple of years. Lately, she'd been feeling "incomplete," as she put it, "because I was missing Frankie."
"I had been asking for a sign from God, and then when the tweet started going viral and I started getting all these messages, I couldn't help but wonder: Is this the sign I've been waiting for? Was this the encouragement I needed to stop being scared and try again?" she said.
So after receiving the card, after the tweet, after being asked by a stranger at Chili's if she and Frankie could try again, Rebecca reached out to her ex.
RELATED: One man's mission to help injured dogs with wheelchairs
They spoke on the phone. Talking to him just felt right, she said.
Then Frankie suggested that the two get together in Austin for the weekend to see a motorcycle championship race (without Apollo, sadly, because the event doesn't allow dogs).
They went last weekend. "And so far, so good," Rebecca said. "I guess you can say we are seeing where this road leads us. We are both hoping it leads to nothing but happiness with one another — the way we dreamt of as teens."
The two already have plans to meet up again next week. After their story went viral, Petco sent the perhaps-once-again couple a gift card for a restaurant in their hometown. It's dog friendly.