When Kellan the Irish wolfhound first came home a couple of years ago, the resident house cat named Matteo showed him the ropes: where to sleep, the right way to snuggle, how to behave agreeably when human mom, former Miss Delaware Kate Banaszak, dresses them in costumes, and so on.
Kellan learned his lessons well. Here he is, ready to party on!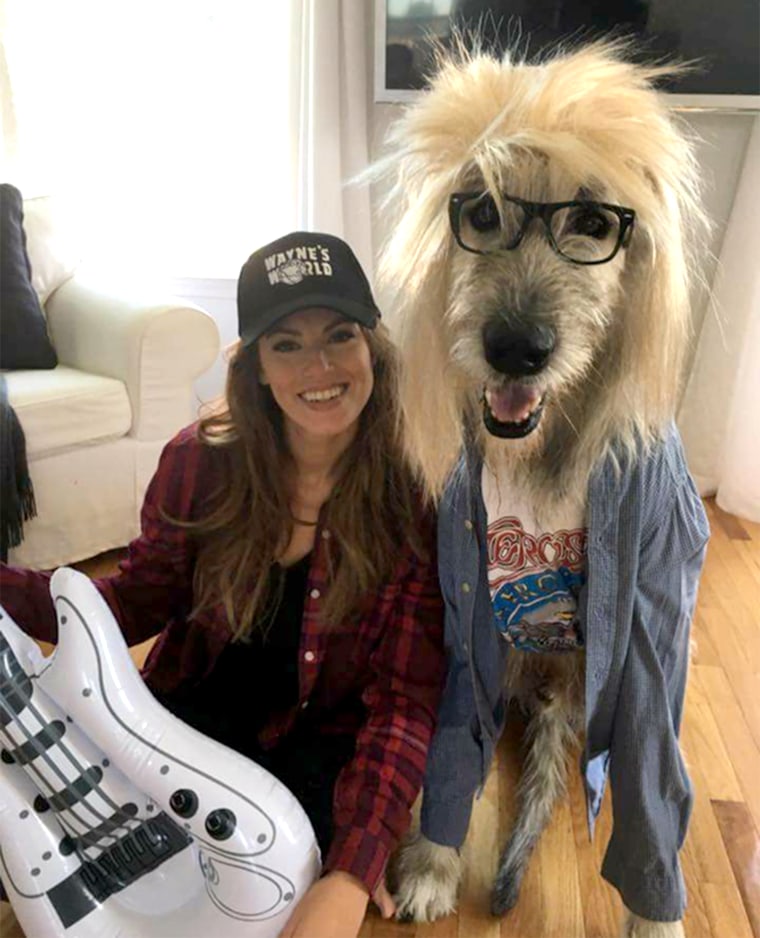 You've probably seen this excellent "Wayne's World"-inspired picture, taken a few days ago, shortly after Banaszak got this year's Halloween costumes in the mail. (Hi, they're in Delaware.)
"We love going to local pet costume contests, and there are a couple coming up, so I wanted to make sure everything fit," Banaszak, 32, explained to TODAY in an email.
RELATED: This rapper sings about his love of cats — and it's mew-sic to our ears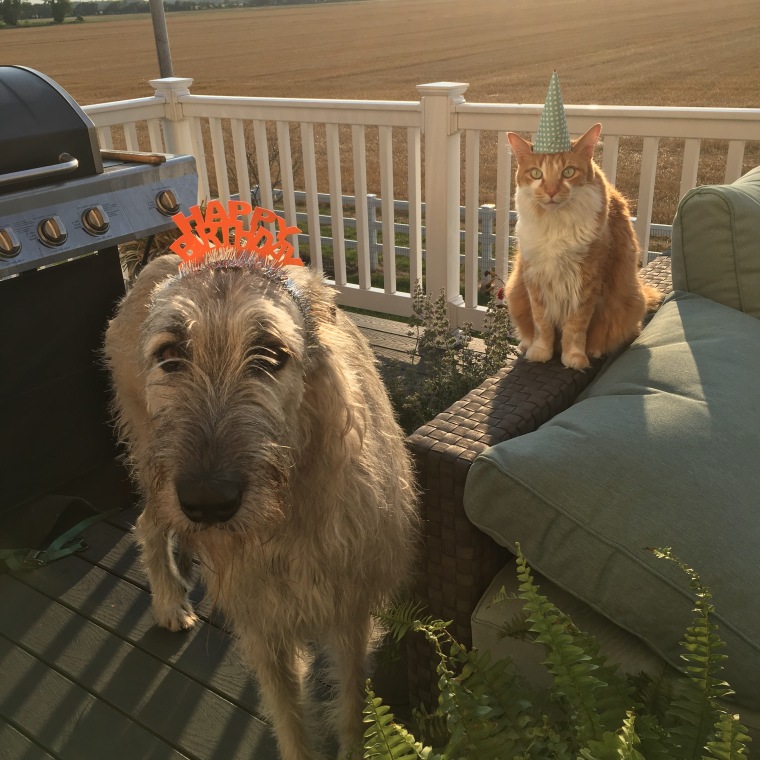 Banaszak's husband took a photo, which she posted to her own Facebook page, and another for dog enthusiasts.
Because it is so delightful, someone shared the pic on Reddit — and you know how it goes from there: Viral majora.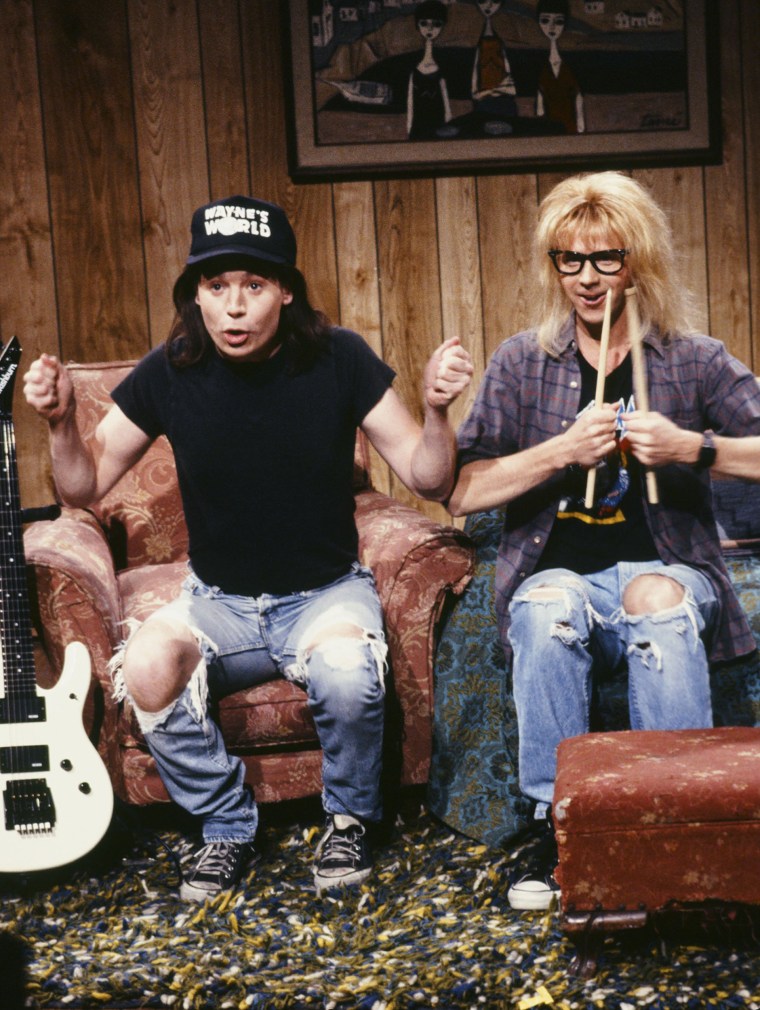 RELATED: Golden retriever gets adorable maternity photo shoot (and 11 puppies!)
For anyone doubting the photo's authenticity, Banaszak says she doesn't even know how to use Photoshop. And there's no doubt the Irish wolfhound is one big dog: The American Kennel Club considers it to be the tallest of all breeds.
Kellan is no exception. As a blond, leggy, 140-pound canine, he's used to being admired, of course.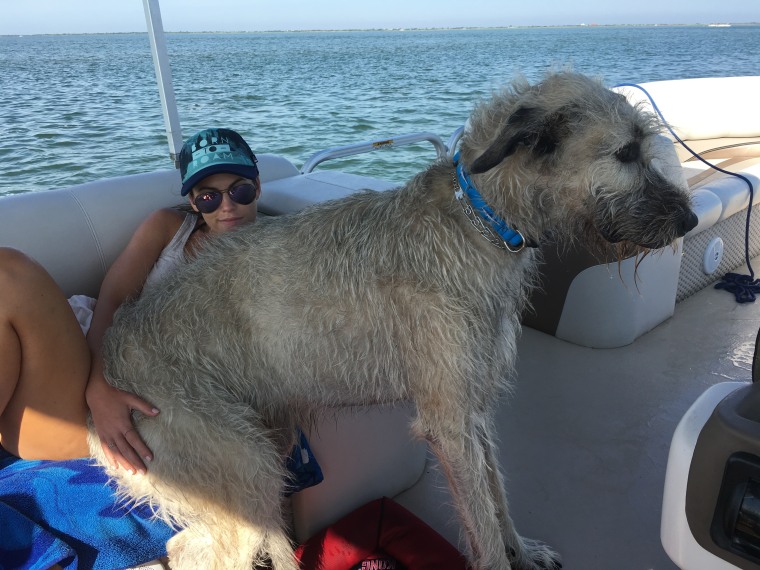 "Honestly, my husband and I take Kellan everywhere with us, and we joke that we can't make it 5 feet down the street without being stopped by someone who wants to take photos or ask questions," said Banaszak. "Kellan really is like Garth Algar. He's just enjoying the heck out of every moment and making people laugh without trying."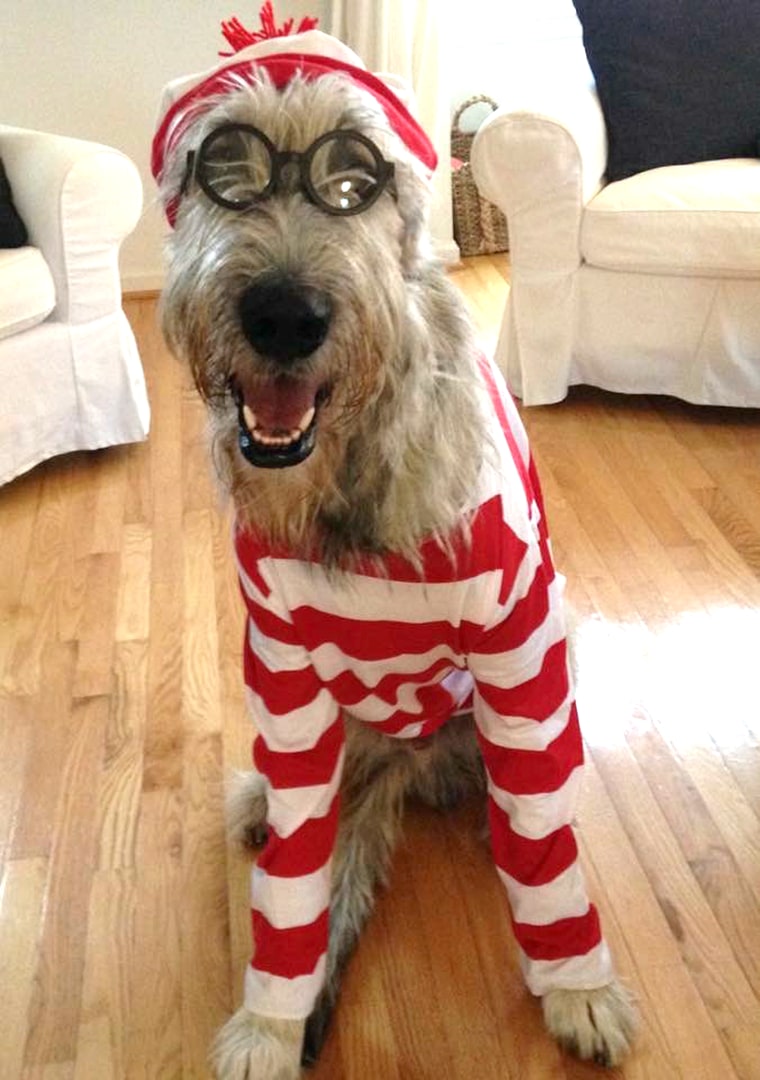 Being a former Miss Delaware means that Banaszak is no stranger to attention, either.
But this picture becoming such a hit has given her a new opportunity to share some insight she's gained in her more private life, as a person who lives with animals, and a veterinary technician and manager of an animal hospital.
RELATED: How TODAY's puppy, Charlie, spends his mornings — starting at 4 a.m.!
"In my line of work, I've found that many pet owners just kind of coexist with their animals, and that is as far as the relationship goes," Banaszak said. "I'd love for people to see our photo, and decide to go do something fun and unexpected with their pets."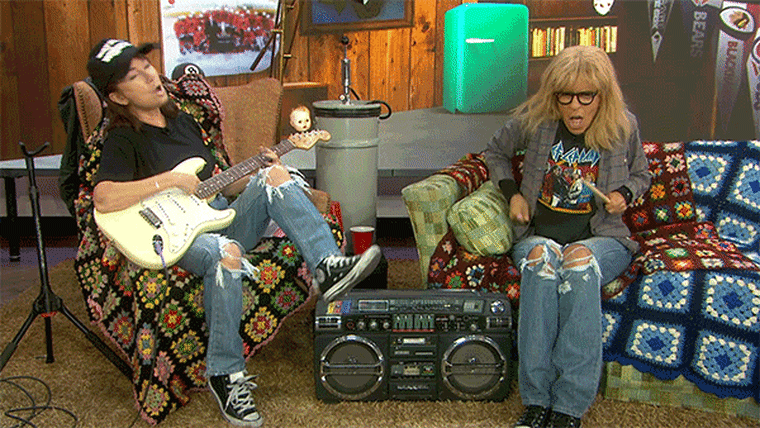 Something else Banaszak would love: If the original Wayne and Garth, Mike Myers and Dana Carvey, were to happen upon the photo, and find a way to let her know they liked it.
"If I heard from either one, I think Kellan and I would bow down and quote 'Wayne's World,'" she said. "We're not worthy! We're not worthy! Seriously though, I'd lose it. I'm a big fan of both of those guys."