When I got the call to co-host the 138th Westminster Kennel Club Dog Show, I jumped at the chance. Like so many people, I get sucked in each year to the live coverage. I love the dogs, I love their stories, I love it when a pup goes rogue and stops to scratch an itch. And, I love my dog.
I am the proud Mom to Jake, an 11 year old rescue. We think he's some sort of an Australian shepherd/husky mix, with a few other breeds and varieties thrown in for good measure. He gets a bath at the vet, we never followed through on the full puppy obedience training (though he's a very good dog)...he's about as far from a show dog as you can get, or so I thought. How wrong I was!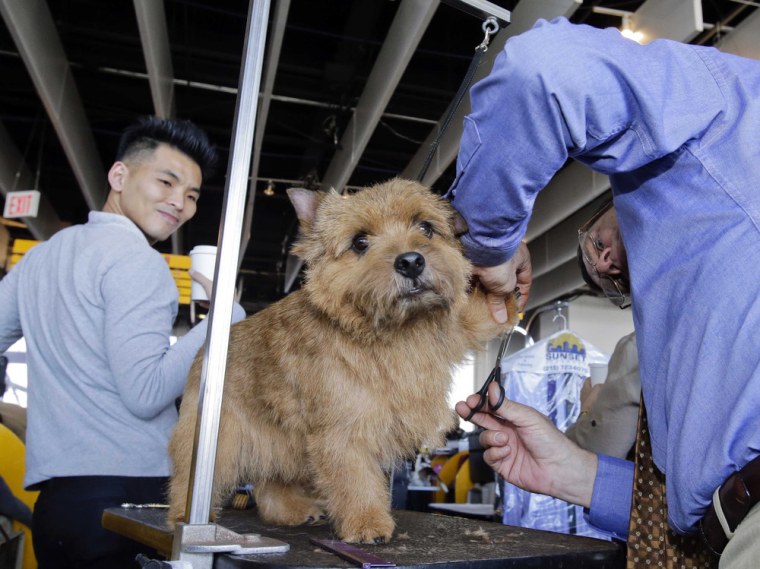 I admit, I was most curious about the dog show pampering. Yes, I've seen "Best in Show." Yes, I love a little pampering. The hair and makeup teams at TODAY are magicians; I would be lost without them. But, like many, I wondered if the dogs were into it. Here's what I learned backstage at Madison Square Garden.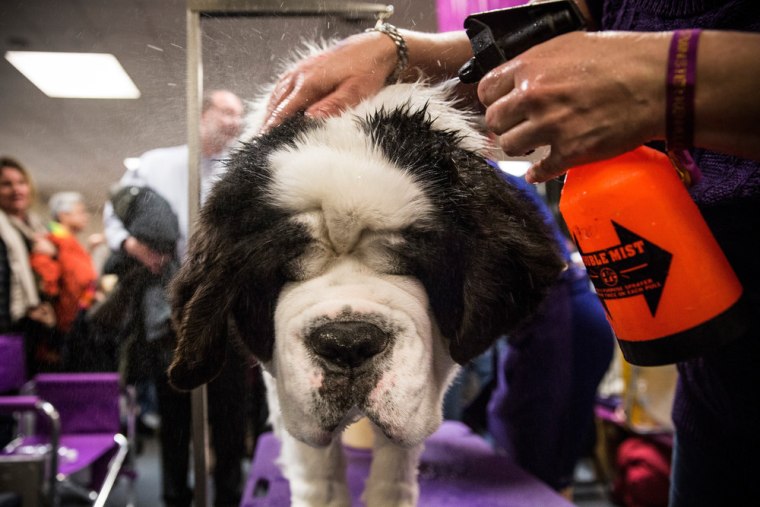 1. Every dog loves a good belly rub or a scratch behind the ears...and as far as I could see, they also enjoy a good brushing.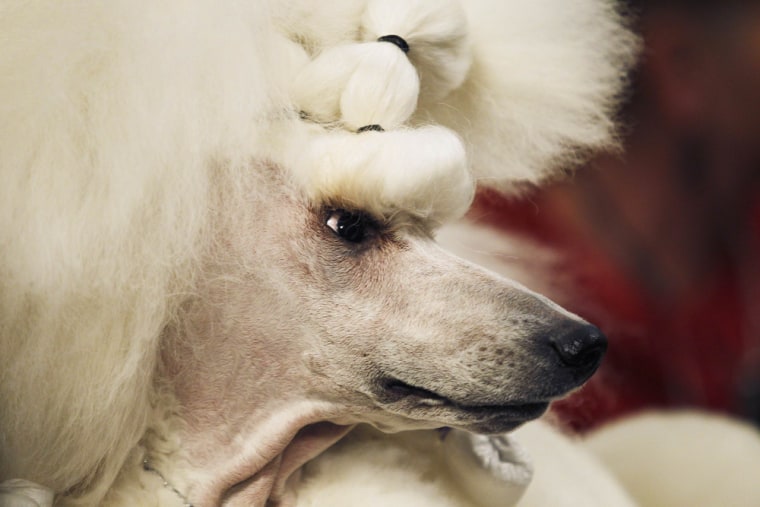 Ally, the Standard Poodle who won the non-sporting group, was so mellow as she had her hair done I thought she was napping. She's retiring after this event, so maybe she was pondering her next step, but I think she was actually just in her zone, relaxed and feeling loved.

Pampering: 1, Hill: 0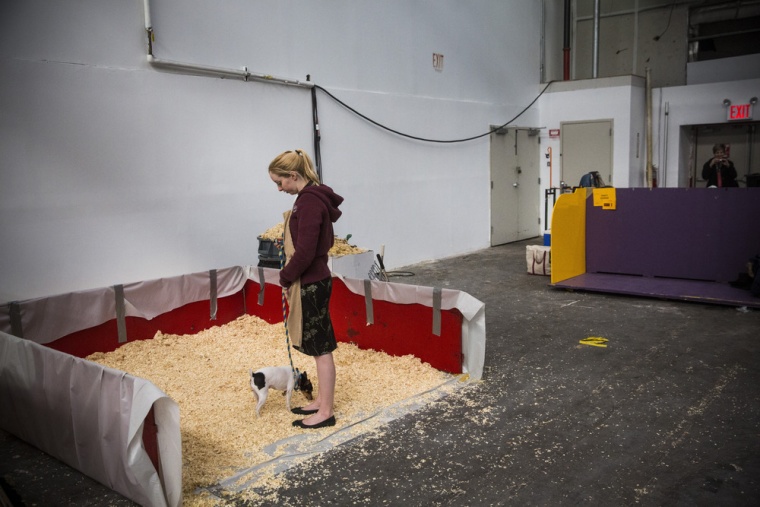 2. Where do these dogs go when they need to, eh, "go"? It's a long walk to get outside, and we're at MSG, in the heart of a concrete jungle — not exactly a lot of green space around these parts. I shouldn't have worried; it's all taken care of...and here's the photo to prove it.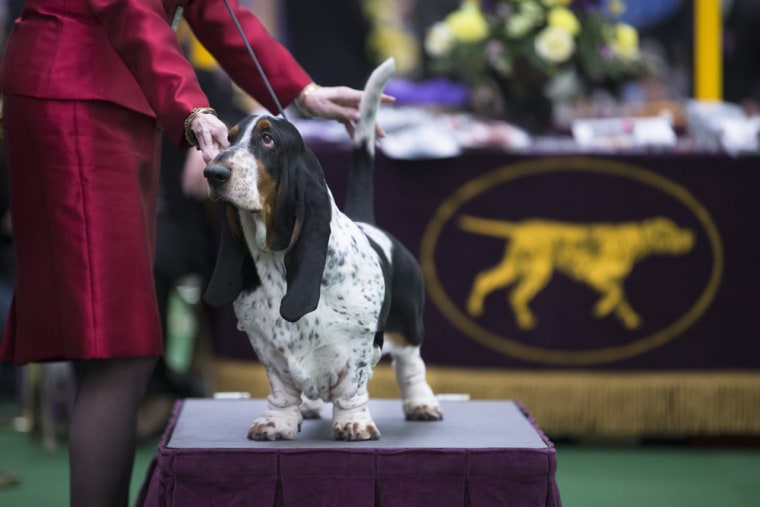 3. People love beagles. A lot. And bulldogs and basset hounds. Something about those little faces makes the crowd go wild. Not to be outdone just because his breed doesn't start with a "B," the German shepherd also had the crowd roaring. Those four definitely got the loudest, most spirited reaction on night one.
4. When you're sitting in the broadcast booth on the floor, you can actually hear the judges. And they're very nice. I though they would be uber serious, barely speaking to the handlers. I wondered whether they were even allowed to speak to them. Turns out they can, and they do! Of course, they can't say anything that could be misinterpreted as somehow offering one dog an advantage, but that doesn't mean they can't be pleasant. I heard Keke Kahn, judge of the toy group, congratulate each handler, smile and chat kindly. Everyone seemed a bit more relaxed and comfortable than I would have imagined. Remember, this is a HUGE deal — it's THE event of the year. I loved my front row seat to the action.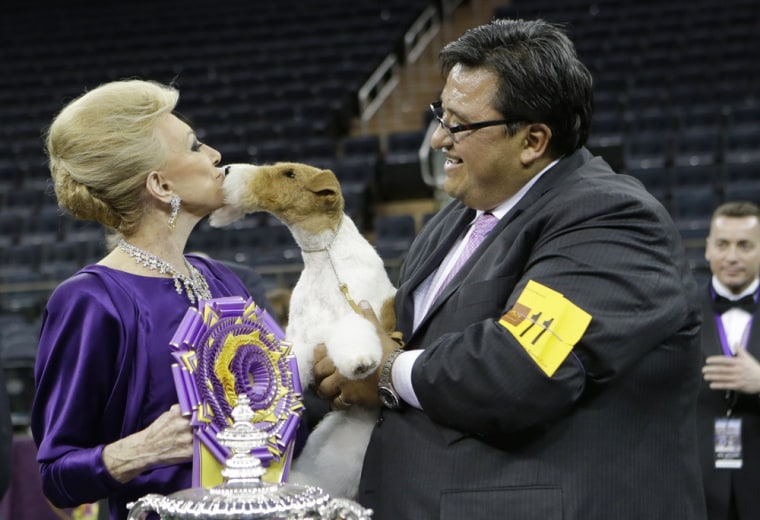 5. These dogs do not spend their days flitting about between the groomer and shows. In their down time, most of them do exactly what they were bred to do, whether it's herding cattle on a 140 acre farm (or in some cases, herding a toddler around the house), assisting with a hunt or warming the heart of their human companion. Champion dogs, they're just like Jake! Who will always be MY Best in Show.
If you ever have the opportunity to see the Westminster action in person, do it! You won't regret it.