Jennifer Garner might be a Golden Globe winning actress and full-time mom to three young kids but she still makes time to fulfill smaller dreams, like reading bedtime stories to her golden retriever.
The 45-year-old celeb films and produces adorable bookworm sessions with her beloved pup Birdie in a segment she calls "Books with Birdie."
Garner posted her latest episode of the amusing pastime on Instagram Friday, but it all began in October with a similar scene featuring a different book.
"There are so many festive Christmas books to put a jingle in your giddy up," the "Miracles from Heaven" actress wrote in her caption before offering a list of "Birdie's faves." Garner and Birdie recommend "Silver Packages" by Cynthia Rylant, "The Little Reindeer" by Nicola Killen and "The Finest Christmas Tree" by John and Ann Hassett, among others.
The silly and sentimental video offers a passionate reading of "The Elves and the Shoemaker." Despite Garner's enthusiastic tone and keen eye for foreshadowing, the holiday book put Birdie right to sleep before the much-anticipated ending.
Garner's festive reading showed off all of her sweetest qualities and revealed her inner geek. In her first installation of "Books with Birdie" in October, the dog mom confessed the story behind her love for reading.
"I grew up wanting to be a school librarian and children's book author," she wrote to fans in her caption. "To date I have accomplished neither — but — that doesn't stop me from making must read lists for my friends. After all, there is nothing more important than reading to your kids. Unless you have a dog."
Garner inspires fans to keep working toward a dream — no matter how small — and to curl up with a good book to release unnecessary holiday stress.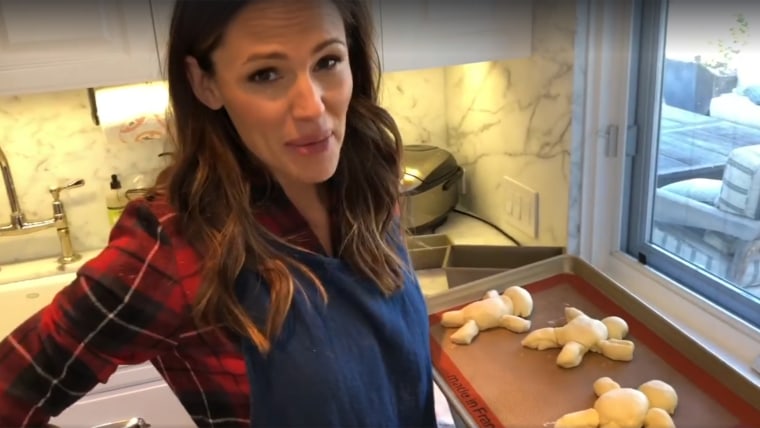 Earlier this week, Garner even made time to unwind with some bread-baking fun, sharing a "Barefoot Contessa"-inspired tutorial.
Her adorable videos might not be the best source for practical advice but she certainly offers a taste of free-spirited cheer this holiday season.