Offy the dog was 13 years old, and very unwell. He'd always loved to swim and play. But about a year ago, the German shepherd wasn't eating well, and had a hard time getting up.
Tests revealed that Offy — his full name is Ofbakische — had a big tumor on his spleen, and another smaller one on his prostate, on top of other chronic health problems. The veterinarian suggested humane euthanasia, but Sharon Lynn and her fiancé wanted to give Offy a last trip to his favorite spot by the river, so they put that final decision off.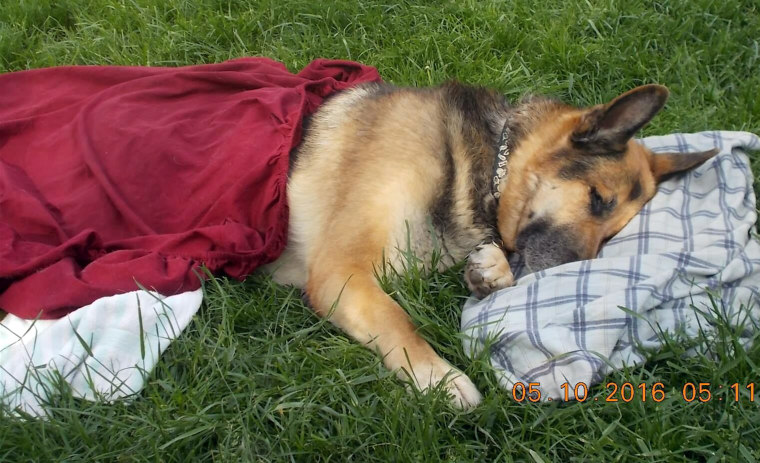 "We tried to get him to eat, he wouldn't; we tried to get him to walk, he wouldn't, and I asked for prayers," Lynn told TODAY in an email.
One of the places Lynn sought support is a message board for a group called Fur Angel Blessing Blanketeers — people who make blankets for sick and dying pets.
Linda Nadeau immediately volunteered to make Offy's blanket. To honor his dearest activities, she decided to make the blanket out of a printed fleece, showing "a pond with frogs, turtles and water loving critters," Nadeau said.
Then, because she and Lynn lived less than an hour apart in Pennsylvania, Nadeau personally delivered the blanket.
"My husband drove me there," she said. "I was so filled with emotion I could not stop crying to drive myself."
Offy was in his crate when Nadeau arrived. She laid the blanket on top of his body, touched his face and prayed for him to be comforted and healed.
"It was a very spiritually and emotionally overwhelming experience," Nadeau said.
Said Lynn: "It was very emotional to witness."
Fur Angel Blessing Blanketeers got started about 2 1/2 years ago. It began as an offshoot of church group that crocheted shawls for people in the community who were suffering. A few animal lovers thought the practice could also translate to pets.
Some volunteers crochet or sew, while others make fleece blankets that can be tied with knots and don't require skills with a needle. The blankets are meant to bring some peace to recipients — to the pets, while they are alive, and to the people who love them if they should die.
"Each member puts love and healing prayers into each movement, every moment they are making the blankets," said Susan Abbott, who lives in Tennessee, and is one FABB's five administrators. "The blankets are actually to me more of a symbol, just a vessel to deliver the love and healing powers."
When the group launched, it was hoped 100 people would want to join. Now, there's just under 4,000 participants living all around North America, and sending off hundreds of blankets per month to folks who put in a request via the group's administrators. Some blanket-makers share religious beliefs, others are atheists and nonbelievers. Volunteers also cover costs for materials and shipping, though the group does have a PayPal account for donations to help members with postage, and for urgent cases in which blankets must be sent quickly.
"Everyone is welcome. You just need to love fur babies," said another FABB administrator, Lynn Peterson, who lives in Canada.
Dogs and cats are the most common recipients, but there's also been a horse and a pig. Owned pets, as well as shelter animals and others still waiting for homes of their own, are all eligible.
"We send prayer blankets and pray for any dog or cat that is sick, injured, abused, emotionally and physically," said Peterson. "We would never say no."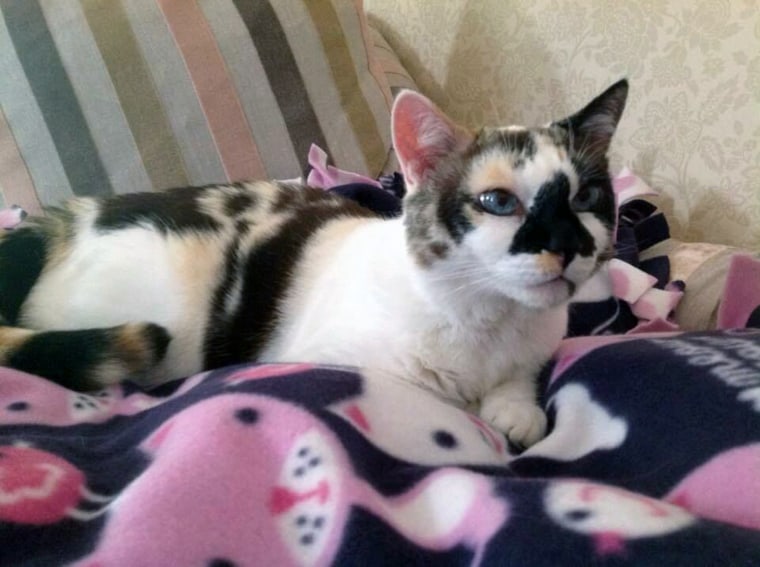 Amanda Dowell, program director for the Texas-based Long Way Home Pit Bull Rescue, takes in a lot of homeless dogs who haven't had easy lives, and aren't in the best condition. Some of them have never seen a vet before; some have never been inside. Many have been abused.
Getting a blanket made just for them can help these dogs start realizing their lives are different now.
"Love and comfort are the two easiest things we can show them from the beginning, and the blankets help us to do just that," said Dowell.
Many involved have both made and received blankets.
Judith Meek, in the Chicago area, belongs to that category. She received her first FABB blanket for her dog Maeve in 2015, before Maeve went in for some surgery to correct a stomach problem, then another for her dog Jack whose skin was causing him trouble. Meek was so moved by the blankets, she began making them for others.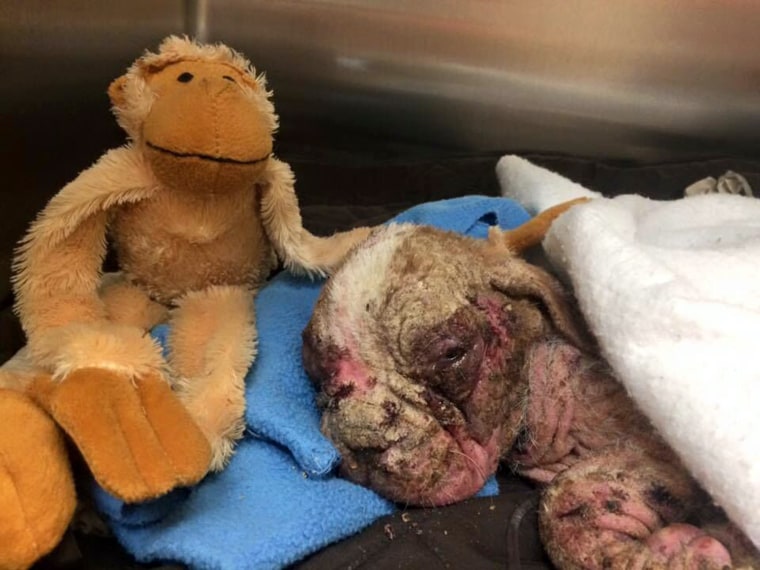 Meek estimates she's made more than 400 blankets in two years. ("I'm retired now so I have a little extra time," she said drily.) She uses happy colors and patterns, selected to reflect the dog's personality, and encloses a stuffed toy, a card, and sometimes a religious item in the package.
"We live in a hard world," Meek said. "Maybe I can make just a little bit of a difference."
These days — a year after Offy's veterinarian recommended euthanasia — he is still with Sharon Lynn and her fiancé.
The veterinarian recommended against surgery, so his tumors are still in place. Offy takes pain medication, and his hind legs are losing strength; Lynn has a dog wheelchair on hand if it's needed.
But Offy is back to eating well. He can't really swim, but likes to lie in the water in a special doggy pool. He seems happy, and Lynn is grateful. She calls Offy her "heart dog," and treasures and marvels at every extra moment they have gotten together since that day when the end seemed so near.
"I will always say his prayer blanket that was filled with so many prayers and love was how the miracle happened," she said. "I can never thank this group enough for helping my Offy and us."