Just days after a photo of a shelter dog named Chester went viral, his five-year wait to be adopted ended with a trip to his forever home.
Chester, believed to be a 7- to 9-year-old pit bull or bully pit mix, had been passed over for adoption in favor of other animals many times, but staff at the New York animal shelters where he lived didn't give up.
Convinced he'd be a great fit for a lucky owner, Southold shelter manager Gabby Glantzman collaborated with animal-shelter promoter Valerie Sanks to take a photo of the pup beside a handwritten cardboard plea and posted it to Facebook.
"Why doesn't anybody want me?" read the message, tucked under Chester's head and right paw. "I've been waiting 5 years. Everyone at the shelter tells me what a good boy I am. So why has no one adopted me? I promise to be good and love my new family. Please, maybe you are my new family. I sit and wait for you to come."
The post went viral almost immediately, and adoption applications started rolling in soon thereafter. "I had friends in England who were like, 'I just saw Chester's photo on the Internet,'" Gillian Wood Pultz, who helped care for Chester as the executive director of the North Fork Animal Welfare League, told TODAY.com. "It was just crazy."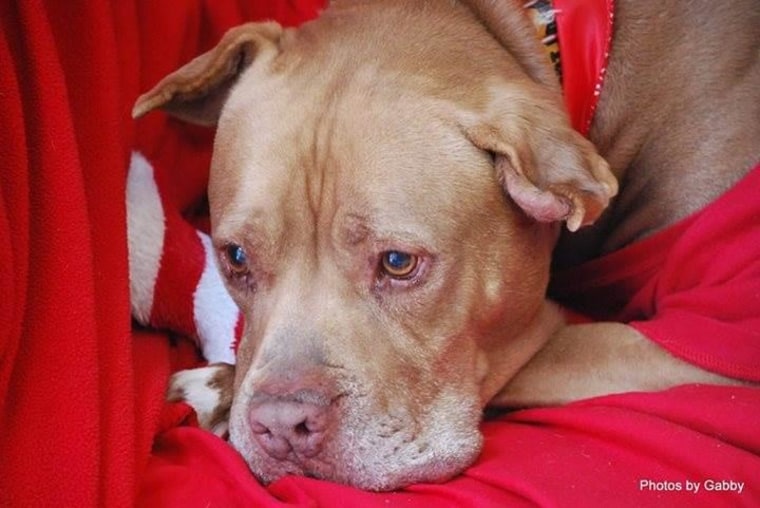 Capitalizing on the momentum, staffers created a Facebook page dedicated solely to Chester. Shared more than 2,300 times on that platform, Chester's photo caught the attention of Dana Dor, who lives with her family in nearby Lake Ronkonkoma.
"Thursday morning, I was getting ready for work, and I checked my Facebook really quick," Dor recalled. "My girlfriend, in Michigan, had posted Chester's picture from the shelter. ... The following morning, we drove over and met him, and it was just fantastic. We were looking for an older dog, and it was just perfect. It was like he was waiting for us, like, 'Where have you been?'"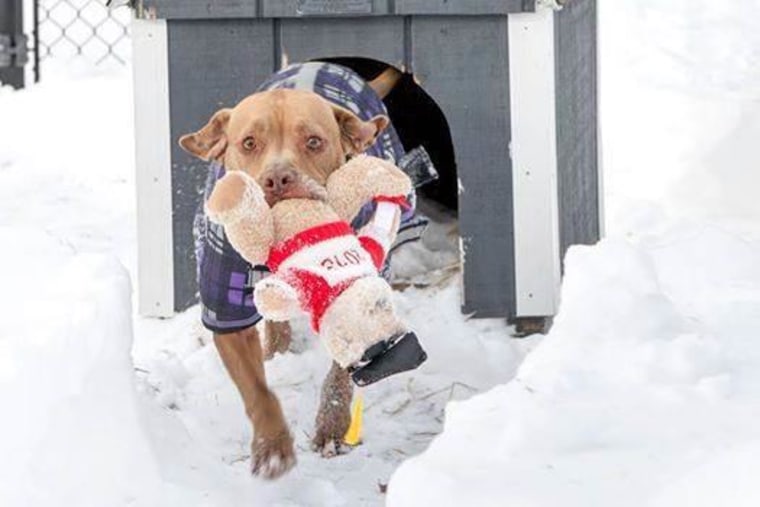 Although other applicants were in play, Dor's family lived close to the shelter and shared an "instant bond" with Chester, according to Wood Pultz.
"[Dor] actually got down and laid with Chester on his blanket," Wood Pultz added. "Chester was showing off his toys. And everybody in the family was really, really happy. Everybody felt that it was just the perfect fit for Chester."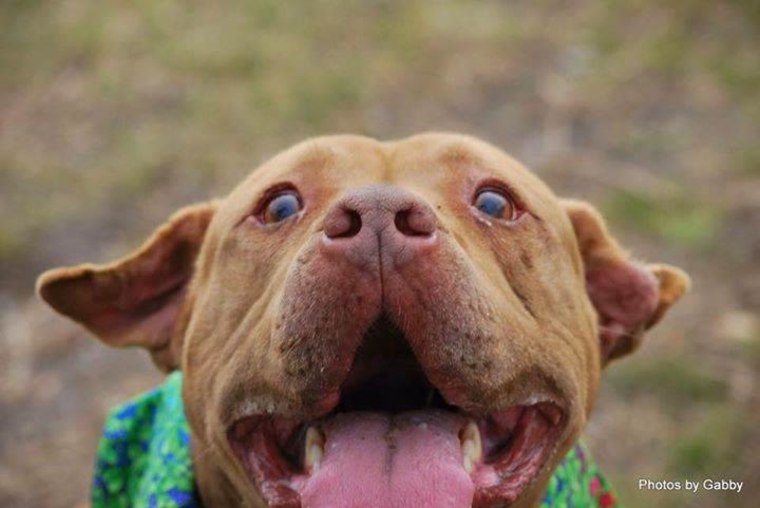 Dor said her husband and two sons are just as elated as she is about welcoming Chester to the family.
"[Chester] is really great with kids, loves resting on the couch, and loves to go for long walks," Dor added.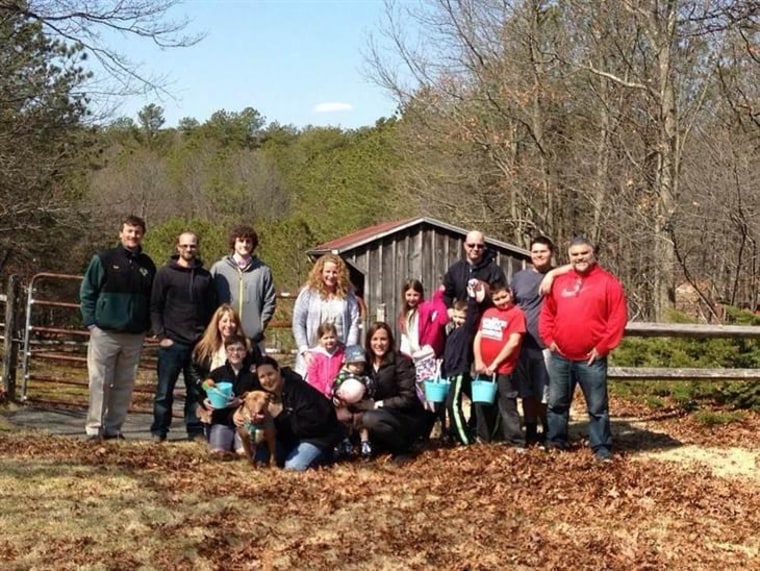 After years of being a shelter pet, it was the ultimate happy ending for the sweet pup, who Wood Pultz describes as a "goofball."
"Unfortunately that breed ... often gets overlooked at shelters," said the supervisor of shelters in the Long Island towns of Riverhead and Southold. "Chester also had some health issues; he had torn ACLs, bad knees, that we had surgically repaired. So, I think those things resulted in a longer time at the shelter than it would for most dogs."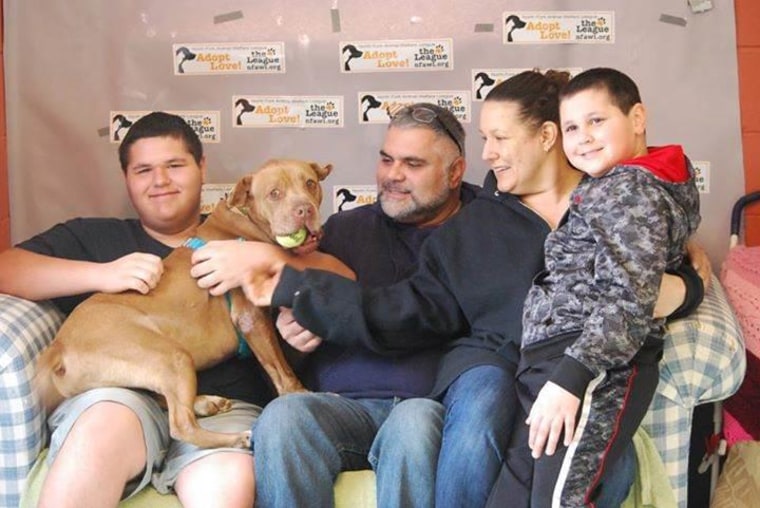 Dana Dor, second from right, raved about how great the dog is with her family, adding, "He's perfect."
And while Chester went to his forever home Saturday, many more shelter animals are hoping for the same happy ending.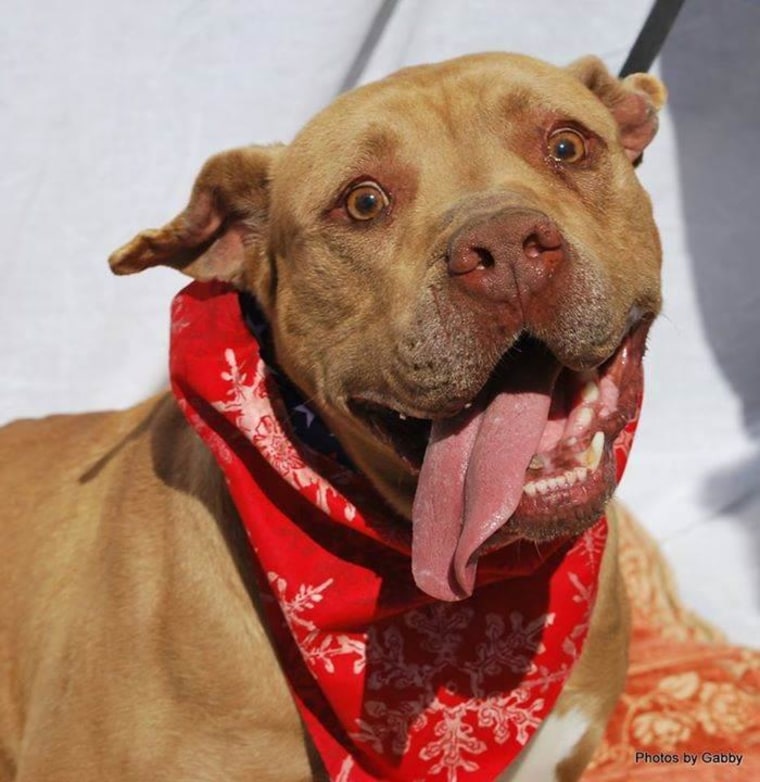 "I encourage people to keep checking their local shelters, because we have 40 more [pets] out here who need homes," Wood Pultz said. "There's somebody like Chester who needs a home just as badly."
Follow TODAY.com writer Chris Serico on Twitter.