Lions, cheetahs and puppies, oh my! 
This year has been filled of some hilarious and heartwarming moments with animals. Since January, we have seen cats come to rescue, a baby hippo earn the nickname of 'Michelin Man,' the birth of the only panda triplets in the world and more. Selection was tough, but here are TODAY.com's favorite pet videos from 2014:
Snow celebration
In February, the Toronto Zoo closed because of a snow storm, causing most people to become disappointed — but not Da Mao, a 5-year-old giant panda. Caught on the enclosure's  security camera, Da Mao dives into snowbanks and tumbles around in the flurry. It makes the snow a bit more enjoyable when imagining his enthusiasm. 

Cat attack
In May, 4-year-old Jeremy Triantafilo was riding a bike near his home when a dog began attacking him, dragging him on the ground by his leg. When his mother ran outside to help, Tara, the family's cat, also leaped to the rescue, fearlessly hurling herself at the dog. Jeremy's father, Roger, watched the home surveillance video in disbelief. "I think that dog did not know what hit him," he said.

Unlikely pals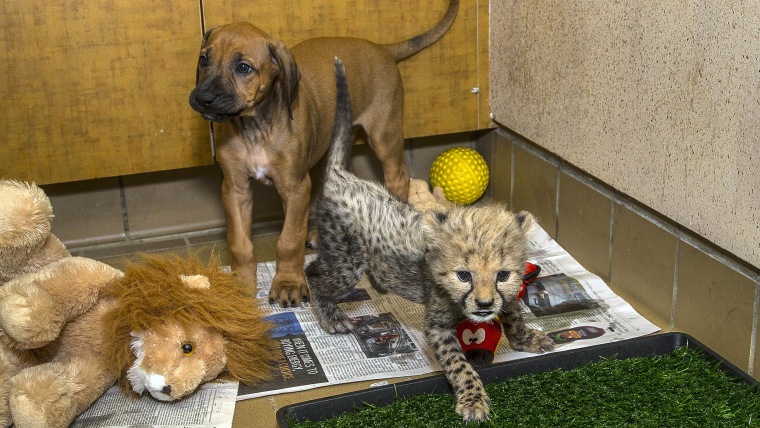 Cats and dogs are typically portrayed as the ultimate enemies. But Raina, a Rhodesian ridgeback puppy, and Ruuxa, a cheetah cub, became best friends at the San Diego Zoo Safari Park. These two unlikely pals love being together, and the zoo captured some of their playtime — and nap time.

Polar bear cuteness
Polar bears are cute enough, but Humphrey the polar bear at the Toronto Zoo caught our eyes throughout the year with his adorable YouTube videos. From taking his first steps to revealing his name and checking out water for the first time, Humphrey has the world tied around his furry paw. And this boy is growing up quickly: Humphrey recently celebrated his first birthday — all 216 pounds of him!
A gorilla mourns
Robin Williams had the power to touch the lives of many people through his boisterous personality, even people — or animals — whom he met briefly. When Williams visited the Gorilla Foundation in 2001, he met Koko, and the two instantly began hugging, teasing and laughing. In August, when Koko overheard her mentor say Williams had died, she became extremely sad, as though she was mourning Williams. The foundation posted a video of Williams's encounter with Koko as a tribute to the comedian.

Lion hug
Disclaimer: No one was hurt in the making of this video. Although it looks as though Valentin Gruener is about to be mauled by a lioness, she's really just giving him a hug. Sirga, the lioness, lives at Gruener's Modisa Wildlife Project in Africa, and she was saying hi in the only way a 110-pound animal knows.

Boosted spirits
In October, James Wathen, 73, was lying in a hospital in Kentucky as his health declined. At a nearby shelter, his one-eyed Chihuahua, Bubba, had also fallen ill. When Wathen requested to see his dog, his nurses decided to make it happen. After reuniting, Wathen and Bubba suddenly perked up, and their health increased significantly. It seems like man's best friend is also his best remedy. 

Mastiff vs. weatherman
It's long been shown that dogs have beef with mailmen, but a viral video shows that they also have a thing for meteorologists. As Canadian meteorologists Mike Sobel realized when Ripple, a mastiff on the show, began tugging on the leash Sobel was holding. Ripple eventually chewed his way through the leash for freedom. Someone needs to throw this weatherman a bone.
You otter see this
Shedd Aquarium in Chicago is currently the home of one of the most precious otter's ever. The video and photos of Luna learning how to swim and how to drink from a bottle after being from a California beach in October melted our hearts. 

Let it go
Not only has "Frozen" become one of the most popular films of the past year, but this video of an Australian shepherd singing along to "Let It Go" has topped the charts as well. As soon as Oakley hears Idina Menzel's voice, the dog begins howling along like a "swirling storm inside."