The idea for Dog TV — a streaming channel for dogs to watch while their owners are out at work or school during the day — came from an unexpected place: a cat.
Ron Levi, a radio and TV host in Israel, hated how sad his cat Charlie looked when Ron left the house to go to work every morning.

Levi started wondering what would happen if pets had something to keep them entertained while their owners were away, and soon it came to him — an animal-friendly TV station that owners could leave on all day long. After a few years of research on the subject of pets and separation anxiety, plus some test runs on dogs in cramped New York and L.A. apartments, Dog TV became a reality.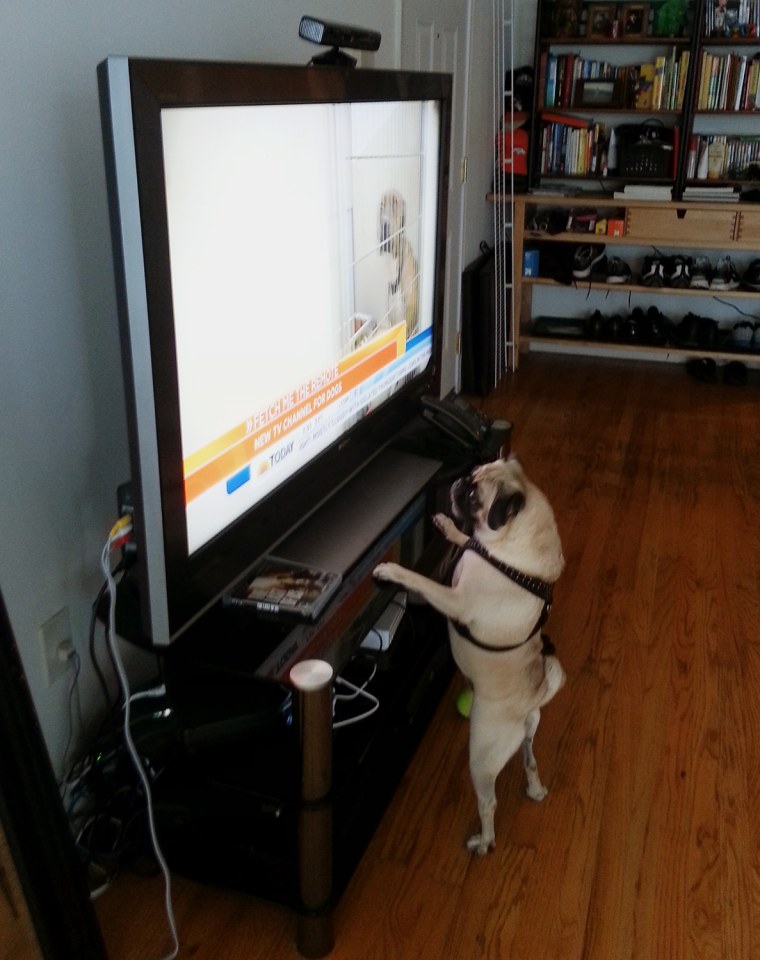 "Regular TV is bad for dogs," Levi explained to TODAY.com. "It's like the Fourth of July all year round." The programming on Dog TV is designed specifically for dogs and their needs — no loud noises, no other dogs barking, no angry or shouty human voices, and, most importantly, no commercials. Levi's research showed that dogs who watched the "mellow" animal-centric TV were calmer and happier when their owners came home. "If the dog's not fortunate enough to go out, this is an alternative. Most people can't take their dogs to work with them. Dogs need stimulation."
Levi admits that the research was the easy part — convincing the dogs' human owners to try out the channel was more difficult. People worried that their pooches would get overly excited and knock over the TV, or that they'd turn into doggie couch potatoes. Levi partnered with Tufts University in Boston to install cameras in homes where dogs were left alone for eight hours a day watching Dog TV, and there hasn't been a single TV-related fatality yet.
The channel is now available in some Time Warner and Cox TV plans, and Dog TV is now selling subscriptions to their website, where the channel will be streamed for non-television owners. Starting August 1, the channel will also be available for DirecTV subscribers. While Levi is pleased with how many pet owners are starting to catch on to the idea of Dog TV, he admits that his work is far from done. "I can't wait to do a cat channel, to be honest," he says. "And I want to get a dog."