What do you call 104 puppies rescued from the back of an overturned truck? For Vicki Mosgrove, executive director for the Finger Lakes SPCA in Bath, New York, the answer is, "not a typical day at the office."
Last Tuesday, the shelter received an unsettling call: a transport vehicle carrying over 100 puppies had veered off the nearby Interstate 86 and into a ditch. New York State Troopers and a local towing company acted quickly at the scene, while the shelter helped to triage and treat the pups — who (calm your tail-wagging!) are all going to be fine.
"We're used to dealing with animal emergencies, (but) we're a small shelter. We normally house maybe 60 cats and 30 dogs, max," Mosgrove told TODAY. She explained that holiday adoptions left more empty kennels than usual. Fortunately, the shelter was able to accommodate most of the dogs. Eighty-six stayed at the SPCA and the remaining 18 went to nearby Bath Veterinary Hospital.
Only two of the dogs had serious injuries. Hansel, a shepherd with a broken jaw, and Gretel, a black lab with a broken leg, were hospitalized straight from the scene. Dr. Karen Doucette, a staff veterinarian for the Finger Lakes SPCA, examined all of the remaining dogs — a task she described as both "overwhelming" and "adorable."
RELATED: 'Joy heals': Puppy playmates offer comfort for chronically ill children
Most were in good shape — and, as time went on, good spirits. "For going through such a horrific crash … maybe they were initially bewildered, but they got comfortable really quick," said Mosgrove. "They realized that the people here really cared about them … They became playful and just as sweet as can be."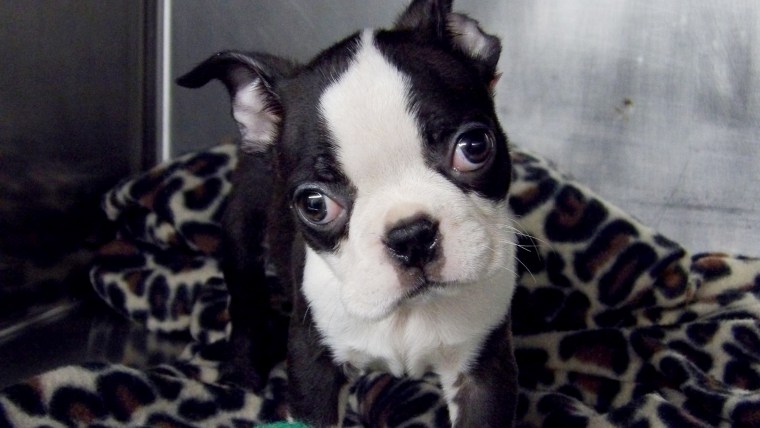 One pup in particular stole the hearts of everyone at the shelter: a Boston terrier who appears to be about eight weeks old. "I think he looks like a Charlie," said Mosgrove. "He wraps everyone around his paw in two seconds … He beams with personality."
Giving off a decidedly different energy is Big Blue, a lovable (and very chill) cane corso. "He's massive, and he's got this droopy, sad dog face," said Doucette. "But being a puppy, he's adorable, of course."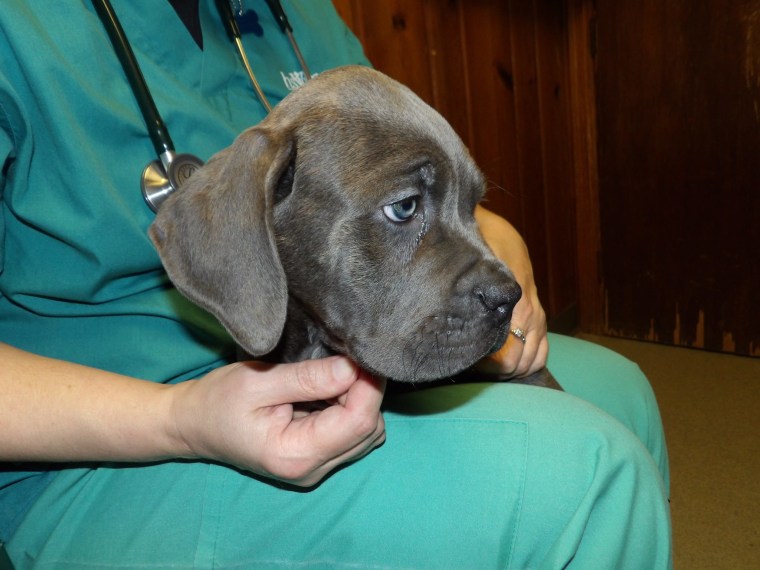 After being examined and treated, all but four pups who require ongoing medical care were released back to the transport company. This created conflicted feelings among members of the staff, many of whom had suspicions as to the dogs' origins.
RELATED: Grieving Labrador retriever cares for orphaned litter: 'Those are her puppies'
"We're experienced in animal welfare, and all signs pointed to the fact that these were likely from a puppy mill situation," said Doucette. "It wasn't a happy, joyful day to let them walk out the door."
"As an organization, we abhor puppy mills," added Mosgrove. "A lot of people are outraged that we had to send them on their way … (but) there are no legal remedies for us to keep these animals without an animal cruelty charge."
The shelter later learned that the animals came from several out-of-state breeders, not just one. Still, Mosgrove wants to seize the opportunity to remind others to "adopt, don't shop," and to pressure lawmakers for more breeding regulation at state and federal levels.
"We need to cut out the demand for puppies from irresponsible breeders, which is what most pet stores are selling," she said. Mosgrove referred those looking for more information on puppy mills to the ASPCA's website.
But for now, the lingering feeling is one of community and positivity. "From the state troopers who responded, to the local towing company who worked to bring the animals to a safe place for triage, the community really pulled together," said Mosgrove. "The towing guys built puppy corrals out of a truck bed and some pipe board! It was an amazing effort from everyone."