A toothless Chihuahua named Kismet is giving dental patients something to smile about.
Each day, the diminutive dog heads to Corte Madera Family Dentistry in the Bay Area of California with her owners, Dr. Cameron Garrett and his wife, Debra Garrett. Everyone in the family has a job: Dr. Garrett is a dentist, Debra Garrett is a dental hygienist and Kismet is a dental therapy dog, who is available to snuggle in the laps of patients during exams, cleanings and even root canals.
While a few clients are fearful of dogs — in which case, Kismet stays behind a gate — about 98% of patients choose to cuddle with Kismet because so many people are anxious about having dental work.
"The studies are very clear: People who sit and pet animals have lower blood pressure, and that's what it's all about," Dr. Garrett told TODAY. "Quite honestly, as a dentist, I'm as much a psychiatrist or psychologist as anything else. Kismet has allowed us to have another tool in our toolbox."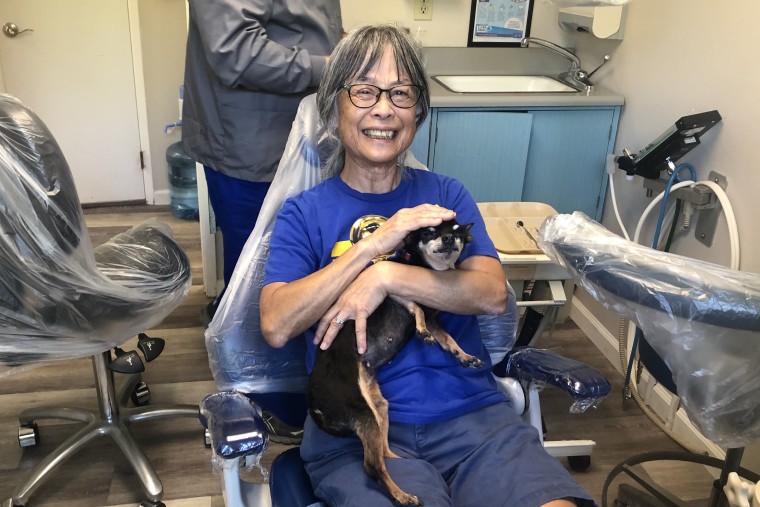 He said she's particularly helpful with children, who enjoy interacting with her. One young boy has needed a lot of dental work over the years, and it's been challenging for him. But since Kismet (and her predecessor, dental dog Karma) started volunteering to comfort patients, the child is "a lot happier" when he walks in the door.
"His first question is: 'Is Kismet here?' So it has really been just fabulous to be able to work with this child and see how the simple idea that the dog is there is going to make this so much easier an experience," he said.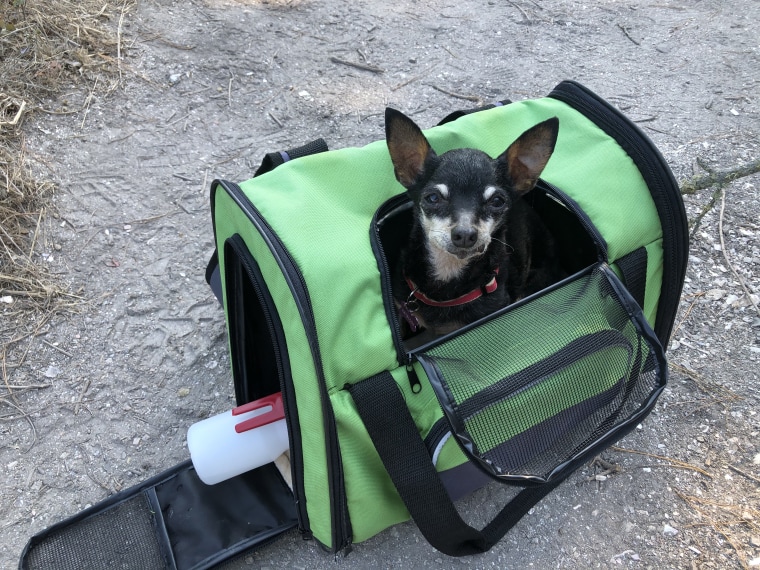 Kismet is a calm dog who never barks; she's content just giving and getting love. Her role has a special significance during the coronavirus pandemic, with both staff and clients under increased stress. With prevention protocols for COVID-19, the disease caused by the new coronavirus, and signage around the office, the environment can seem less friendly than it usually does.
"Kismet has been wonderful about getting people back into the swing of things and feeling more comfortable with what is a difficult situation for all of us," he said.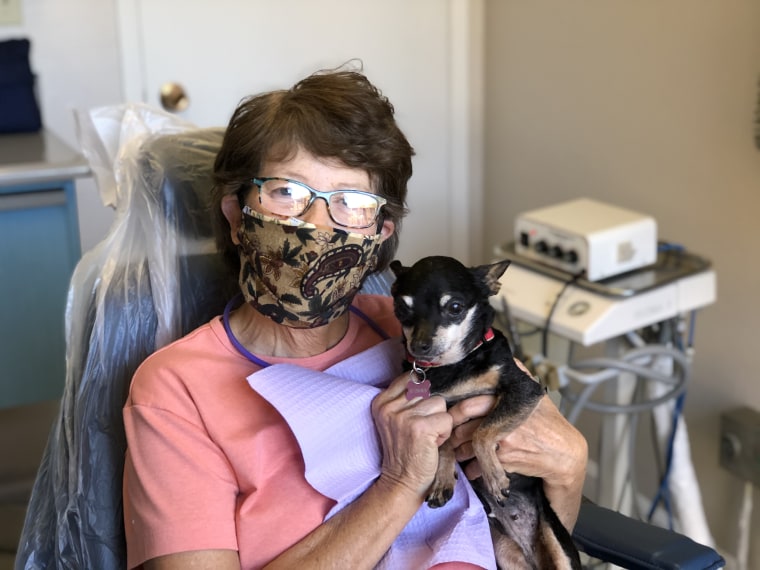 Because Kismet has zero teeth, the Garretts can use her story as a way to talk with clients about periodontal disease. After being rescued as a stray by Muttville Senior Dog Rescue, the nonprofit invested thousands of dollars into the 13-year-old dog's veterinary treatment, from extractions of her rotting teeth to surgeries to fix a hernia and remove a cancerous mammary gland, and starting medications for a heart murmur.
"She was a fixer-upper, and they fixed her up really nicely," Debra Garrett told TODAY.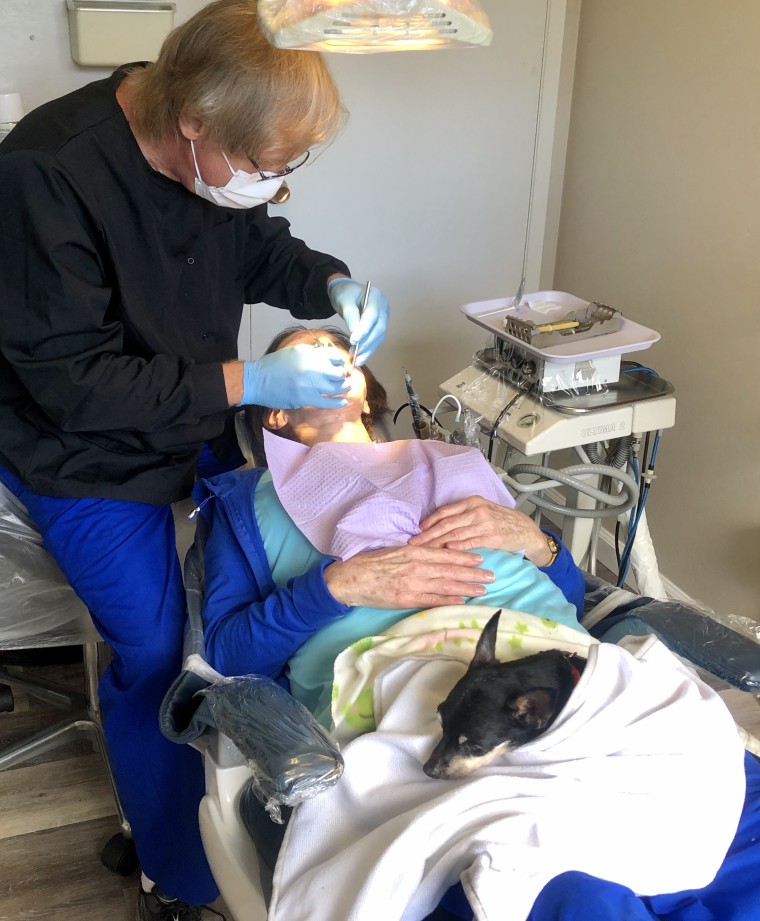 The Garretts adopted Kismet (formerly "Pancake") from Muttville in August, about a month after the death of their beloved Karma, who worked as a dental dog for nearly four years at the practice. Karma was also a toothless former stray rescued by Muttville. Dr. Garrett said Muttville pets seem to be grateful to have love and attention in their golden years.
"We found both with Karma and Kismet, they just want to be around people and have an opportunity to be loved and give love," he said.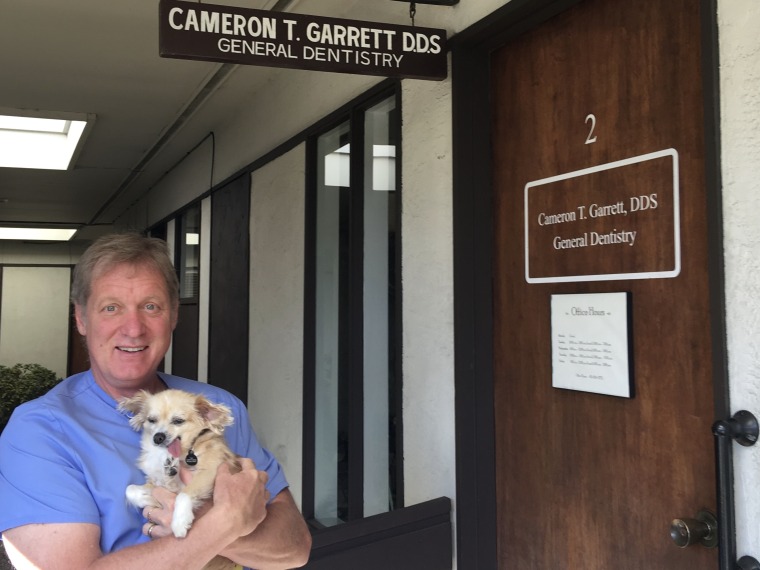 His wife agrees and said senior dogs often offer the benefit of being calmer, house-trained and needing less exercise. For example, they wanted a dog who would be happy with short walks in between client visits, as well as a friendly, nonintimidating dog. Kismet fit the bill perfectly.
"She just wants to be with us," she said. "When she is on a patient's lap, she's providing them comfort, but she's also getting comfort. It's hard for me to describe how nice it is for me to be looking at her too, while I'm working. It's just a win-win all the way around."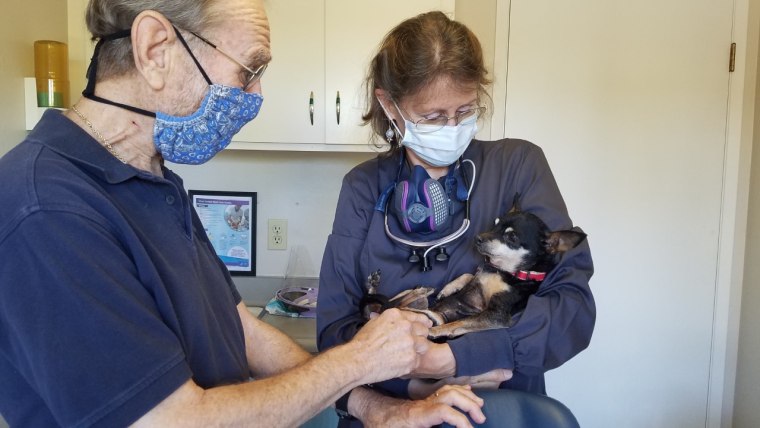 Though it's sad whenever a pet dies, Debra Garrett feels a "higher quality over quantity" is the way to go.
"We've had dogs all our lives. We've had the puppies, we've gone through all the different life stages of dogs, and this has been the best, adopting these older dogs," she said. "Even knowing that they're not going to be around forever, it just makes us not take them for granted. They are more precious. We enjoy the quality of life that we get with them."