Update: The TODAY puppy has a name! Thank you for all your votes.
There's a new (furry) face around Studio 1A! The TODAY family on Wednesday met our new puppy, which we're raising for a good cause. 

Our anchors, staff and an experienced dog handler are teaming up with Guiding Eyes for the Blind, a New York nonprofit organization, to help train our 10-week-old Yellow Labrador Retriever to become a guide dog.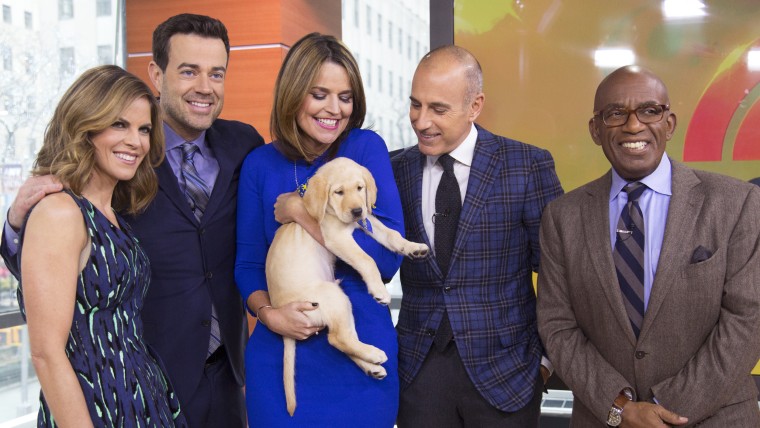 If all goes well, our puppy will graduate after 16 months and get adopted free of charge by an individual who is blind or visually impaired, profoundly changing that person's life. 
Now our puppy needs a name, and we need your help picking one! 
Guiding Eyes for the Blind follows a specific naming convention for all puppies in which each litter is given a sequential letter of the alphabet and the puppies from that litter receive names starting with that letter. The TODAY puppy is from the W314 litter, which means he's from the third Guiding Eyes for the Blind class to move through the alphabet to the letter 'W' in 2014. 
Update: Thank you for all your votes! Tune in Thursday morning where we'll reveal the name of TODAY's puppy!
Head here to learn more about Guiding Eyes for the Blind.

And get used to seeing a lot more of this around Studio 1A!