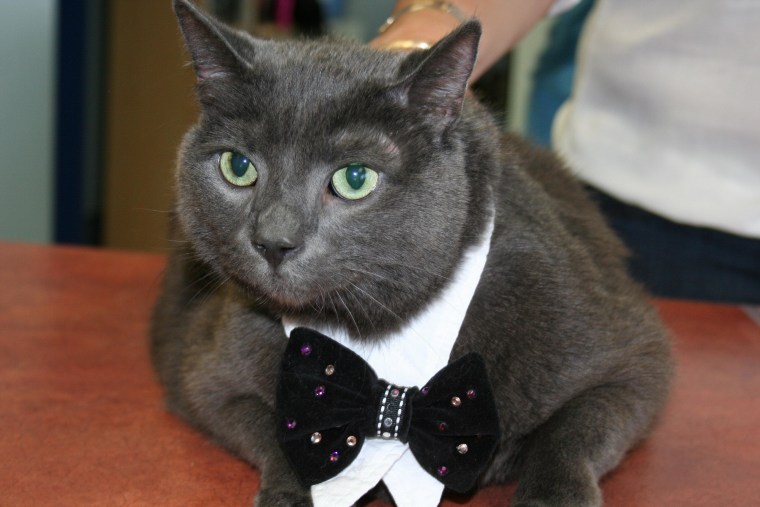 Just over a year ago, shelter workers at the Fredericton SPCA in New Brunswick, Canada, found Tiny the cat in a cardboard box near their front door. He weighed over 30 pounds and was severely stressed.
But life has changed a lot for Tiny since then. After a year of focused diet and exercise, he's lost half his body weight and now, he's been adopted.
The SPCA held an adoption day party Saturday, where Tiny's foster parent Nancy Garon made their relationship official.
"It was a nice way to celebrate all the work, dedication and time that went into Tiny," LeeAnn Haggerty, the director of education at the shelter, told TODAY.com. "She's really bonded with him and it's nice for everyone to know that he'll be doing well in Nancy's care."

Tiny showed up to the festivities wearing one of his signature bowties, made by some of the many volunteers who have faithfully tracked his progress. In fact, donations and sales of Tiny's Ties, a line of ties for felines, have already raised $10,000 for the Fredericton SPCA.
When Tiny first came to the shelter, he was a nervous kitty, refusing to eat for the first couple of days. That's when Garon, who had recently rescued a puppy, stepped in to become his foster mom.
Now just 16 pounds, Tiny can once again enjoy the pleasures of being a cat, from grooming to chasing a laser beam against the wall.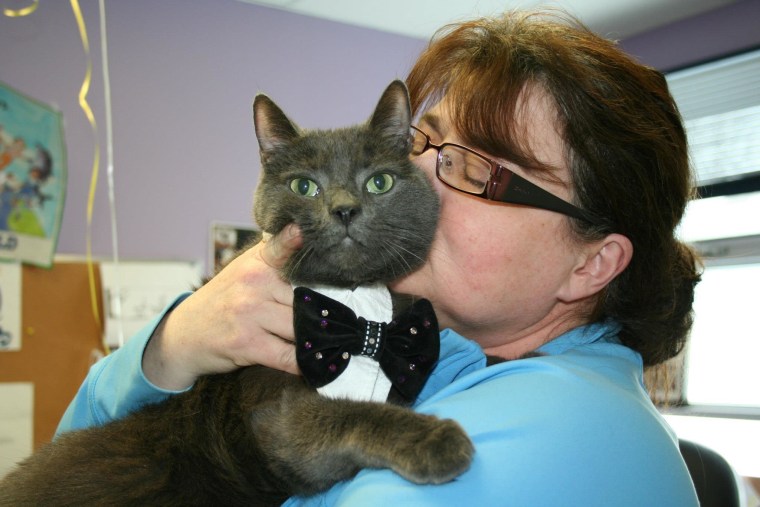 "As soon as he lost the first six pounds you could start to see the changes," Haggerty said. "To not be able to groom yourself must've been pretty frustrating. When he walked, he used to take a few steps, but now he runs all over the place. He is a very playful cat."
No one knows precisely how green-eyed Tiny came to be so overweight, but his vet, Dr. Nicole Jewett, told TODAY.com last summer that free access to food and problems with portion control were probably his downfall. She put him on a strict calorie-controlled diet and the pounds started melting away.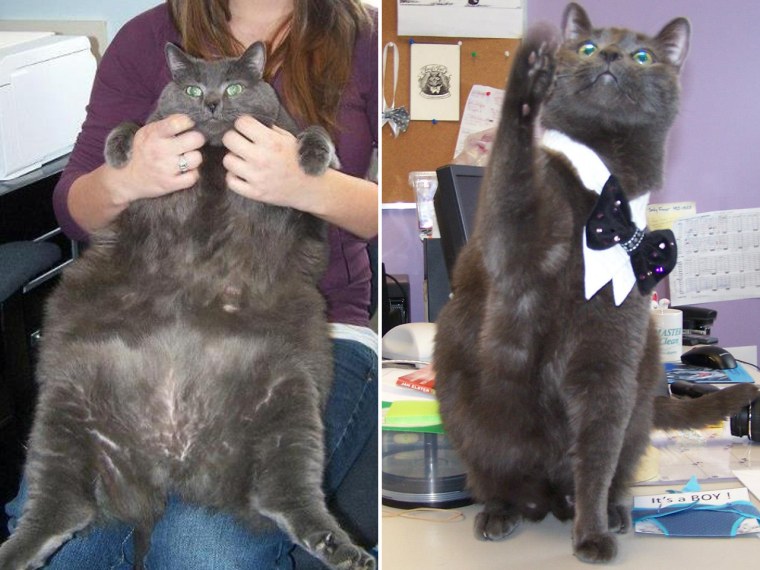 These days he's on a maintenance diet, though he requires less food than before: two cans of wet food a day and a ¼ cup of dry kibble, as opposed to the 3 cans he once ate.
A devoted set of Facebook followers and volunteers have rallied behind him the entire time, posting words of encouragement and delight over his success on his popular page.
"A lot of people could relate to his journey of weight loss — I know I could," Haggerty said. "And 50 percent of pets in households in North America are overweight, so a lot of us have overweight pets at home."
Now, there's one less.
More:
15 animals all dolled up for 'Dress Up Your Pet Day'
World's loudest cat? Merlin's purr could drown out a classroom of children