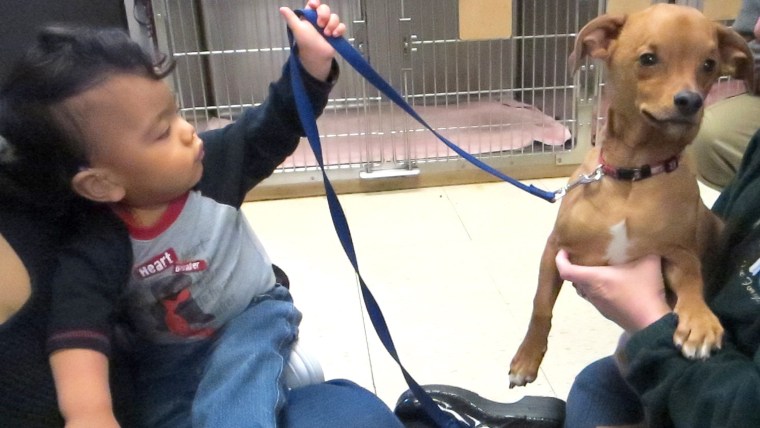 It doesn't matter that Frank is small. The Chihuahua-dachshund mix is filling an enormous role: Helping children and adults who need an empathetic friend.

Frank is training to become a therapy dog for patients with hydrocephalus, or an excessive accumulation of fluid in the brain. Born with the same condition, the now-9-month-old pup was almost euthanized because of it.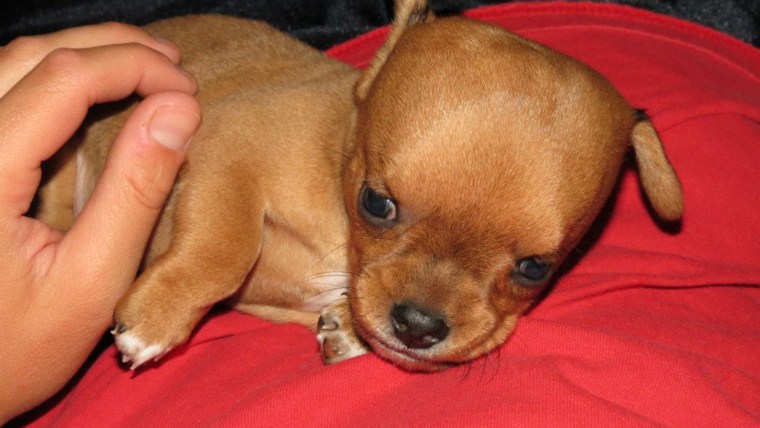 "As a very young puppy, Frank clearly had a really big head," Amy McCracken, executive director of a no-kill shelter called the Richmond Animal League in Virginia, told TODAY.com. "We transfer animals from municipal shelters that are in danger of being euthanized, and that's how we got Frank."
The Richmond Animal League placed Frank in a foster home in hopes that he would fare well. Aside from experiencing one seizure at 8 weeks old, Frank thrived in the care of his foster parents, Toni and Kevin Mark of Virginia — and the Marks fell hopelessly in love with him.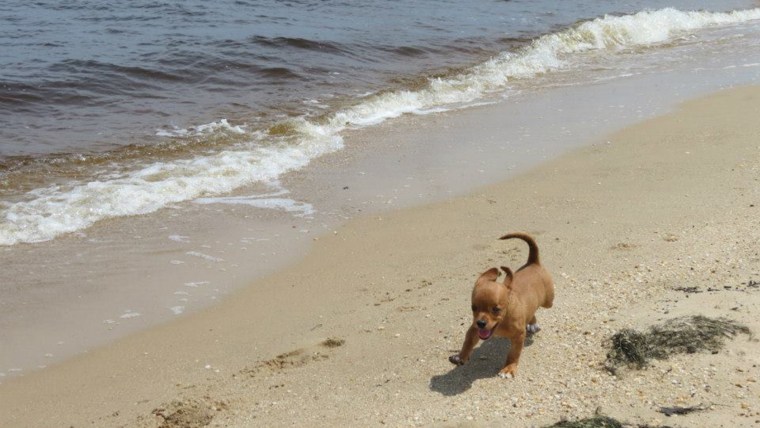 They took the puppy on shopping trips, long walks and a beach vacation, and they gave him regular doses of a seizure-controlling drug called Gabapentin. Frank did fine — but even so, it was hard to find anyone who wanted to adopt him.
People thought Frank was adorable but became skittish about a future involving MRIs and surgeries. (As the dog matures, he might need to have a shunt implanted to drain fluid from his brain into his abdomen — or he might not, if he shows no problematic symptoms.)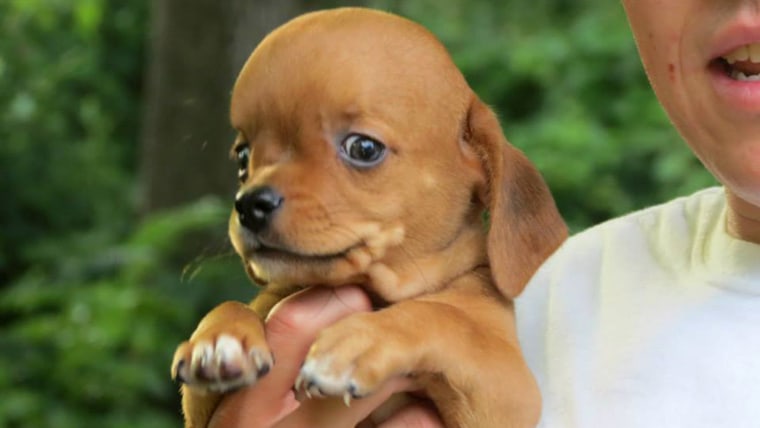 Just when it seemed that the Marks might keep Frank themselves, someone else realized the dog could have a special calling. Stacy Metz frequently sees kids and adults with hydrocephalus at the neurosurgery department of Virginia Commonwealth University, where she works as an an administrative assistant .
"They think they're the only ones. It didn't happen to any of their friends," Metz told the Richmond Times-Dispatch. "It's always nice to know they can relate."
Metz adopted Frank on Aug. 16, 2013 with the goal of training him to become a certified therapy dog.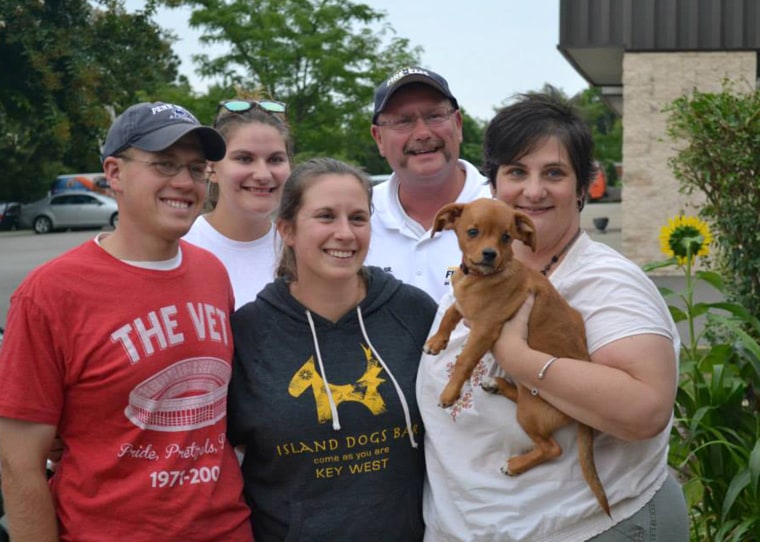 "His foster family knew that this was the life for Frank — that he was destined to be a little dog with a big impact," McCracken wrote of Frank's adoption. "Seeing Frank with his two families the night of his adoption broke our hearts wide-opened. Frank is the only one dry-eyed in the pictures, as if he knew he was on to big adventures where he could repay his foster family for giving him the chance to be found — and loved — by the perfect family."
Frank still has about a year of training ahead of him, but he's already getting some on-the-job experience. Metz brings the dog to meet with hydrocephalus patients who request visits at their homes or at the Richmond Animal League.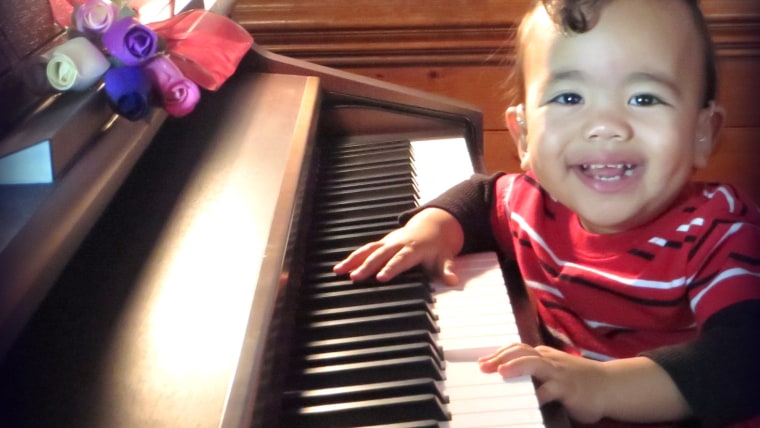 This month, Frank hit it off with a happy little boy named Dylan Lipton-Lesser, who underwent 15 brain surgeries before he turned 2 on Valentine's Day. Dylan was born 11 weeks premature and developed hydrocephalus while fighting a severe infection. He's had many complications with the two shunts inserted on each side of his head.
Hydrocephalus, which used to be called "water on the brain," can be fatal if left untreated. But with medical treatment and monitoring, children with hydrocephalus can go on to lead normal lives, according to the National Institutes of Health.
In recent months, Dylan's condition has been stabilizing and his development has been "shooting through the roof," his mother India Lipton told TODAY.com. The little boy recently made headlines for his ecstatic reaction to hearing for the first time with the help of hearing aids.
Lipton said she anticipates the fast friendship between Dylan and Frank lasting for years to come.
"These two boys — a toddler and a puppy — come on, it's just too much," Lipton said. "Dylan is on his way to walking now. ... I can just see him and Frank running when Dylan is strong enough. In the meantime, they'll have lots of fun crawling around together!"
Need a Coffey break? Connect with TODAY.com writer Laura T. Coffey on Facebook, follow her on Twitter or read more of her stories at LauraTCoffey.com.