At just the right moment, a dog named Tank gave a boy named Jack the motivation he needed to get moving again.
Jack Doss, 6, had been trying to regain mobility on the left side of his body in the wake of two brain surgeries. The Ohio boy had a stroke during his surgery in July, and in the 10 days that followed, he couldn't move his left arm at all.
His arm remained motionless during his first three sessions of physical and occupational therapy at Akron Children's Hospital — but at his fourth session on July 28, a friendly, food-focused therapy dog named Tank entered the room.
Tank really-really-really wanted some treats. Jack, a die-hard animal lover, was eager to oblige.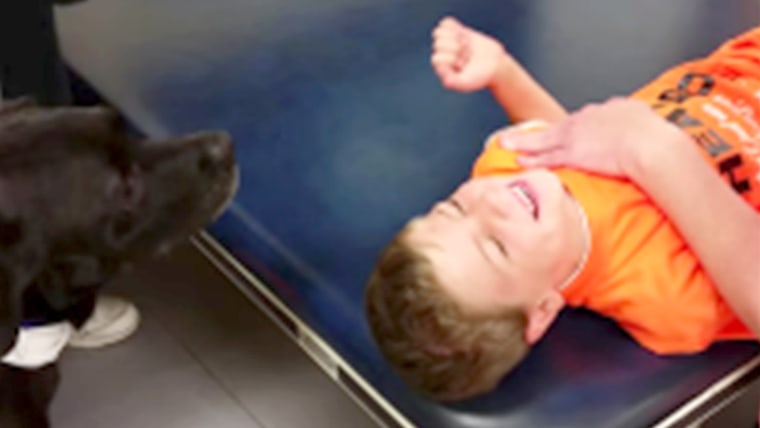 Everyone in the therapy room gasped with excitement when Jack moved his arm again for the first time in an effort to maneuver treats into Tank's mouth. The little boy exploded with laughter each time Tank licked his hand.
Jack's mom, Ashley Doss, 30, of Orrville, Ohio, told TODAY.com that Tank's happy presence had "an obvious impact on Jack."
"He was excited to give Tank a treat," she said.
Tank is one of many therapy dogs making the rounds at Akron Children's Hospital. Therapists say the calm, highly trained dogs can be miracle workers when it comes to helping children stay motivated during lengthy therapy sessions, endure movements and stretches that can be painful, and regain their composure when they become frustrated or emotional.
In Jack's case, the encouragement of a dog couldn't have been more perfect. Jack is crazy about animals, and he's also unfailingly happy and upbeat, Jack's dad Tyler Doss told TODAY.com.
"I was fairly overwhelmed the first time I saw his arm moving again," Doss said. "Guys don't like to admit it when they cry."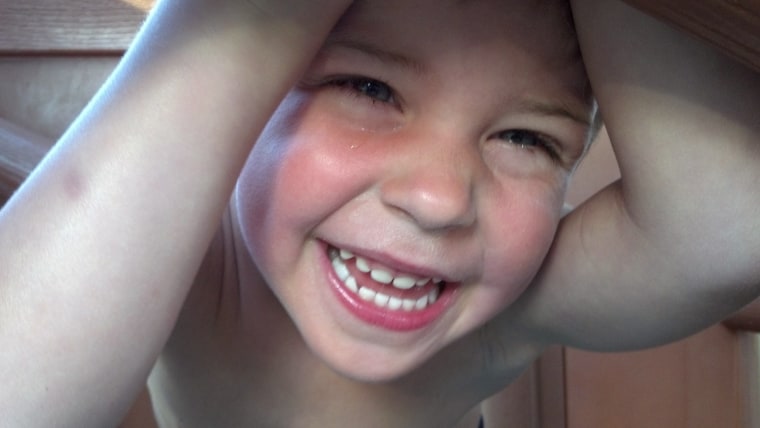 Jack's medical issues began about two and a half months ago, shortly before his sixth birthday. He complained about having headaches, and his family doctor recommended a CT scan. The scan revealed tumors in Jack's brain.
Jack underwent his first surgery to have the tumors removed on June 13. Biopsies initially came back inconclusive, but the Doss family was sent reeling when it became clear that the tumors were cancerous. That revelation led to a second brain surgery on July 18 to remove as much tumor growth as possible.
It was during that surgery that Jack had his stroke. Even so, he's been responding so well to physical and occupational therapy his doctors think he will regain most of his mobility on his left side.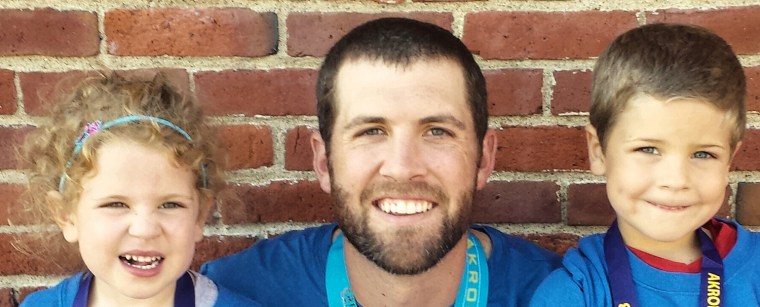 "He's handled everything so well," his dad said. "He's been great, and that's made it so much easier for us. He's young enough that it's almost like he doesn't know any better."
Doctors have told Jack's parents that there is a less than 30 percent chance that the tumors will grow back again.
"If the one on the right side of his brain grows, they think they can do surgery again," Jack's dad said. "If the one on the left side grows, they'd have to do chemo because it's an area where they can't do surgery."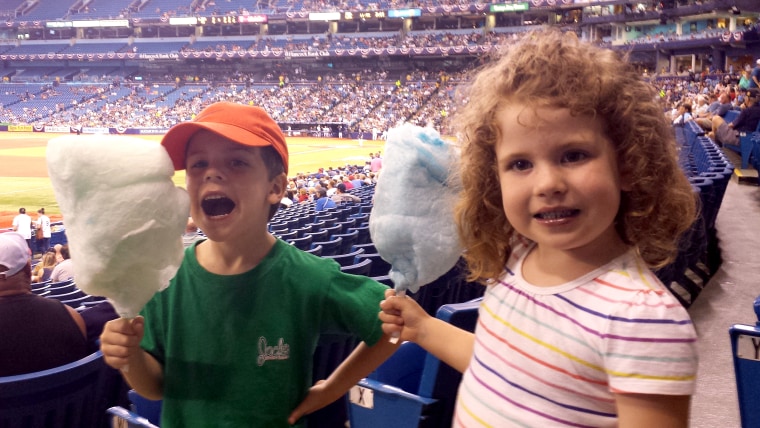 In the meantime, Jack is enjoying being out of the hospital and resuming his life back at home with his mom and dad, his 4-year-old sister Lilly, and his family's dog and two cats. Because Jack is so wild about animals, an Ohio charity called Wishes Can Happen is sending him to the San Diego Zoo — and Jack is over the moon with excitement about his upcoming trip.
"He's just such a happy kid," Jack's dad said. "If he's feeling pain, he sure doesn't show it. ... We have faith that he'll be great and it will all work out."
Need a Coffey break? Connect with TODAY.com writer Laura T. Coffey on Facebook, follow her on Twitter and Google+ or read more of her stories at LauraTCoffey.com.