The age of the cyber-enhanced dog is here ... and it's adorable. Equipped with a smartphone app, dog owners might one day be able to tell when Fido is chasing a squirrel, stressed out or happily getting its belly rubbed.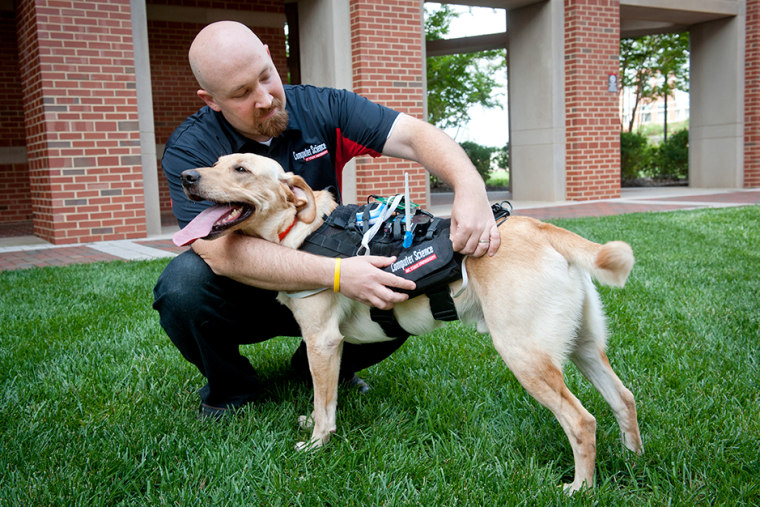 The Cyber-Enhanced Working Dog (CEWD) project is the brainchild of David Roberts and Alper Bozkurt, both professors at North Carolina State University. It might sound like something from "Terminator," but the dogs aren't getting super-strength or Austrian accents.

Instead, the pooches wear a harness equipped with a computer about the size of a deck of cards. Like your phone, the device contains accelerometers and gyroscopes to track movement. It also measures heart rate, respiratory rate, blood oxygenation and more, plus provides a feed of audio, video, air quality and more. 
Initially, it's meant for search-and-rescue operations, but the technology could eventually be used for guide dogs as well. 
"It provides a pretty detailed picture of the environment a dog is working in," Roberts told NBC News. 
All of that doggy data is fed through algorithms that translate movements, posture and physiological signs into a picture of how a dog is feeling and sends that to your smartphone. For example, if a dog has its head lowered and its heart-rate is high, the app could tell the owner that the dog is stressed. That could be especially useful for guide dogs, who are trained to not express stress since they have to serve as a calm, helpful presence, sometimes in large crowds of people. 
The technology goes both ways. Owners can use their smartphones to give their dogs pre-recorded verbal instructions through speakers or use the eight motors to send hundreds of different combinations of vibrations. With the right training, each of those combinations could be a command. 
"These are not harmful or unpleasant for the dog," he said. "It's like when your phone vibrates in your pocket."
People who want to play with this technology will have to wait. Roberts and Bozkurtm are still working towards the final product. 
"As you can see from the photo, the current prototype is quite large," Roberts said. "Moving forward, we really want focus on making it smaller."
Keith Wagstaff writes about technology for NBC News. He previously covered technology for TIME's Techland and wrote about politics as a staff writer at TheWeek.com. You can follow him on Twitter at @kwagstaff and reach him by email at: Keith.Wagstaff@nbcuni.com