After some 65 million years, the Tyrannosaurus rex has once again made its appearance, this time in the Twin Cities region — wearing ice skates.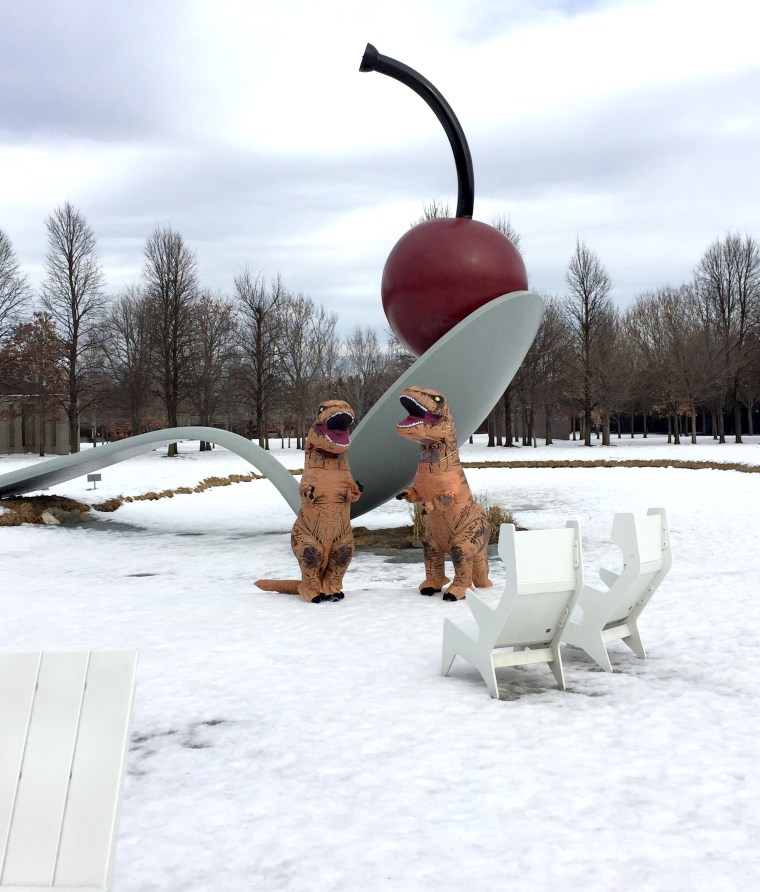 T. rex Tuesdays, a viral sensation on YouTube and Facebook, began last fall when two people — who told TODAY they wish to remain anonymous — decided to dress up in T. rex costumes to film videos initially intended for friends and family. But once they decided to widen their audience through social media, the videos exploded in popularity, often garnering tens of millions of views worldwide.
RELATED: Watch 'apparently' kid school Chris Pratt in dinosaur trivia
The idea is simple: Every Tuesday, the duo releases a new video involving a T. rex attempting to perform some human task — like going grocery shopping or making a snow angel — to hilarious effect.
"We're really good at lumbering about, have managed to row a boat, and are pretty efficient in the grocery store," the pair told TODAY in an emailed interview. "Our short arms do make a number of tasks difficult.
"Drinking coffee, we found, is next to impossible. However, we've come to find that just because we can't do something the first time doesn't mean we can't find a way to do it!"
So why Tuesdays? "Thursday already has 'thirsty' and 'throwback'; Tuesday needed something exciting and fun, so we gave it a T. rex!" wrote the dinosaurs, who said that revealing their identities would take away from the fun they have making videos.
RELATED: Boy from 'Success Kid' meme turns to Internet to help his dad find new kidney
There are two people who are the stars in the inflatable T. rex suits, but they have a small, close- knit team of friends who help them film and produce the music for the videos. The T. rexes stated they do their own editing but that it takes them a while due to their small arms and clumsy dino claws.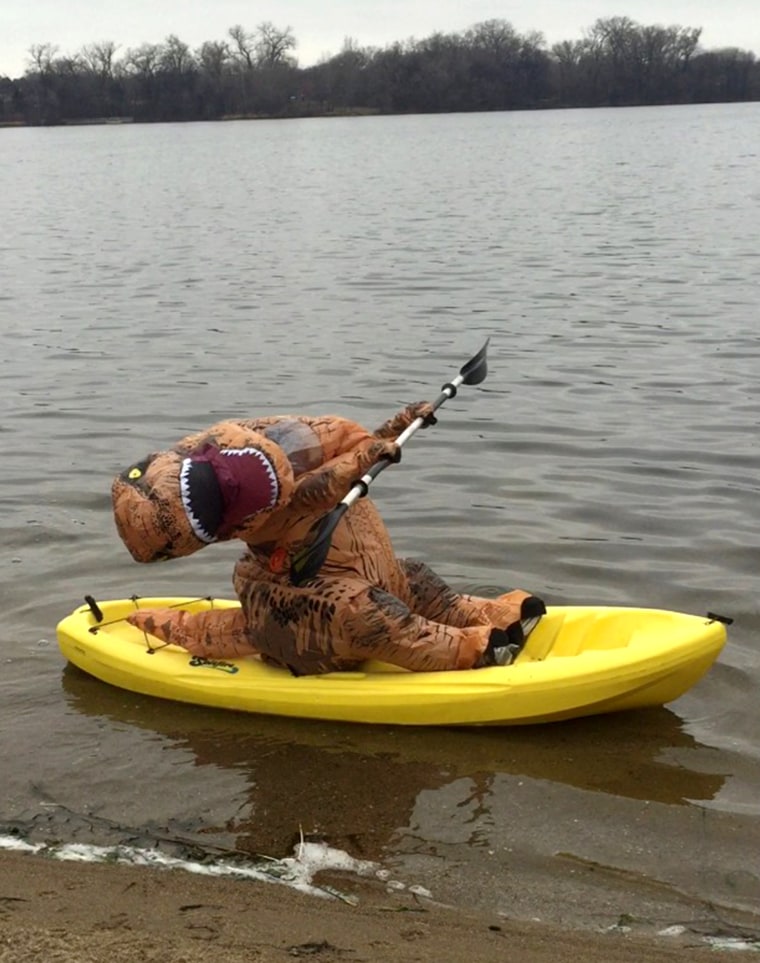 Many of their fans send them messages about how they look forward to the new video they release every Tuesday, and how it lightens their mood and adds a little laughter into their week.
"We T. rex on Tuesdays, and now we have close to half a million friends who also T. rex on Tuesdays!" they said.
T. rex Tuesdays aren't the only ones to make use of the inflatable dinosaur costumes. In Mississippi, there was a T. rex riding a horse; during the blizzard that hit the Northeast earlier this year, a T. rex shoveled snow in Kentucky; and a T. rex learned to dance the Macarena last fall.
But that hasn't unearthed any competitive spirit from the duo. "We are happy to see that our fellow T. rex buddies are having so much fun!" they said.
In fact, T. rex Tuesdays will host an event in Minnesota's Twin Cities region of St. Paul and Minneapolis on May 28. They plan to have a massive T. rex video shoot with as many T. rexes that can attend.
"Life shouldn't always been taken too seriously, sometimes you need to run around and have some crazy fun!" they wrote. "Don't let society's expectations define how you should have fun — if it makes you happy, go for it!"