A couple of years ago, Anna Jane Grossman read a spoof article on the website The Awl about a teenage girl who was building up her resume for college applications and was struck by one detail; among the descriptions of organic ibex farming and studying Chinese, the high school student was teaching her dog how to use an iPad.
"It was not real. But I was like, 'Oh, I can teach my dog how to use the iPad!'" Grossman, who had recently left journalism to pursue dog training full-time, told TODAY.com. 
Grossman, who runs School for the Dogs with dog training partner Kate Senisi, trained her own dog, Amos, on her iPad, and has since segued into teaching budding canine techies how to use the popular Apple device. For the past year, she's given private lessons to about 25 dog owners and their pets through the Manhattan-based training center. 
Despite what you might think, getting pups familiar with the device isn't all about teaching them how to crack level 60 on Candy Crush Saga; it's an invaluable training tool, Grossman said.
"Dogs don't differentiate between useful behavior and behaviors that are silly," Grossman said last week as she prepared to lead a class. "To them, it's all just a means to an end. So if you teach the fun silly stuff, you're developing the skills to teach the harder stuff."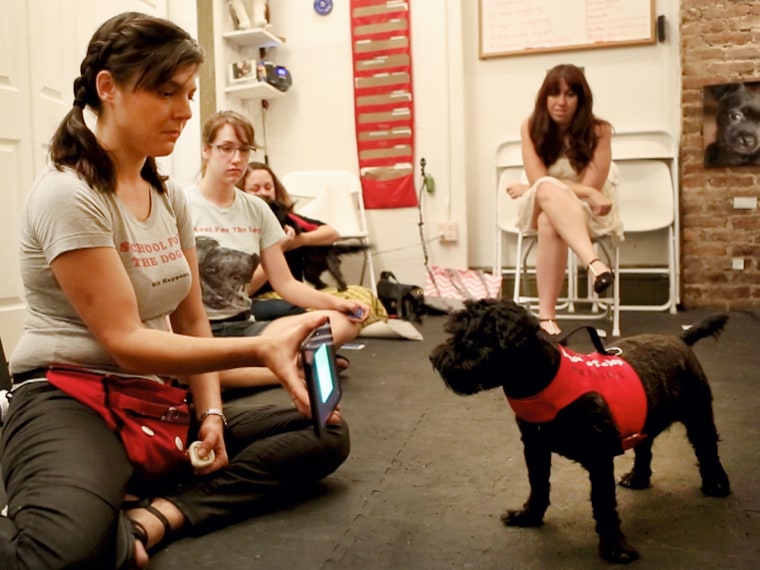 At last Tuesday's hour-long class, Grossman and trainer Lauren Wojcik taught Latka, a 1-year-old mixed-breed rescue dog and Desi, a 2-year-old Coton de Tulear, how to use a touch-screen. The dogs and their owners started out doing hand-targeting, a fundamental skill in dog-training that gets dogs comfortable with learning new behaviors, eventually segueing into using their noses to push buttons attached to iPad-like boards. 
Finally, Grossman broke out the devices. She pulled up a few dog-friendly apps. One featured a big YES and a big NO button. Another, called Doodle Buddy, gave the dogs the opportunity to make artwork with their snouts. And another, Big Photo, allowed the dogs to take selfies while pushing on a front-facing camera. 
Though some canine-friendly moves had to be made to make the screens enticing to the pets — Grossman smeared peanut butter on her iPad to tempt them at one point — eventually the two students both caught on. 
The iPads are protected in heavy-duty cases and one was wrapped in Saran wrap.
Meanwhile, Grossman's own dog, Amos, took command of the teaching floor to show off his skills. Outfitted in a red smock reading, "School for the Dogs Principal," Grossman used a remote-controlled treat-dispensing machine to get Amos to run back and forth between the iPad and the bits of kibble it gave out. For the two of them, she said, it was a good way to play together in a small apartment.
"When you live in New York City, you can't go out necessarily and play fetch with your dog for four hours," she said. "I really like to teach things you can do sitting on your couch with a glass of wine. It should be something that's enjoyable, because in the end, it's about spending time with your dogs."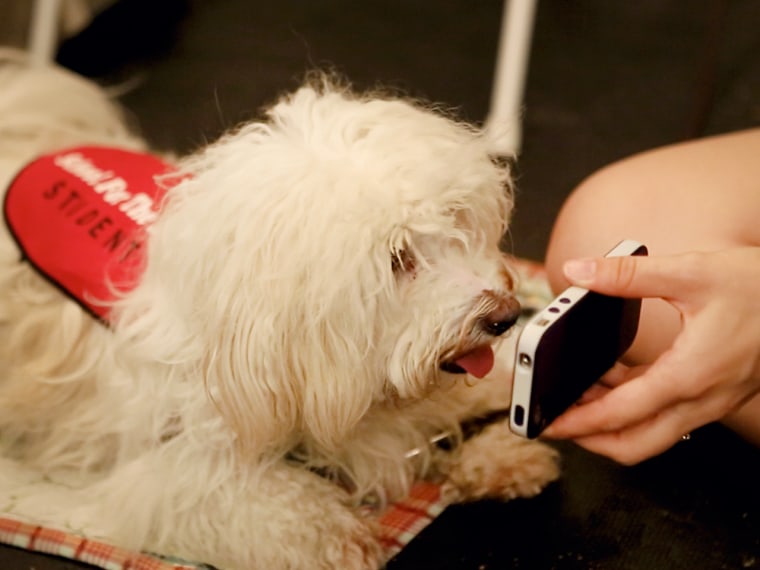 For Desi's owner Audrey Gilbert, the iPad served as a fun departure from the basics of "sit," "come" and "stay." 
"I saw it as another way for me and Desi to interact and bond," Gilbert, who works in marketing and lives in New Jersey, told TODAY.com. "I always have my iPhone, it's easy to just pull out and practice with him." 
Though, when people heard about the iPad class, there were a few skeptics. "One person asked what I was smoking," said Latka's owner, Karen Lieberman, a Manhattan resident.

Grossman's heard her share of the skeptics, too. She's one of, if not the only, dog trainer who's been using the iPad as a training tool — the Association of Pet Dog Trainers say they've only heard of instructors using iPads for bookkeeping, scheduling and the like. In a recent Wall Street Journal article cat behavior expert Pam Johnson-Bennett questioned the effectiveness of an app that dangled virtual mice in front of felines. "Without a successful capture I believe the play session keeps the cat too revved up instead of allowing for a satisfying winding down of the action," she told the publication. 
But though Grossman says she sees where the naysayers are coming from, she doesn't consider the iPad to be much different from any other training tool. 
"It's funny, the idea of it it," she said of teaching dogs to use iPads. "But in a way it's not any weirder that we put these devices in the hands of nonverbal children. It can be a tool to facilitate some kind of affection." And considering how attached people are to their devices these days, Grossman says it makes sense to sync your iPad with a pet, especially if they're cooped up in the city. 
The class costs $50, money that is well-spent, Grossman would argue.
"People spend so much money on cases they put on their iPhones. I think if you're spending that money at least to improve your relationship and your dog's daily life, I don't really have a problem with that." Though there are some things the dog trainer does draw the line at.
"Money spent on a diamond-encrusted leash, on the other hand, would not be for the benefit of the dog," said Grossman.