Jack, an American bully who wears a diaper due to a medical condition, was ready to be adopted by his new family. Waiting for them in front of a roaring fire, Jack was freshly bathed, wearing his fancy harness and a Mickey Mouse diaper.
He waited. The family never showed.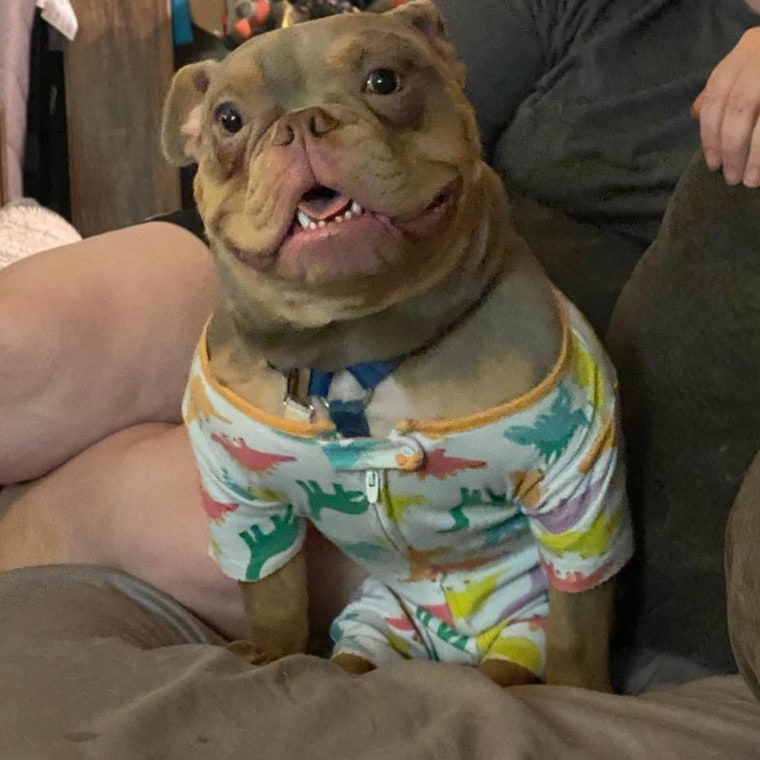 "It was heartbreaking. We waited and waited and no one ever came," Nicole Briggs, 38, president of Peaches Bully Rescue in West Chester, Ohio, told TODAY. "His foster mom was in tears." Briggs called the adoptive family and left messages and emails, but, even days later, never heard back.
"Unfortunately for Jack, this wasn't his first time being let down like that," Briggs said, adding Jack was even given a new toy to comfort him. "Do I really think Jack knew the difference? No. But he felt our disappointment, he felt his foster mom crying, and that was sad."
"He had not had very much human interaction, he was very scared."
Nicole Briggs
Briggs founded the rescue in 2017 and the all-volunteer operation has saved 350 dogs. They serve all kinds of bully dog breeds, like English bulldogs, French bulldogs and others, and often take dogs other rescues pass on.
Jack, who is about 9 months old, arrived at the rescue five months ago. He was in immediate need of surgery. Post-surgery, it was also discovered he has spina bifida, which causes incontinence. It's a permanent condition and he will always need to wear diapers. He also has club feet, which means he can walk and play but can't go on long walks.
"He was a very sad case," Briggs said. "He had not had very much human interaction, he was very scared. To see where he is now, this is why we do this."
Jack learned how to wear diapers ("Imagine changing a wiggly baby. That's what changing Jack was like"), started socializing with people and other dogs and discovered his favorite kind of toy is a squeaky pig.
"He gave kisses for the first time last month," Briggs said. "That was a big day for all of us."
She didn't expect it to go viral, but wrote the post because she wanted to bring awareness to how much goes into adopting a dog, and that it's the tireless efforts of volunteers who make it happen.
"To see where he is now, this is why we do this."
The morning after she posted to Facebook was a Saturday, and Briggs was shocked by how much the post had been shared. "By Saturday night, I was floored," she said.
The post was seen by millions across the world. Five days after posting Jack's story, the shelter reported they received over 600 inquiries and 200 applications for adoption. That number is now 270.
Briggs has personally answered over 800 messages.
"Who knew that our little Jack Jack would be so widely loved," she wrote in a post. "Thank you all and please support rescue. We are the last chance for many animals in this world."
And as for Jack? His potential families are being screened, and Briggs said hopefully Jack will be meeting them by next week.
"It's about what's the best for Jack," Briggs said, and described him as a lovable guy who is very personable. "He is a ham," she said, adding, "A lot of people have told me he looks like Jack Nicholson."