Jack, the special-needs American Bully who was stood up by an adoptive family last month, has officially found his forever home, a new sister and, like all viral stars, an Instagram account.
Jack's new family welcomed them into their home last week, after a lengthy approval process that saw hundreds of applications to be his new parents. His story about getting stood up went viral, and readers around the world shared his story.
"After multiple false starts in securing his fur-ever home, this little wiggle butt was excited to start the next chapter in his life," Jack's rescue, Peaches Bully Rescue in West Chester, Ohio, posted to Facebook this week. "He has a human sister to love on him, lots of toys and diapers that this gracious community donated, and a new stroller to ride around in style."
Elizabeth, his new mom, who has asked that her full name not be shared due to privacy concerns, says Jack is adjusting well to life at his new home, which includes her fiancé and 5-year-old daughter.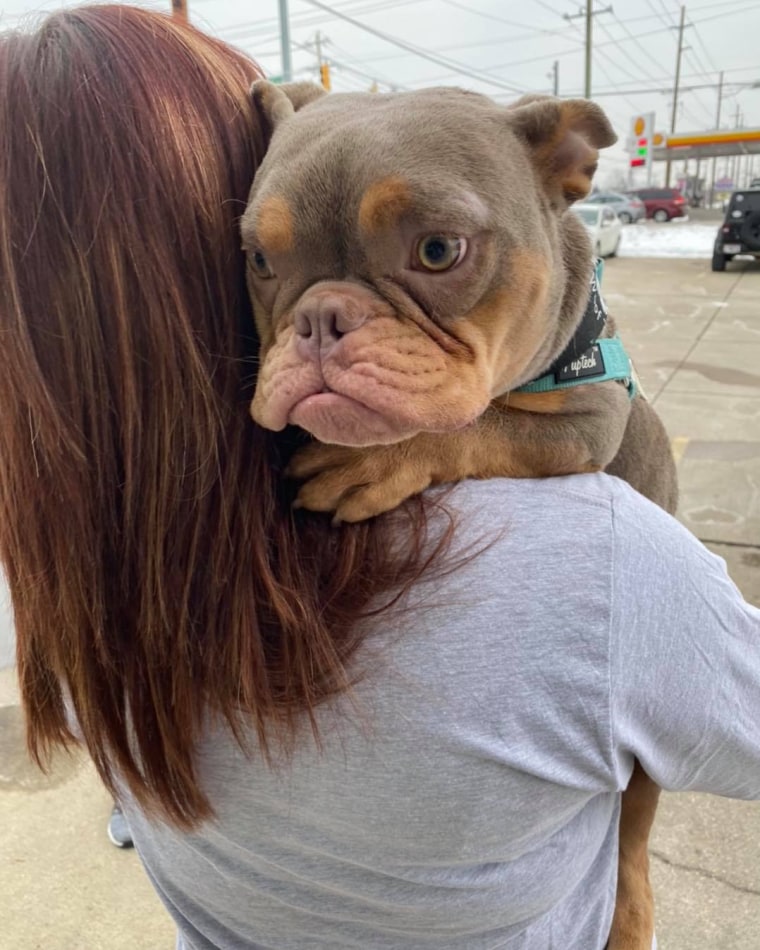 "He's becoming a member of the family. He likes to lay at my feet and chew on his bone," Elizabeth said. Jack has his own room, which includes two beds, water, a lamp, blankets and toys. "He snores a lot when he sleeps and he loves peanut butter and he loves to play."
Jack has spina bifida and wears a diaper due to his medical condition. Elizabeth, who grew up on a farm with dogs, has never had a special needs dog before and is learning how to care for Jack.
"Not bad tears, good tears. It was a hard reality for us that he was leaving us, but he was very excited and we were excited for him."
Nicole Briggs
"I have videos of trying to change his diaper; it's hilarious," she said. "(The rescue) would do it and it looked super easy, and I tried to do it and it's a train wreck. But now we can do it pretty quick."
Elizabeth first saw Jack on Facebook, and didn't know how famous he was. When she submitted her application, she prayed. The next day, she sent an email with a photo of her family, and wrote, "Here we are, and we just want to love him."
The rescue received 297 applications for Jack's adoption from across the U.S. Nicole Briggs, 38, president of the rescue, said it took some time to find his new home because, like with all their adoptions, there is a rigorous approval process. With Jack, there are not only all the usual checks, but an added layer of assessment that comes with dogs who have special needs.
Briggs said when she met Elizabeth and her family, they not only met the guidelines, but that it was also simply the way they were with Jack, who played with them for an hour, even though he'd had a photo shoot that day and met several other families.
"It was what was best for Jack," Briggs said. When Elizabeth came to pick him up after all approvals went through, there were tears. "Not bad tears, good tears. It was a hard reality for us that he was leaving us, but he was very excited and we were excited for him."
Jack has spent the last week frolicking in the snow and getting used to his new home. Elizabeth is on a group text with Briggs and Jack's foster mom, and they work together to make sure he is transitioning successfully. There have already been a couple of late nights, midnight phone calls and new lessons to learn.
"He's like a toddler," Elizabeth said. "He's sassy. If he doesn't get his way, he acts like my 5-year-old. He is the funniest. I bet if he could talk back, he would."
She said she's been surprised at how his Instagram account has already grown to over 8,000 followers, and that she's happy to share him with the world. "He's just as adorable in person as he is in pictures," she said. "We love him. He's already changed our lives more than we've changed his."
Briggs says she's happy for Jack to have his forever home, and, with Jack safe and sound with Elizabeth's family, it means there's more room at the rescue. Another special needs dog came in just last night.
"You go from being super happy," Briggs said, "and then the next one comes in, and you're like, 'Lets start again.'"