Baby, it's cold outside. And it's going to stay that way.

Punxsutawney Phil emerged from his burrow early Sunday morning and saw his shadow, signaling that winter will be sticking around. Officially, a sight of Phil's shadow means an extra six weeks of winter.
The odds were in favor of a longer winter, since Phil has seen his shadow 100 times and has not seen it only 17 times since 1886, including last year. After he sees (or doesn't see) his shadow, he reports what he saw to the groundhog club's president, speaking Groundhogese, according to Punxsutawney Groundhog Club's Inner Circle.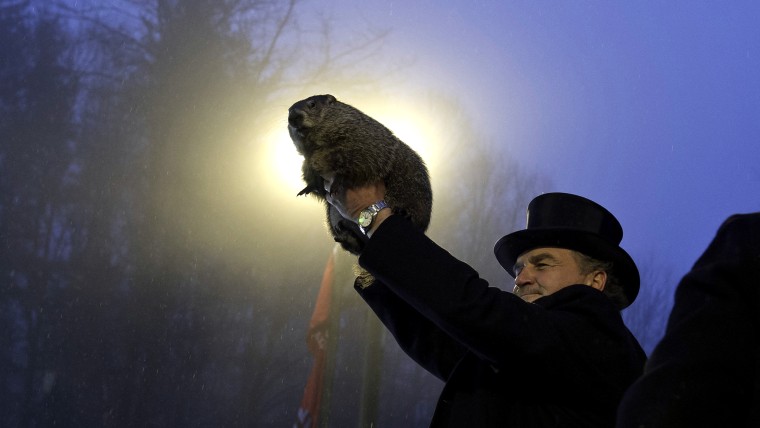 The town of Punxsutawney, which is about 65 miles northeast of Pittsburgh, held its first Groundhog Day in the 1800s. Predictions are made at Gobbler's Knob, where it has been done since 1887. The event annually attracts more than 15,000 people and brought as many as 30,000 in the wake of the 1993 release of the Bill Murray classic movie "Groundhog Day,'' according to the Inner Circle. 

Phil is a very special groundhog, and the Inner Circle says he gets his longevity from drinking a secret punch. He drinks it every year, at a summer picnic, and it is said that one sip gives him seven more years of life. 
While Punxsutawney Phil may be one of the most recognizable groundhogs, there are others of his kind. 
Staten Island Chuck lives at the Staten Island Zoo in New York, and also made his announcement Sunday morning. His prediction matched Phil's, meaning snow-weary New Yorkers may have to buckle down for more frigid temperatures. 
The state of Georgia also has their own groundhog, named General Beauregard Lee, and Ohio has Buckeye Chuck. Buckeye Chuck even has an official title — he was named the official state groundhog in 1979.
See how the weather-predicting groundhog spends his time, along with the 'Inner Circle' of top-hatted helpers who handle his travel and well being