You can lead a dog to water, but you can't make her swim.
That's what the folks at Happy Tails Resort dog day care in Norfolk, Virginia demonstrated with a hilarious video of a pack of excited pups paddling around in the pool... except for one.
If you look in the lower center of the screen, that's Beya, a Chesapeake Bay Retriever staring back at you, not swimming, just standing and staring at the camera. Hey, we've all had those moments at a party, where you're just not into it but not quite ready to go home.
MORE: Of pooches and pools: Teaching your dog to swim
Instead, Beya appears to be angling for a treat (or a ball to be thrown in the water).
"She'll hang out all day if we let her," Happy Trails receptionist Kayla Jones told TODAY. "She will swim around, do some laps but her comfort zone is where she's just hanging out. Every so often she might kick a paw out."
The delightful doggy video has gone viral since it was posted June 9 and now has over 10 million views and nearly 200,000 shares. (Happy Trails labeled Beya the "non swimming dog" when they posted the video originally, and apparently her stance has also given her the nickname Doggysaurus Rex.)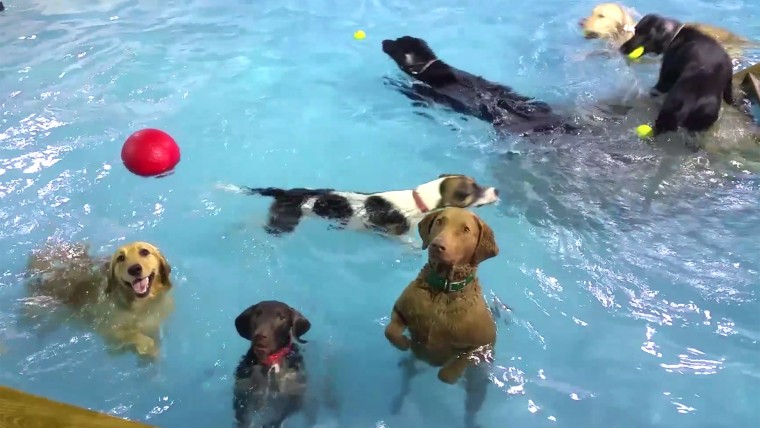 The attention the video has drawn has taken the day care by surprise. "We never thought it would go as big as it did," said Jones. "The owner, Jana Underwood, loves that everyone is so excited and interested."
MORE: Kayaker rescues swimming dog that fled fatal crash
And according to Jones, Beya may be starting a trend: Odin, a German Shorthaired Pointer, has been spotted also paws-ing and hanging out in the water near her. Well, they are pack animals!
Follow Randee Dawn on Twitter.