An adorably energetic snow leopard cub made his debut at the Bronx Zoo on Tuesday, almost five months after his birth on April 9.
How the unnamed cub ended up at the zoo is the stuff of storybooks — literally. His orphaned father, Leo, garnered global attention when a shepherd rescued him in the Himalayan mountains of Pakistan at less than 2 months old. Leo was handed over to Pakistani authorities when he outgrew his home with the shepherd's family, but the government was unable to care for him. 
That's when the Wildlife Conservation Society, which runs the Bronx Zoo, formed a partnership with Pakistan and brought Leo to the Big Apple on loan in 2006, where he's served as a wildlife "ambassador" for the South Asian country ever since. Leo's history was later immortalized in the nonfiction children's book "Leo the Snow Leopard: The True Story of an Amazing Rescue."
The snow leopard cub is Leo's first offspring, and zoo officials say the birth is important for both national diplomacy and conservation efforts.
"The rescue of Leo as a cub, conducted by two nations, the continued global interest in him, and now the story of his first offspring shows the power of the connections between humans and nature," Bronx Zoo Director Jim Breheny said in a press release.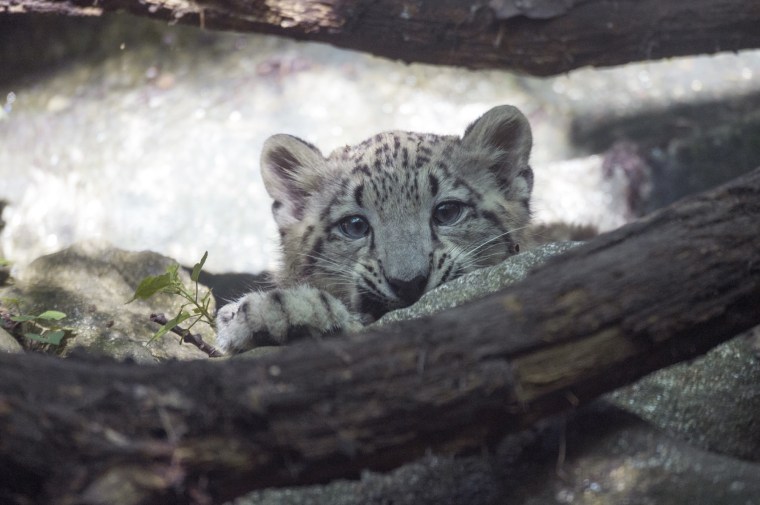 The cub is one of more than 70 snow leopards born in captivity at the Bronx Zoo, which was the first U.S. zoo to exhibit snow leopards starting in 1903. Currently, there are 137 snow leopards in the Association of Zoos and Aquariums Snow Leopard Species Survival Plan, which was established to stabilize the population of the endangered species.
"Leo — and his new cub — are living proof of the importance, power, and significance of saving wildlife," WCS Asia Program Deputy Director Peter Zahler said in a press release. "Leo has helped bring people together from around the world in an effort to save this iconic animal."