We're all smiling at this news: The legal woes are over for Diggy the dog, who was ordered out of town after a joyous photo of him snapped right after his adoption went viral.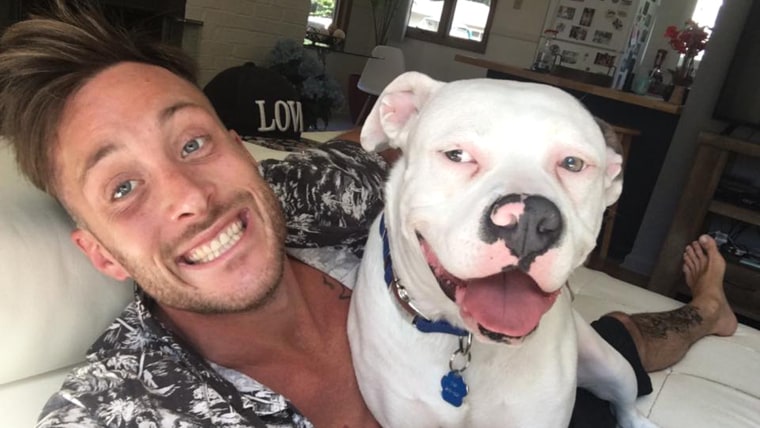 It all started in June, when musician Dan Tillery and his girlfriend, Megan Rose Long, decided to adopt a dog after buying a house.
"It was huge for us — why we bought, to get a dog," Tillery, 30, told TODAY.
The couple quickly found Diggy, a sweet boy who'd waited more than three months for a home at Detroit Dog Rescue's no-kill shelter. Seeing the dog's adoption photo, it was "love at first sight," Tillery said.
After the adoption went through, the sweet image of Tillery and Diggy wearing enormous, matching grins right after Diggy came home took off. And then, days later, it got them a visit from the police.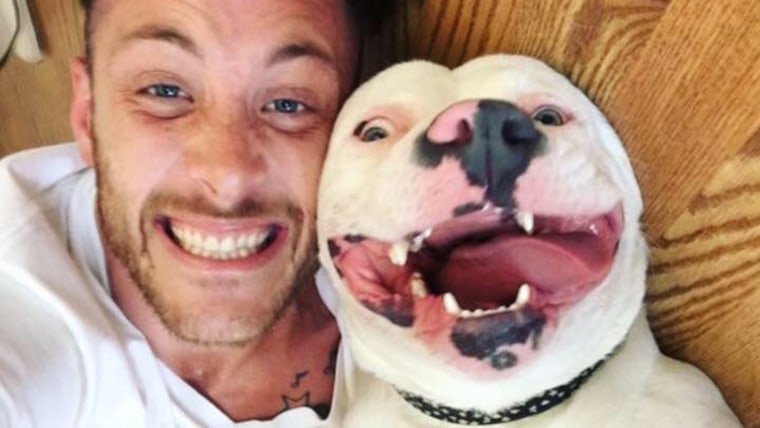 Tillery's home is in Waterford Township, Michigan, which has a long-standing ban on pit bulls.
Waterford Township is one of hundreds of cities and counties across the country with so-called breed specific legislation, or BSL — though this number is on the wane.
RELATED: Couple creates humongous bed so they can sleep comfortably with 8 rescue dogs
Waterford Police Chief Scott Underwood told the Oakland Press that officers went to Tillery's house to look at Diggy after hearing complaints that the dog was illegal under the city's breed ban. "Based on the physical characteristics of the dog," Underwood said, the officers determined that Diggy wasn't allowed to remain. Tillery was given three days to find Diggy a new home, outside the jurisdiction.
Instead, Tillery found a veterinarian who examined Diggy and said he appeared to be an American bulldog. He also found himself with a huge amount of public support — more than 110,000 people signed a petition asking for Diggy to remain with his family, and for Waterford Township to scrap its pit bull ban.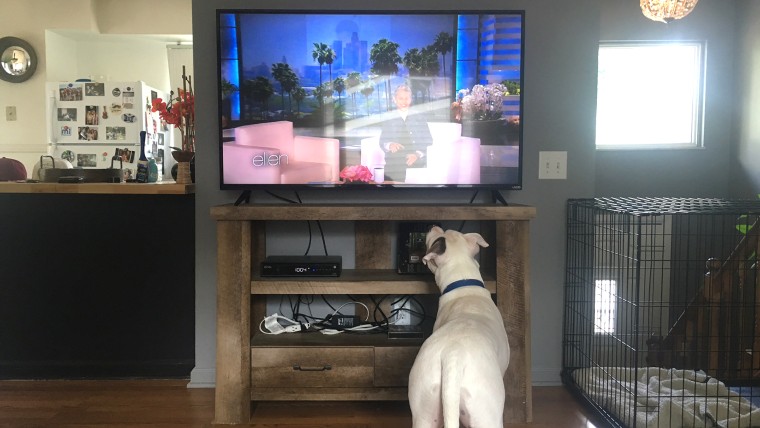 Indeed, in August, the town did make changes to its ordinance. The ban remains, but dogs deemed pit bulls by the city may now be examined by a "township approved veterinarian" at the owner's expense. If that veterinarian says the dog is something other than a pit, the findings will become part of the adjudication.
RELATED: After rescue from abuse, a drooly pooch named Hooch is 2016 American Hero Dog
"We're recognizing that this is the kind of thing that could be subject to differences of professional opinion," township attorney Gary Dovre told the Detroit Free Press.
It took Waterford Township another few weeks to clarify Diggy's fate.
At last, on Tuesday, the city dropped its case — with lots of big smiles ensuing from Diggy, Tillery and their many fans.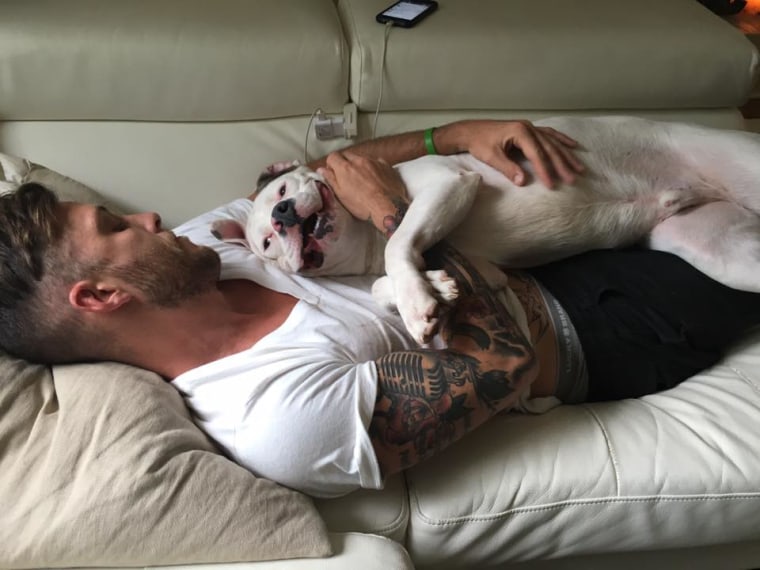 "Case Closed," Tillery wrote on Facebook. "We get to keep our boy. He's a good boy."
"Now Diggy can live out his life smiling with Dan and Megan," Detroit Dog Rescue founder Kristina Millman-Rinaldi told TODAY in an email. "When groups of passionate people come together, rescue dogs win!"
The hope now is that Diggy's story will help even more dogs -- by building support for a bill that would do away with breed specific legislation across the state, said animal advocate Courtney Protz- Sanders, with the group Make Michigan Next. Twenty states have already enacted such laws.
RELATED: Bomb-sniffing dog who served two tours in Iraq gets 21-gun salute
"I think that this case shows how unfair and inconsistent laws like this are," Protz- Sanders told TODAY.
Cory Smith, the Humane Society of the United States' director of public policy for companion animals, agrees.
"We worry about all the loving dog owners out there who don't know BSL is coming for them and may be less able to fight a successful legal battle," said Smith. "We are so happy for the Tillery family and celebrate this high profile win as an incremental and important step towards the end of BSL."
As for Tillery, he's been making happy videos of himself playing music, with Diggy relaxing alongside him.
He thinks that Diggy is happy as ever, blissfully oblivious to how close he came to losing everything.
"Diggy's never known troubles since he's been here at his home," Tillery told TODAY. "His biggest concern is where I hide his treats, and do I have an open lap."