Things have been looking up for Rupee the rescue dog. Waaaaaaaay up.
Just three months ago, Rupee was a malnourished pup trying to survive at a dump site in a Himalayan village in India. An animal advocate from South Africa visited the site in August to help the starving donkeys scavenging there. When Rupee saw her, he broke into a sprint.
"This little dog just came running for me," Joanne Lefson, 40, told TODAY.com. "It was almost like he had a mission."
Lefson helped nurse the skeletal 7-month-old dog back to health with boiled eggs, rice and beans. He rebounded so remarkably that, by October, Lefson brought him along with her on a trek to Mount Everest's South Base Camp to call attention to the millions of homeless and shelter animals around the world.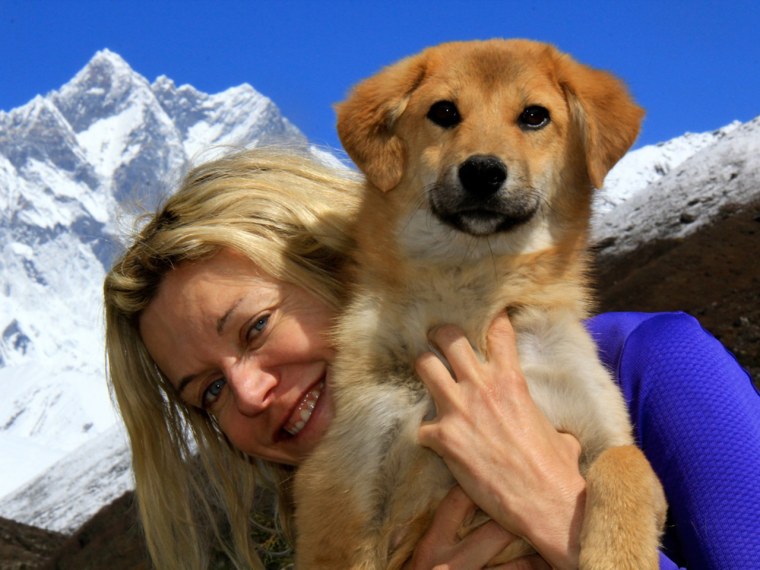 With puppy-like zeal, Rupee frolicked in the snow throughout the 13-day, 77-mile journey to Base Camp and back. Lefson thought Rupee might have been the first dog ever to make it so close to the top of the world — the elevation at South Base Camp in Nepal is a dizzying 17,598 feet — but other dogs have had Everest adventures over the years.
Veteran mountaineer Robert Anderson has ascended Everest numerous times and is famous for leading a team up a new route on the mountain without Sherpa support or supplemental oxygen. Anderson told TODAY.com that he's seen dogs at Base Camp before; he said one dog stayed with him all the way to the base of Everest's North Col in Tibet "at over 21,000 feet, in winter."
Even if Rupee didn't set any world records last month, he astonished everyone around him with his happy energy. "I had an extra porter there in case Rupee needed to be carried, but we didn't need that at all," Lefson said. "He was the leader of the pack!"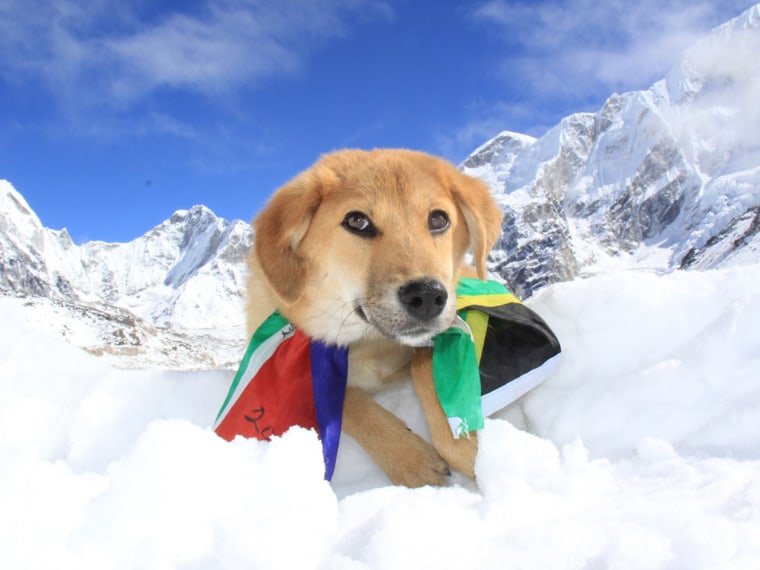 Lefson also invested in special booties to protect Rupee's feet, but he didn't want to wear them and didn't seem to need them. A veterinarian assured Lefson that Rupee wouldn't suffer from altitude sickness on the trek since he grew up in the high Himalayas.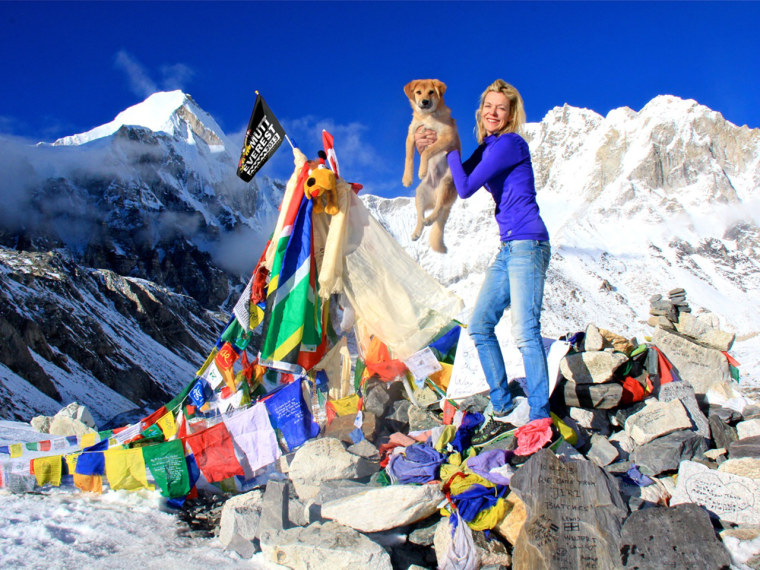 The journey held special significance for Lefson because it was a trip she had planned to make with Oscar, a dog she adopted from a shelter years ago. Oscar proved to be a true friend and a trusty travel partner — so much so that Lefson circumnavigated the globe with him.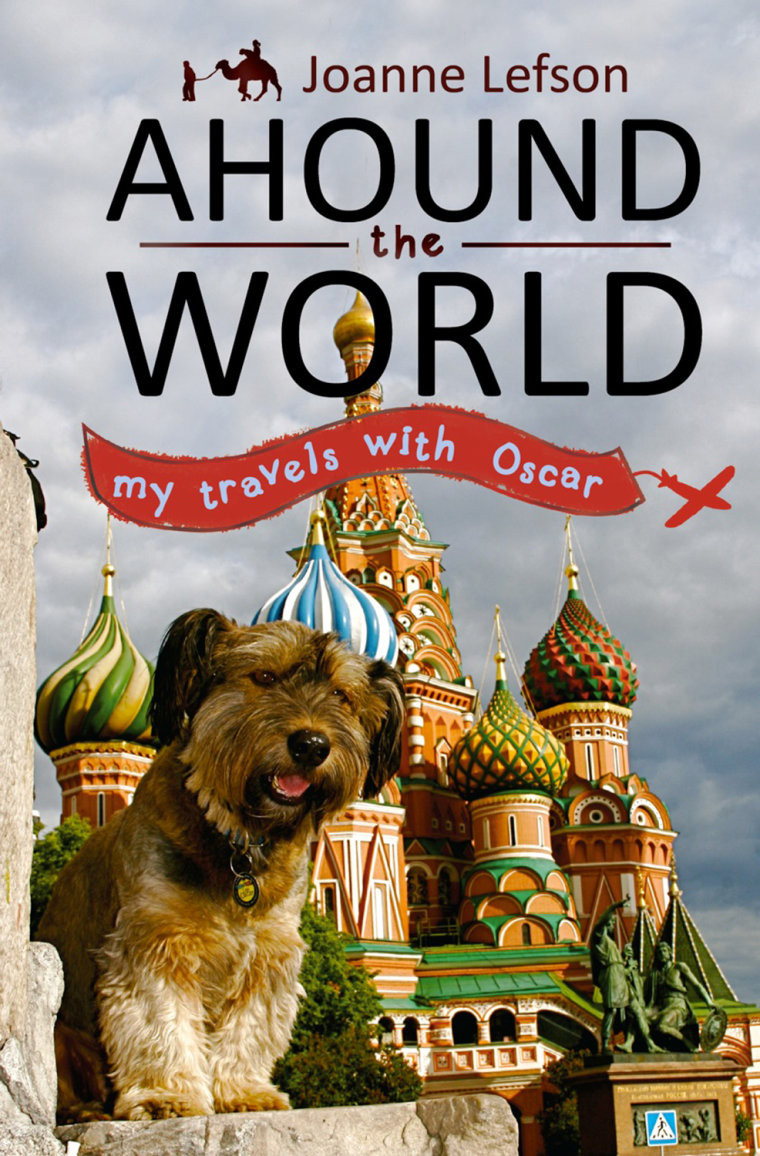 Her 2011 book about their adventures, "Ahound the World: My Travels with Oscar," chronicled their adventures traipsing on the Great Wall of China, peering up at the pyramids in Egypt, going on safari in Africa and avoiding arrest in Rome after Oscar took a dip in Trevi Fountain. 
Their travels went beyond mere globetrotting; Lefson wanted to use the trip to raise awareness of the dire straits — and the enormous potential — of homeless and shelter dogs. Along the way, she and Oscar visited more than 60 animal-welfare organizations and helped raise money for spay and neuter programs on five continents.
Oscar died in a car accident in January. Lefson's world momentarily unraveled.
"Oscar was my best buddy," Lefson said. "He was about 9 or 9½, and this trip to Everest Base Camp was supposed to be our final voyage before his blissful retirement."
Lefson put the Everest expedition on hold after Oscar's death and wondered whether she'd do it. Then, when Rupee found her and began to flourish, she decided to make the trek happen.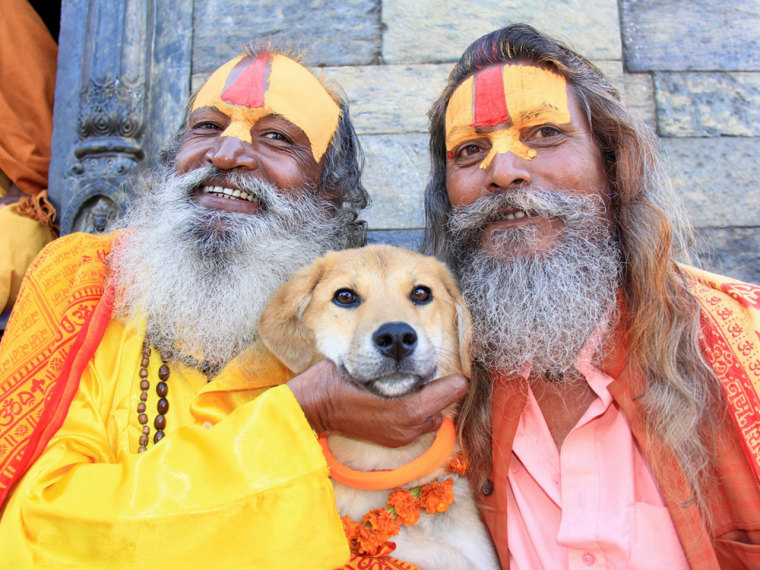 At Base Camp — which is more than 11,000 feet below Mount Everest's 29,029-foot summit — Lefson released some of Oscar's ashes into the wind and cried. She also tied a pair of embroidered prayer flags at the camp with a wish for homeless dogs:
May all the homeless dogs in the world find a loving home,
And may all know the gentle touch of a compassionate hand.
May all beings be free from suffering.
May all beings be happy.
Peace and kindness, forever.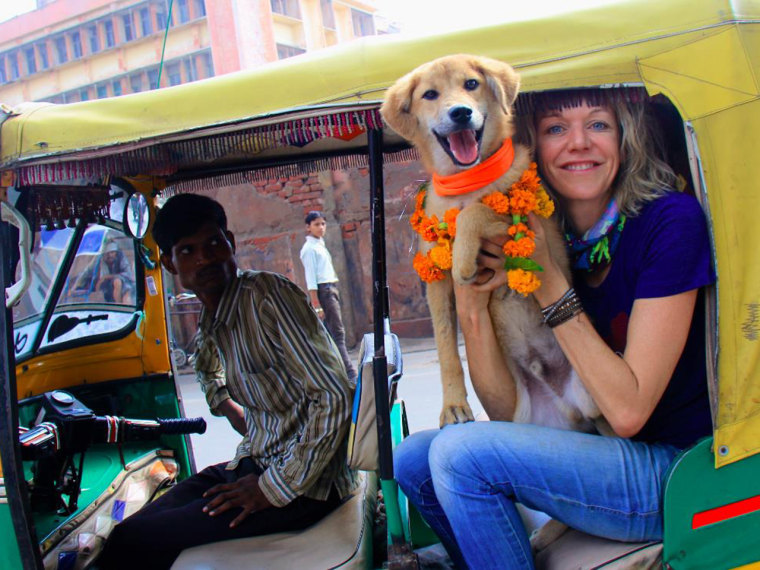 "Every life counts," Lefson said. "Even when just one dog is adopted, we may not change the world, but it will change the world for that animal forever.

"Look at Rupee: In just six or seven weeks, he went from being in the lowest place to being on top of the world. I don't care if it's a person or a dog — just give the underdogs a chance, and look at what they can do."
Need a Coffey break? Connect with TODAY.com writer Laura T. Coffey on Facebook, follow her on Twitter or read more of her stories at LauraTCoffey.com.