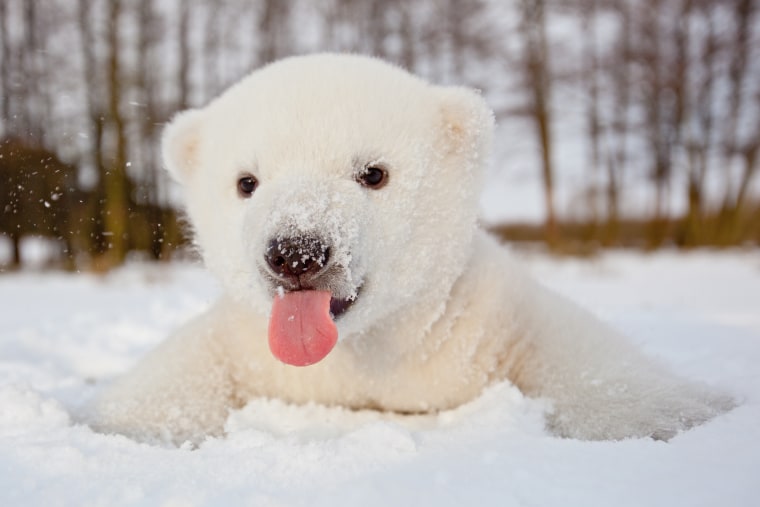 Updated at 3:27 p.m. ET, 2/27/12: To celebrate International Polar Bear Day, Siku can now be seen live via web cam for a limited time each day! Catch a glimpse of this adorable polar bear cub at explore.org and polarbearcam.com.
Original post: Remember sweet Siku, the orphaned polar bear cub born in Denmark last November? He's come a long way since being bottle fed by zookeepers at the Scandinavian Wildlife Park. The cute cub is now starting to stand, trying to walk and loving the two hours a day he spends in the snow! As you can tell from these photos, he remains as playful as ever.
Siku became an internet sensation when he was just a few weeks old, gaining millions of fans through his videos on YouTube and his exclusive appearance on TODAY. He remains a star at the zoo, where he continues his mission as an ambassador-at-large for his wild cousins. Siku will feature in a brand new program being developed at the park to provide information about how climate change is affecting sea ice in the Arctic and what can be done to help save the polar bears. Polar bears are completely dependent on sea ice for their survival, catching all their prey on the ice. It is estimated that there are only 25,000 polar bears left in the world.
Not just another adorable face, Siku, whose name means 'sea ice' in all Eskimo/Inuit languages, started his job early when he asked for a holiday wish at only a few weeks old on TODAY: that everyone work hard to reduce their carbon footprint and save energy to help his cousins in the Arctic.
Beginning on International Polar Bear Day (February 27), you can see Siku for a limited time each day via live cam at polarbearcam.com.
Related: Zookeeper: Polar bear cub will fare better than Knut
Lisa Granshaw writes and produces for TODAY.com. She's starting to think she should have followed her childhood dream of being a zookeeper or veterinarian.