It happened in a flash. One moment Maria Williamson, a restaurant server and ultrasound student, was calmly driving home from work; the next moment a bullet was flying at her in what was later identified as an attempted carjacking.
Williamson sped off — but not unscathed. She'd been shot in the face and later underwent several surgeries and lost one of her eyes. That was just two and a half months ago. Williamson, 26, is still recovering and has a long road ahead, but she's got a new best friend to heal with — one who's suffered a similar injury.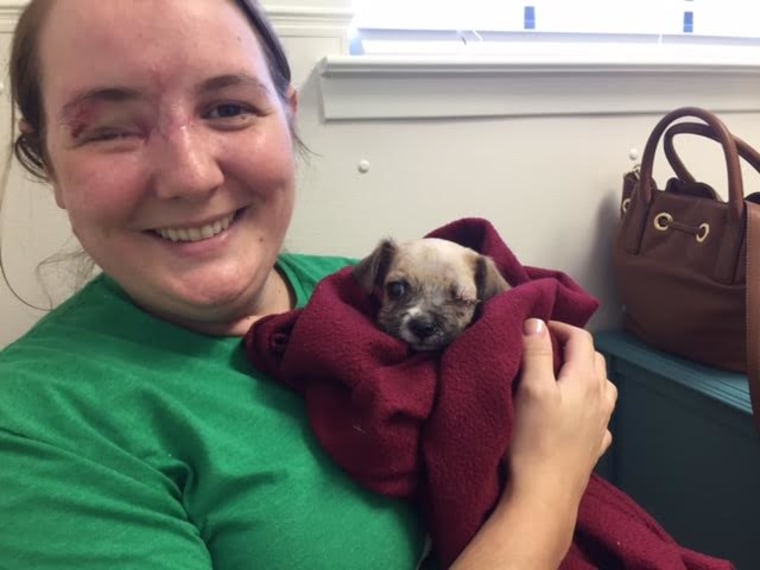 Exactly two months after she was shot, Williamson adopted Bear, a four-week old puppy who lost an eye after being attacked by another dog.
"As a result of his attack, his eye popped out of its socket and had to be surgically removed," Ali Rellinger, vice president of the Animal Rescue Foundation, told TODAY.com. "The people that had Bear showed up at our vet, Rehm Animal Clinic, but couldn't afford the extensive vet bills to save him. Our vet contacted us and asked if we would be willing to step in and get Bear the care he needed."
WARNING: This post includes graphic images, which some readers may find disturbing.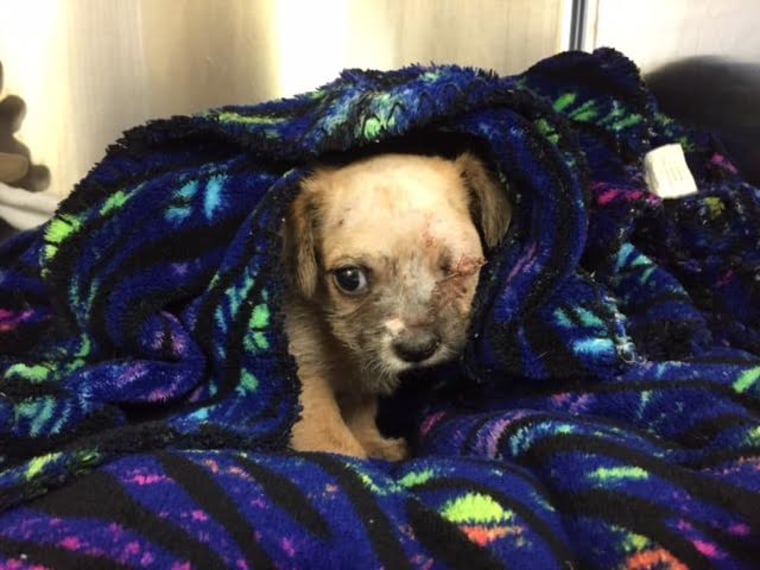 Bear's life was saved but he still needed a new home. Williamson quickly stepped in to adopt the puppy.
"I saw Bear through a friend's Facebook page and I knew immediately I had to have him. I knew that I could understand his healing process better than anyone else," Williamson told TODAY.com. "We both run into things, and are adjusting to life together. One thing I have realized, and am trying to teach him is [that] we can't turn around on our 'blind side'! That 's the quickest way to bump into something."
Williamson didn't have any pets prior to rescuing Bear, but the pup has swiftly become her most trusted and loyal companion.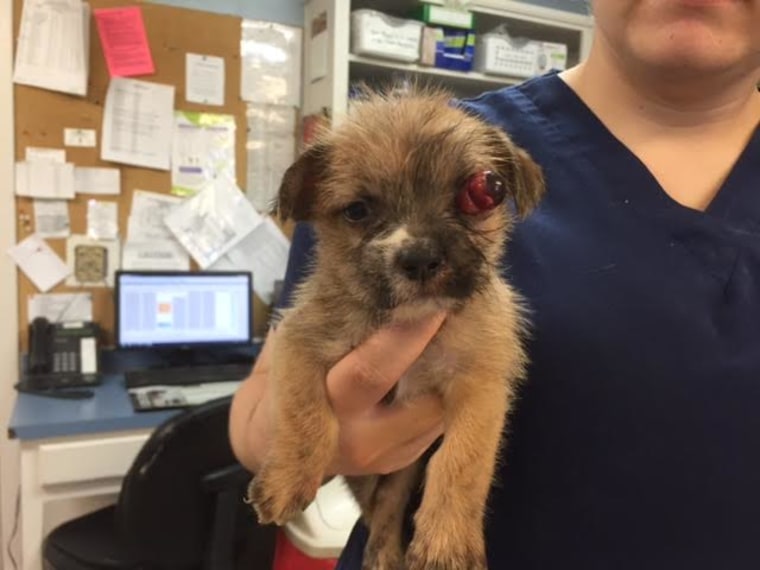 "Bear is my partner in crime," said Williamson. "I hate it when I have to leave him at home to run errands or go to a doctor visit. It's so cool knowing that he is going through the same adjustment as me!"
RELATED: 'Hugging' dogs saved from kill shelter are still up for adoption
Fortunately, Bear's medical ordeals should be over.
"The surgery [to remove his eye] was a success and we don't expect Bear to have any long-term issues," said Rellinger.
But Williamson is expected to undergo more medical procedures before she's fully restored. A GoFundMe campaign has been launched to help with the expenses.
"I do not have any physical pain anymore, but the amount of emotional pain is insane," Williamson said. "I have a severe anxiety when it comes to being out at night. I am basically afraid of the dark for the first time in my life."
To date, seven suspects in Williamson's shooting have been arrested, and one charged with attempted murder, shooting into an occupied vehicle and attempted car jacking. All them are juveniles and are believed to be affiliated with a gang.
RELATED: Virginia TV shooting victim's fiancée shares heartbreaking message after shooting
Williamson still can't get over how young her alleged shooter was — 15 at the time of the crime, but she's committed to moving on. And she's got quite the cuddly buddy to help her get to a place of peace.
"My advice is to live life," she said. "Don't hold grudges, and know that something bad could happen to anyone. Don't live your life in fear, but be aware!"