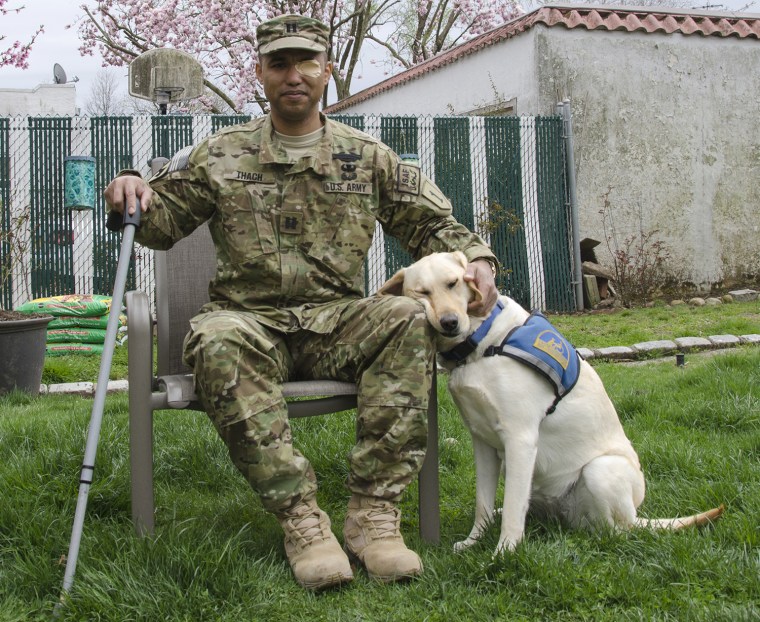 When U.S. Army Capt. James Van Thach returned home from Iraq in late 2008, he began to worry that the darkness might not ever lift.
The pain from his war injuries was constant, but his thoughts hurt him even more. He felt embarrassed about so many things: his marriage unraveling and ending; his inability to use his law degree after sustaining a traumatic brain injury; his need, at age 33, to move in with his parents so they could care for him and help him take 21 pills a day.
It wasn't until a calm, loyal friend named Liz entered his life in 2012 that Thach could step back into the light again. Liz is a highly trained service dog, and she only has eyes for Thach.
"She gives me independence," Thach, 38, of Queens, N.Y., told TODAY.com. "Liz can pick up my pill bottles for me if I drop them, turn on and off lights for me, open and close doors, give me access to my room, to the bathroom. She's helped me have my manhood back."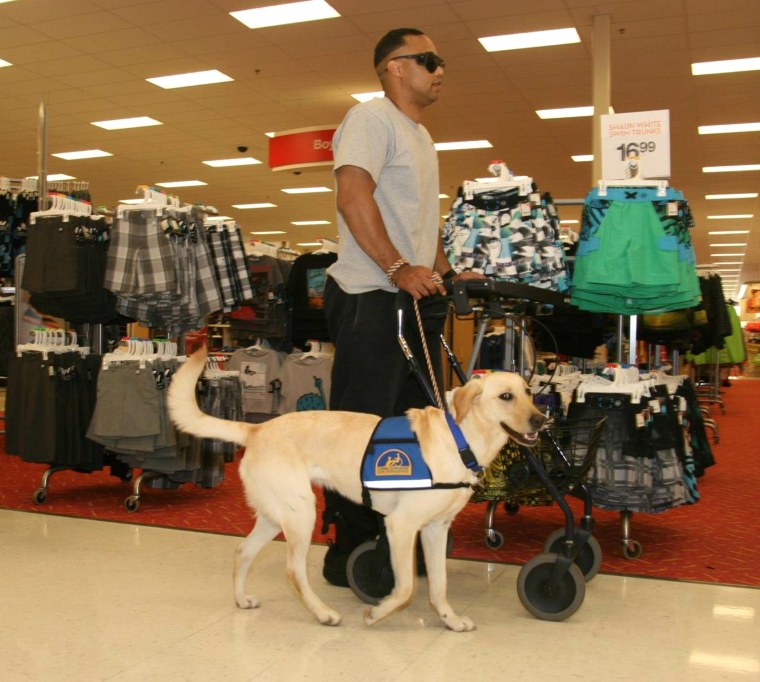 Now, as Memorial Day approaches, Thach said he's trying to help other wounded veterans avoid getting lost at "SEA" — his abbreviation for feeling "shy, embarrassed or ashamed." He just became a suicide prevention specialist, and he's also an enthusiastic supporter of Canine Companions for Independence, the group that trained Liz and matched her up with Thach free of charge.
"Liz has made it possible for me to help other veterans who need help," Thach said. "Not every veteran needs a service dog, but if they do, I really encourage them to get one."
For nearly 40 years, Canine Companions for Independence has trained and paired service dogs with about 4,400 children and adults with disabilities. More than 100 of those matches have involved military veterans, with the number of dogs placed with veterans tripling since 2008. Those service members returned home from Iraq and Afghanistan with spinal-cord injuries, limb amputations, deafness and other disabilities.
"It's amazing to see how these dogs can change someone's life," said Jeanine Konopelski, national marketing director for Canine Companions for Independence. "They allow people to do a lot of things that many of us might take for granted."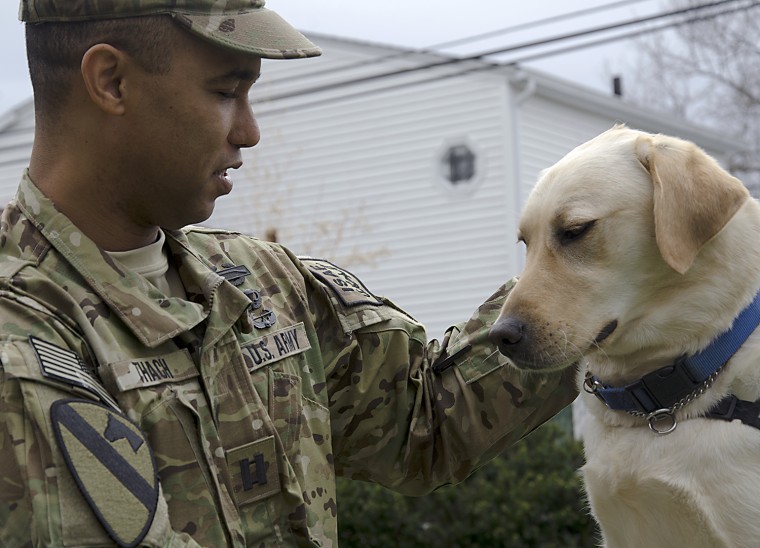 Canine Companions is able to provide service dogs at no cost thanks to volunteers who raise puppies in training, as well as donations from corporate and individual supporters. For instance, the non-profit group just entered into a partnership with pet retailer PetSmart Inc. called "PetSmart for Patriots." PetSmart will promote the benefits of assistance animals for veterans in its 1,300 stores and also provide financial support for Canine Companions' dog-training efforts.
"For veterans coming back from unbelievably stressful situations, these dogs make an impact," said David Lenhardt, president and chief executive officer of PetSmart, who appeared on TODAY on Friday morning to talk about the partnership. "This is our way of saying thank you."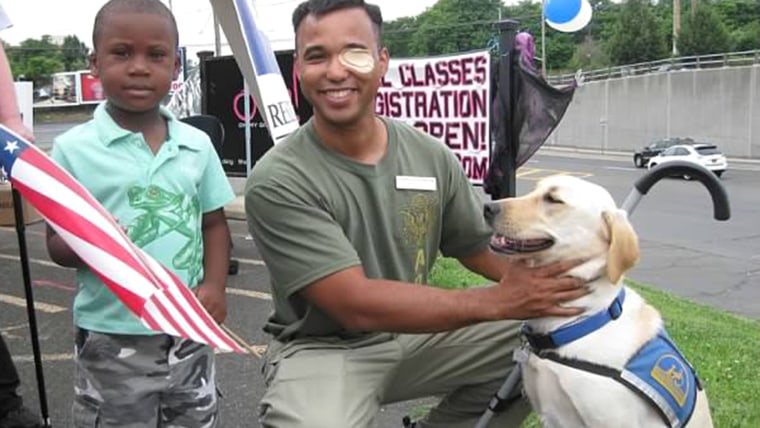 Some veterans who are not in wheelchairs or are not amputees might think they don't qualify for a service dog — but that isn't true. Capt. Thach has all his limbs, but he grapples with a loss of mobility in his back and neck, which makes it hard for him to bend down. He also deals with short-term memory loss, migraines, loss of vision in his left eye and sciatic nerve damage to his left leg.
Thach was injured in not just one, but two serious explosions during his 25 months in Iraq. The first happened when a bomb exploded under his Humvee in 2006. He sustained a mild traumatic brain injury and other wounds, but he refused to leave Iraq.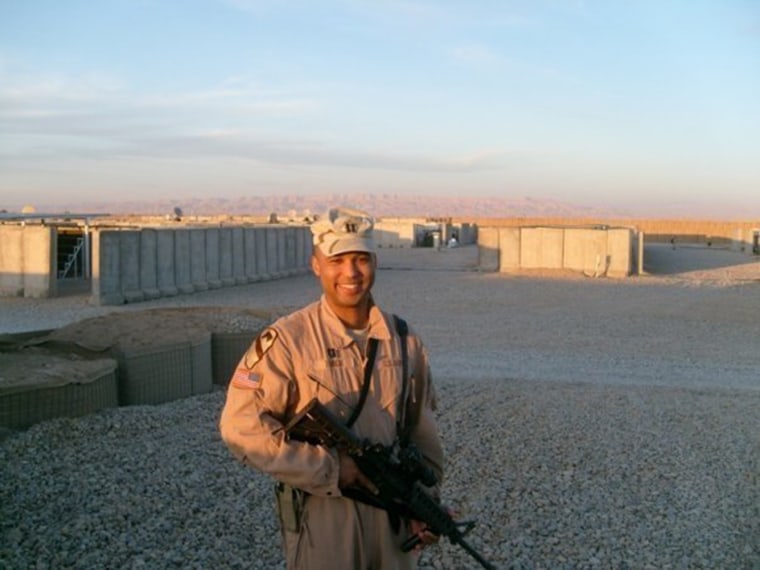 Then in 2007, a rocket exploded just 20 meters away from Thach, picking up his body and throwing him back down to the ground. His internal injuries from that blast were so severe that he was about to be sent back to the States — but once again, he couldn't bear the idea of leaving.
"I sat there in the hospital and I saw my fellow military brothers and sisters missing arms, missing legs, and then I looked at myself," Thach recalled. "I had all my body parts. I felt so guilty — I thought it would be a dishonor to leave on the same airplane with them. I asked if there could be any way I could stay in Iraq and assist, and it turned out that I could, but only on desk duty."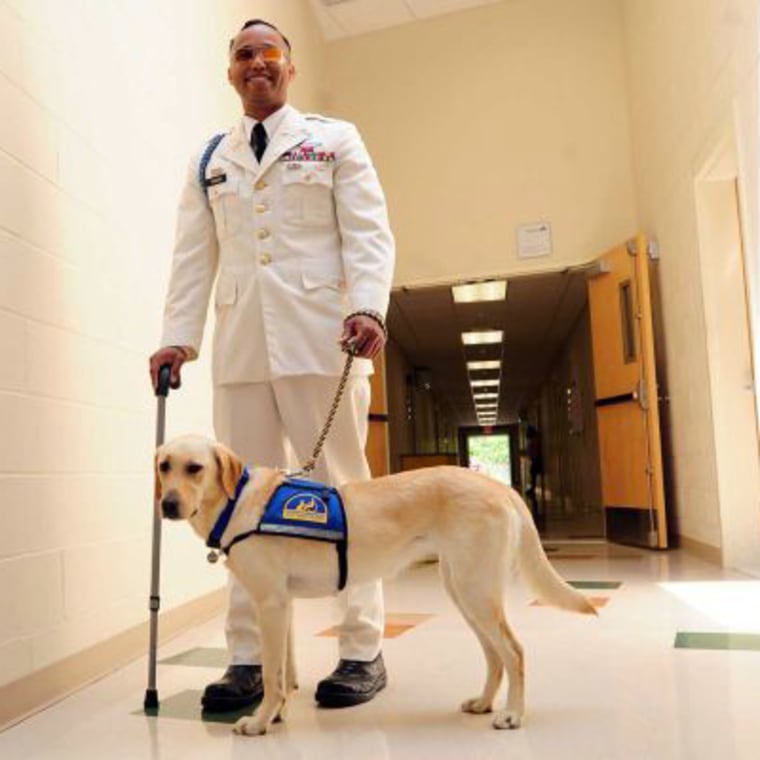 Thach held a desk job there until 2008, when his rocky return to civilian life began. He's still astonished by how much his entire outlook improved the moment he had his helper and friend Liz by his side.
"Her devotion and her caring demeanor have helped me so much on an emotional level," he said.
Last year, Liz helped Thach do something he doesn't think he could have handled otherwise: Return to a war zone. Thach donned his uniform again and joined a humanitarian mission called Operation Proper Exit in Afghanistan, where he spoke with service members and encouraged them to get the help they need.
"This was a direct result of me receiving Liz," Thach said. "I put my life in jeopardy and went back to a war zone. I was able to take that chance because it was the right thing to do. I just have to help fellow veterans. And now I can."
Need a Coffey break? Connect with TODAY.com writer Laura T. Coffey on Facebook, follow her on Twitter and Google+ or read more of her stories at LauraTCoffey.com.