/ Source: TODAY Contributor
Harry, Hermione, Draco, Fido...
What do characters from the "Harry Potter" book series have in common with dogs?
According to the Pet Alliance of Greater Orlando, they have traits reflective of each Hogwarts house — something that could help you pick your perfect pup.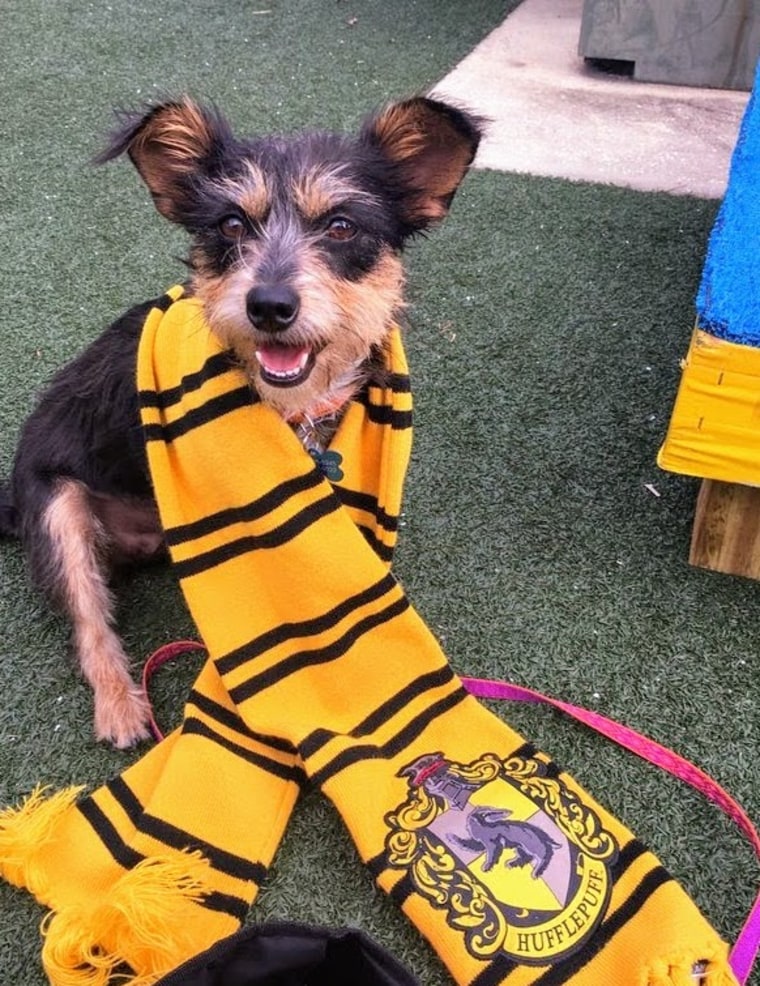 Stephen Bardy is the executive director of the shelter, and says for the last year, he and his staff have been sorting the dogs that come through their doors into the four houses of Hogwarts — Gryffindor, Slytherin, Hufflepuff and Ravenclaw.
"We wanted to do something where people would focus more on the dog's personality traits rather than what breed they perceive the dog to be," Bardy told TODAY, explaining that in the city of Orlando, Florida, where the shelter is located, approximately 1,800 pets are surrendered each year due to issues with landlords or apartment complex management refusing to accept certain dog breeds.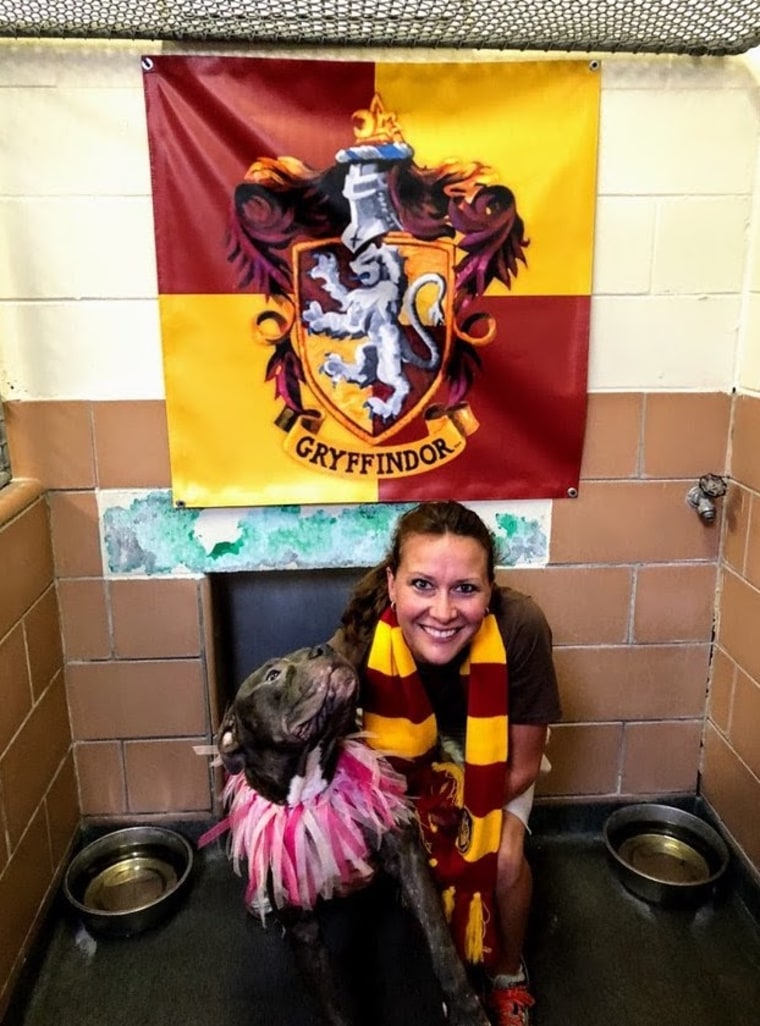 So Bardy and his staff removed breed cards — which are often inaccurate without a doggie DNA test — from the kennels in their shelter, and moved to their more magical way of identifying the canines.
Under the new sorting system, all entrants to the shelter are placed in Pawgwarts — a Hogwarts house for dogs — until a behavior specialist works with them individually to place them in their appropriate house.
"Instead of using a sorting hat, we use dog toys," said Bardy, explaining that the behaviorist presents each dog with four toys and observes them playing with each to determine which house they are best suited for.
Gryffindor pups value bravery and courage and are typically more athletic than other dogs, explains Bardy. Slytherin are pack leaders who show ambition and are cunning, while Ravenclaw are more intelligent, problem-solving dogs. And Hufflepuffs are loyal, patient dogs who wag their tail at everyone they meet.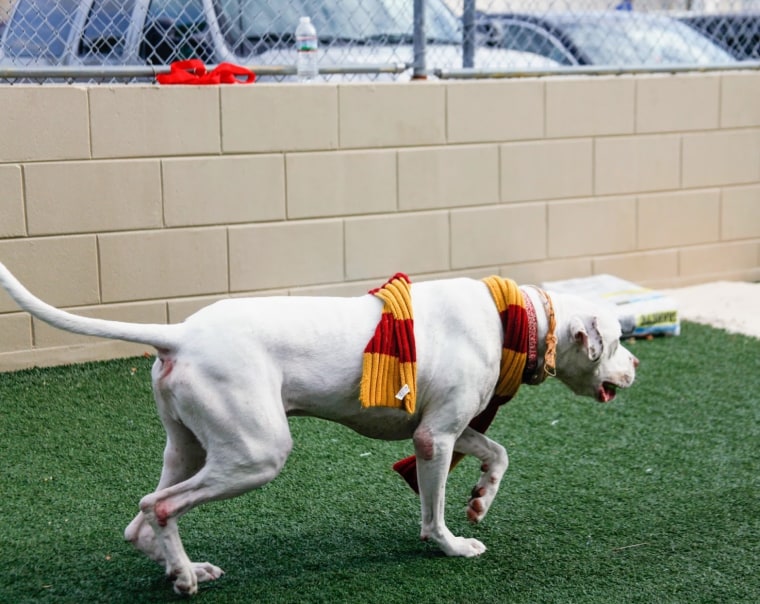 Bardy says each year, approximately 3,500 dogs come through their doors. Pet Alliance of Greater Orlando is a no-kill animal shelter with a 95 percent release rate. And, their magical way of adopting out dogs is working, as the average dog is in their care for eight days before being adopted.
"For us, this is about recognizing the individual dog and not a breed," said Bardy.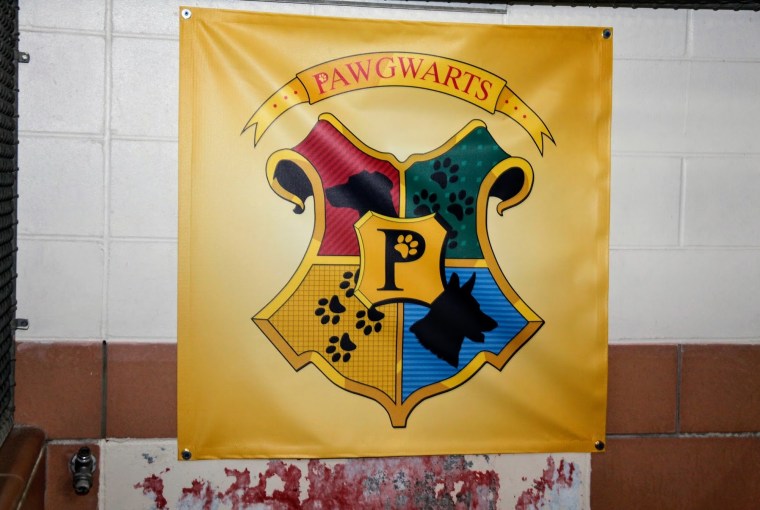 Pet owners who are curious as to which Hogwarts house their own pups would fall into can take the shelter's online test. After answering questions about how your dog interacts with witches and wizards and how many spells they know, the test will assign your pet to a house as well.
"More than 53,000 people have taken the online sorting quiz to see where their dog belongs," said Bardy. "So we know this is resonating with people — not just adopters in our shelters, but around the world."