Over the past week, an adorable photo of two dogs cuddling with each other went viral online, as the story of the siblings — one of whom was blind and the other who appointed himself his brother's helper — touched hearts around the world. 
Soon, Operation Ava, an animal rescue organization in Philadelphia, was barraged with phone calls from people as far away as South Africa and Australia, all asking if they could adopt eight month old pit bull mixes Jeffrey and Jermaine.
But one couple stood out from the rest—Jonathan Hochman and Veronica McKee, who live in nearby Springfield, PA. 
Jeffrey and Jermaine will head to their new home with the couple on Monday.
Hochman and McKee, who already have a cat, had been thinking about getting dogs after a friend adopted a pup from Operation Ava. As soon as they saw Jeffrey and Jermaine's picture, they say, it was love.
"I thought these are the cutest dogs I've ever seen," McKee told TODAY. "They're incredibly sweet, but they still have that sibling rivalry. There's this sharing thing. It's pretty funny."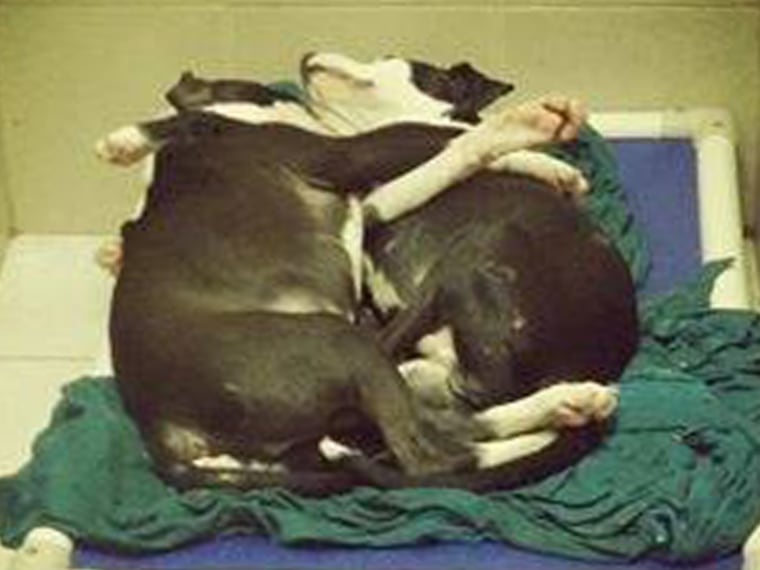 Hochman, who was the first of the pair to meet the dogs in person, agrees. "I've never seen animals bond like this," he says of the two dogs, who often walk together, with blind Jeffrey leaning on his brother Jermaine's back for support.
One of the first tasks Hochman and McKee took on once their adoption was confirmed was taking Jeffrey to a veterinary ophthalmologist to find out if any of his sight could be restored. "[The vet] feels at this point the left eye is completely lost but the right eye does have vision he's able to see silhouettes and tracks and has some vision. Surgery is too risky at this point," Hochman reports. However, Jeffrey still gets regular eye drops and has been diagnosed as seeing better at a distance than he does close up.
Operation Ava's Director of Life Saving, Ray Little, originally told TODAY that whoever took the dogs in would need a lot of love and a lot of patience—and a big yard was a bonus. It seems like McKee and Hochman fit the bill. The dogs already love being cuddled by their new owners, and so far there hasn't been any sibling rivalry with the family cat. But one thing is clear—on all sides, it was love at first sight.
"I have a feeling we're going to get as much out of it as they are," says McKee. 
Hochman and McKee brought Jeffrey and Jermaine to Studio 1A Saturday, along with Operation Ava's Claudia Gutierrez. 
Gutierrez called the response to Jeffrey and Jermaine's photo a "heartwarming" surprise. 
"I think everyone just fell in love with their devotion and loyalty to one another," she said.