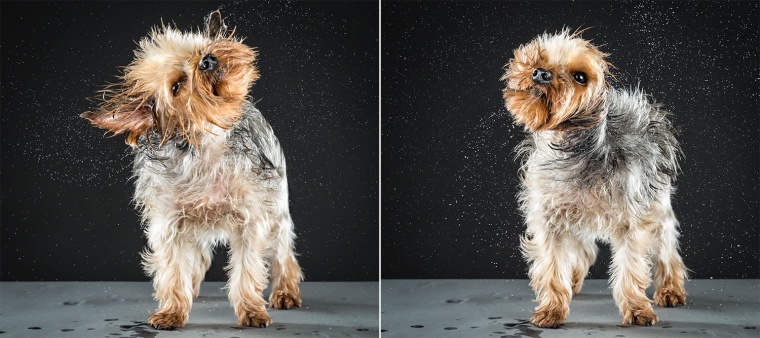 Photographer Carli Davidson's 8-year-old Dogue de Bordeaux, Norbert, likes to shake — and he isn't bashful about it.

"I have to clean up his drool off my walls and dresser all the time," the Portland, Ore., resident told TODAY.com.
Norbert's vigorous movements were the inspiration for Davidson's photo series "Shake," which will be released in a book on Oct. 22. The photographs capture dogs mid-shake, with jowls flailing and eyes rolling — a motion that's often too quick to catch with the naked eye.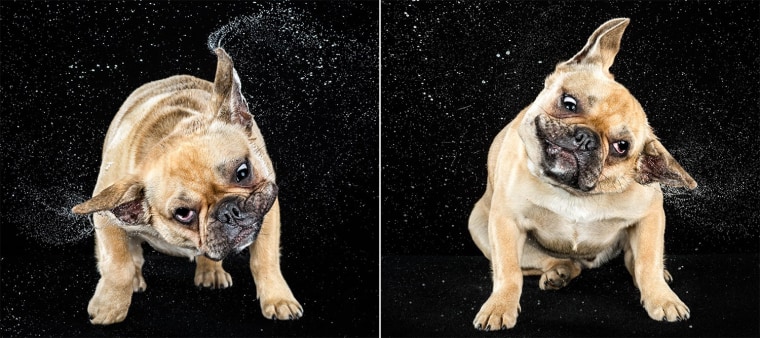 Finding models for the project was a community effort: Some of the dogs she photographed are those of friends or Portland locals who answered a call-out, but most of the 65 dogs that made it into the book are from a shelter, Panda Paws Rescue.

While Davidson is used to photographing animals professionally, working with untrained dogs was a more unpredictable experience. She had to quickly get acquainted with the temperament of each dog that came into her studio. To calm hyper or anxious pooches down, she often just hung out with them at first, sometimes listening to music, before ever picking up the camera.
"I make the environment feel really relaxing," Davidson said. "I'm trying to persuade them that this is not a scary place to be."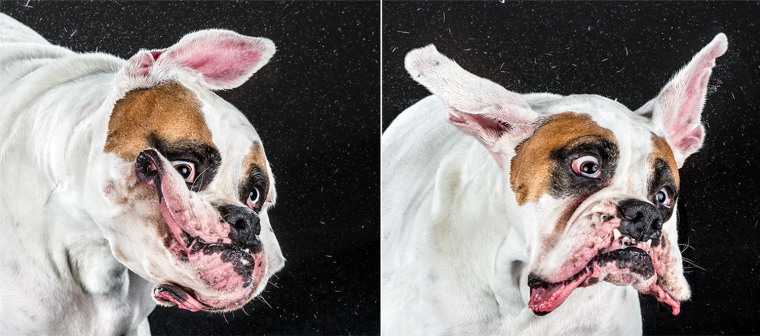 She ended up shooting around 130 dogs in all, and was sometimes surprised by which breeds took the best photos.
"I had so many interesting dogs come in," she said. "There were some dogs that I wouldn't expect to make excellent photos — sometimes I didn't know until I had the photo in front of me."
The 31-year-old is no stranger to working with animals. As a child, she grew up near a nature preserve, and started volunteering there at the age of 8. After college she moved to Portland, where she started interning and then working at the Oregon Zoo as an animal care technician and trainer. She soon started documenting the animals there with her camera, using some of the skills she'd learned in high school and college.
"I loved it," she said.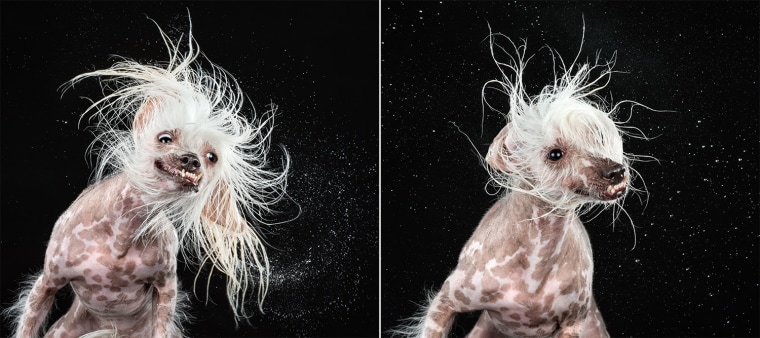 Davidson started the "Shake" series in 2011. Just how she gets her animal models to shake it for the camera remains a bit of a mystery. "I whispered something in their ear," she joked.
Actually, she used a range of techniques, from splashing them with water to just waiting around and watching. "Part of it is being really patient," she said.
Davidson has also been working on another series with pets called "Invincible," which features animals with special needs. And she still donates her time to animal rescues in the Portland area. 
"Animals give me so much," she told TODAY.com. "When I was growing up whenever I was having a hard time they were my comfort. To this day being around them bring me a lot of peace. I want to give that back as much as I can to them."