When Indiana resident Gavin Swearingen was just 2 years old, he let go of a swing, hit his head and suffered a traumatic brain injury. The little boy lost about 75% of the left side of his brain, developed epilepsy and cerebral palsy, and has survived several strokes.
So last year, Gavin, who lives in Carmel, just north of Indianapolis, got his first service dog. Elmer, a Labrador-golden retriever mixed breed trained by the nonprofit Canine Companions for Independence, helps with the boy's physical challenges in myriad ways.
"It's magic," his mom, Amanda Swearingen, 36, told TODAY. "I jokingly say they're both puppies — they love to play. Gavin is 7 and Elmer is 2. They run and chase each other and they're silly."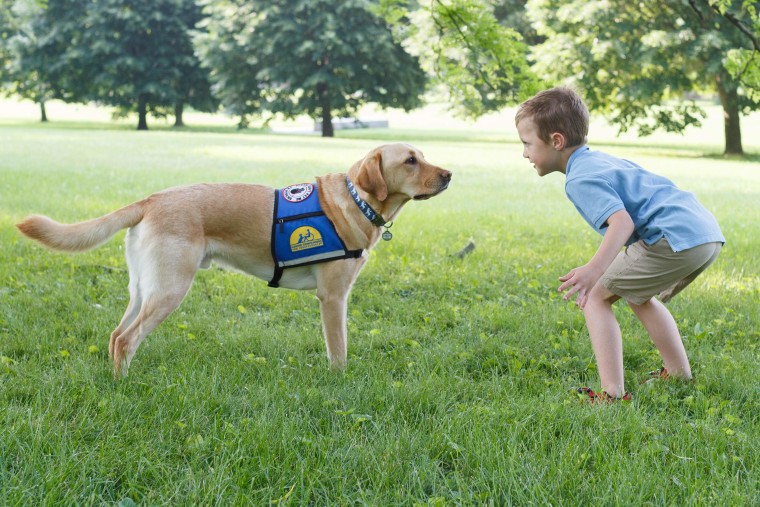 Due to hemiplegic cerebral palsy, Gavin's right side is not as strong as his left, so he holds Elmer's leash in his right hand, which pulls his arm down and changes his gait to appear neurotypical.
Gavin lost peripheral vision on his right side after his accident, so Elmer walks on the boy's right to act as a buffer in crowds. The friendly dog makes physical therapy seem like a game instead of a chore.
"Throwing the ball to me 10 times is therapy," Swearingen said. "Throwing the ball for Elmer 20 times is fun."
Before teaming up with Elmer, Gavin struggled with reading. But he now reads books to Elmer every single day. They particularly love the "Elephant and Piggy" books by Mo Willems.
"We were all kind of at our end of what to do next, and all it took was Elmer. Now Gavin's reading almost to grade level. He's reading for fun and enjoyment," Swearingen said.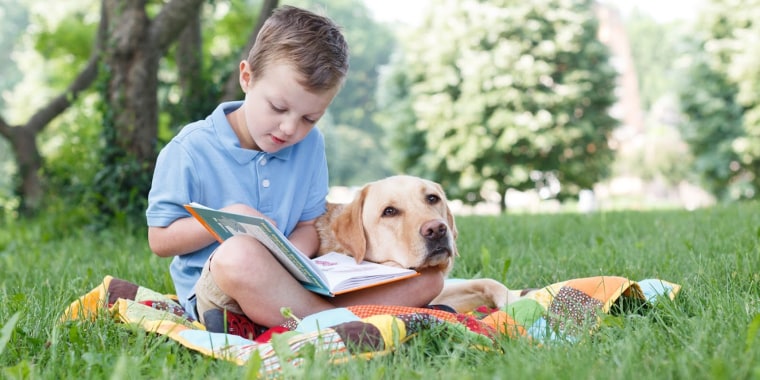 It's a remarkable turnaround since the accident, when doctors told the Swearingens that Gavin would never walk, talk or even know them. But thanks to neuroplasticity, Gavin's brain has "remapped" onto the right side and he continues to improve with Elmer's help.
The family – which includes Gavin's father, Brad, and sisters Alyson, 12, and Makenna, 9 – faces everything in life together. Each night at the dinner table, they take turns sharing what they're grateful for.
"I can't say this is a path that I ever expected to be on, but we are definitely going to make the most of it and try and remain grateful for it because gratitude is the opposite of sadness," Swearingen said. "We choose gratitude."
Despite all of Gavin's challenges, the word most people use to describe him is "joyful," according to his mom.
"I think that's actually why having a dog has worked really well because it's the same personality," she said. "They find the best, and every day it's like they wake up and it's a brand-new day and they're both just excited to go play outside."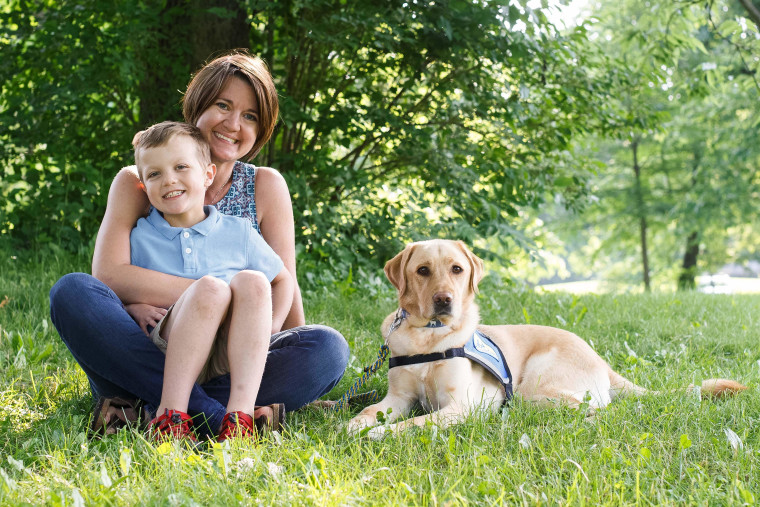 But now Gavin is scared. He's facing his 10th cranial surgery to repair a hole in his skull, which puts him at risk for another brain injury.
The surgery — potentially his last if it's successful — is scheduled for June 17 at Cincinnati Children's Hospital Medical Center. Gavin knows his recovery will be painful.
Elmer has stuck like glue to Gavin's side for all the pre-op visits and stressful procedures like blood draws. Recently when a phlebotomist tried to stick a needle in Gavin's arm, the dog nosed the offending hand out of the way because he sensed Gavin's anxiety.
Or perhaps because, as Gavin told TODAY, "Elmer thought he was going to turn me into a robot."
One way or another, Elmer, whom Gavin loves "very much," will be comforting his boy throughout the ordeal.
"When I'm at the doctor he's going to be there to protect me," Gavin said. "He'll be there the whole time."
Gavin Swearingen loves animals and meeting new people. If you'd like to help cheer him up as he recovers from surgery, please send get-well cards, stickers and/or a photo of your pets to:
Gavin Swearingen
P.O. Box 4484
Carmel, IN 46082