A service dog credited with helping a young girl with a rare disorder learn to walk is being celebrated for his unwavering dedication and support.
For an entire day, George — a 2-year-old Great Dane — ate human food, played in the snow and received endless treats in between — enough to put the "wow" in "bow wow."
Bella Burton, 11, suffers from a rare disorder called Morquio syndrome, which causes the body to produce less than the needed amount of a major enzyme, resulting in growth and bone development issues.
RELATED: 'Amazing': Service dog helps 11-year-old girl with rare disorder walk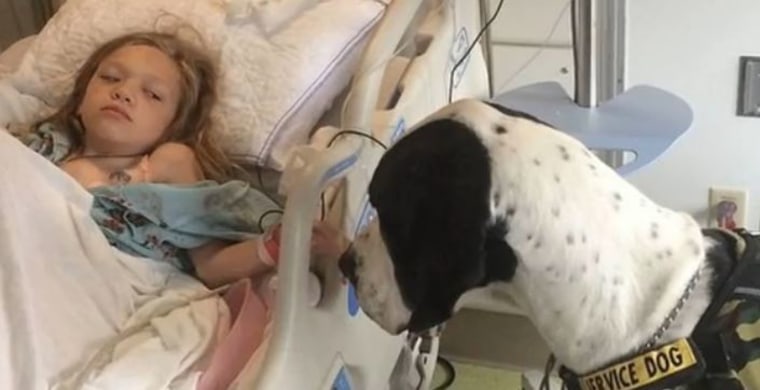 Almost three years ago, the Burton family heard about the Service Dog Project, a nonprofit in Ipswich, Massachusetts, that, according to their site, provides a better quality of life for the mobility impaired.
The family had volunteered with the organization for about a year before considering a companion for Bella.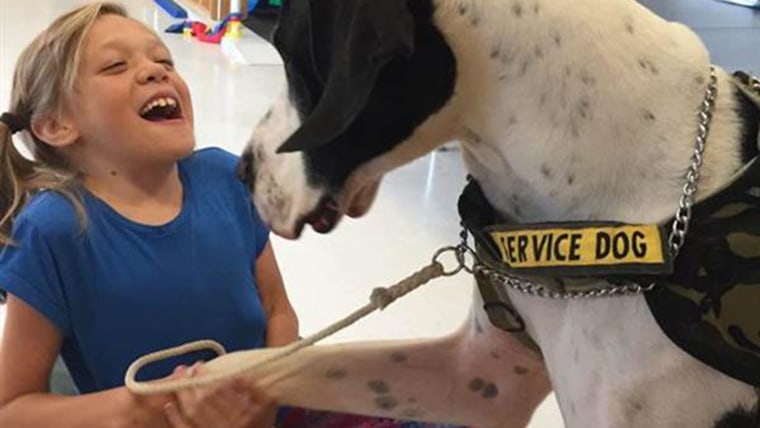 When Bella and 2-year-old George met for the first time, they instantly connected. It was in that moment her parents decided she was ready for a service dog.
"Once we saw Bella being around those dogs, how she was always in such a great mood and she loved going there, we thought, 'What are we waiting for?'" Burton told TODAY.com last year.
"When she was visiting George and he didn't want her to leave his kennel, they were like, let's try them."
RELATED: Everything you need to know about Wrangler, TODAY's 'puppy with a purpose'
And ever since then, they've been two peas in a pod. Bella has progressed tremendously — she walks now, and can even ride a bike.
So, as a thank you, BarkPost gave George the opportunity of a lifetime — treating the pooch to his "Best Day Ever," which involved endless burgers, sledding (in the snow, his favorite), a treat-shopping spree, playtime in a suite filled with toys (he loved the rocket ship), new accessories and a $1,000 donation to the Service Dog Project in George and Bella's name.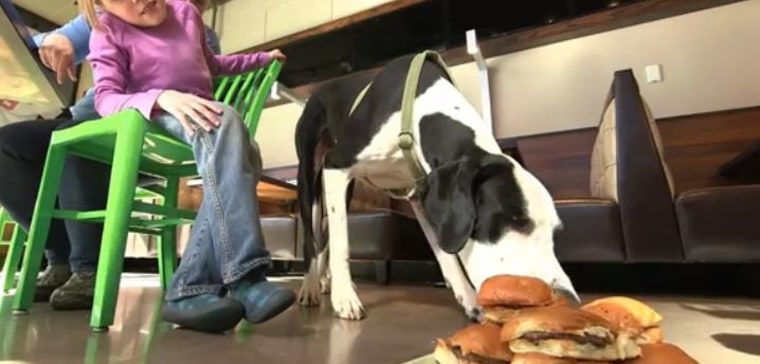 And if that weren't enough, George and Bella were also invited to "the ultimate sleepover," complete with a dog bed big enough to accommodate the Great Dane.
RELATED: Watch disabled dog Daisy happily test out her new prosthetic legs
What made George so deserving? His personality may have something to do with it.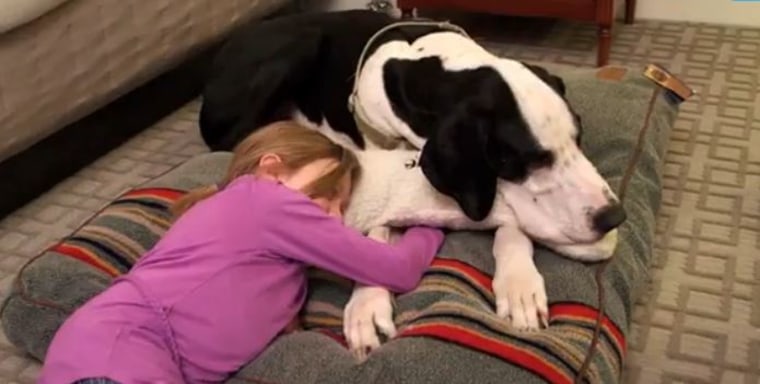 "George is joyful and he's always happy and he's always there to cheer you up. He is my best friend," Bella said in a BarkPost video.
Girl and dog are now inseparable — exactly as Bella thought they'd be upon meeting.
"I could tell he needed me, and I needed him," she said.