Robert Irwin, animal activist and son of the late "Crocodile Hunter" Steve Irwin, paid a visit to "The Tonight Show Starring Jimmy Fallon" with some of his animal friends. Quickly, it became clear that Fallon was the exact opposite of comfortable around the furry creatures.
Watch as Irwin introduces the television host to the four-legged guests:
We can't stop laughing.
In the segment, Irwin brings out two baby otters named Ping and Pong and instructs Fallon to hold one "nice and tight." Fallon holds an adorable baby otter, half smiling and half scared the little creature will bite him. The otter nibbles at his microphone and at one point gets pretty close to his face.
"I know it's cute but you never know, that little squeak," comments Fallon, already looking uneasy.
Then Irwin, co-star of Animal Planet's "Crikey! It's the Irwins" with his mom Terri and sister Bindi, brings out a couple of porcupines. And that's when Fallon pretty much loses it.
"Oh no. I can see what's coming," Fallon says, spying the creatures before they make their entrance.
Irwin gives Fallon pieces of sweet potato to feed the one in his lap, Fallon makes a joke of the fact that the rodent is coming dangerously close to um, well you know where.
"I'm just happy that I had kids [already]," Fallon jokes.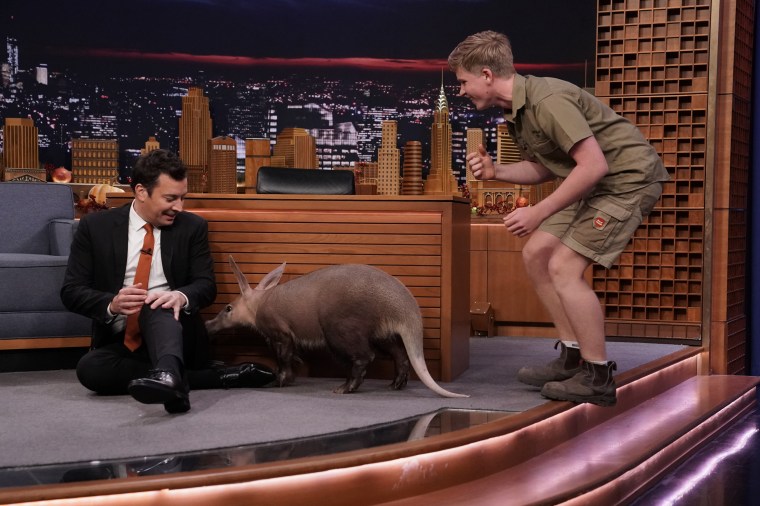 When introduced to a giant aardvark, which Irwin says "has massive claws," Fallon is visibly scared. Finally, Irwin introduced Fallon to a baby zebra who was still bottle-feeding, and that seemed to go over a little better!
It's not the first time Irwin, the 14-year-old Australian television host, conservationist and photographer has made a celebrity nervous by introducing him to animals. When comedian Kevin Hart co-hosted "The Tonight Show" with Fallon, Irwin was a guest and brought some exotic animals to the set that caused Hart to run off the stage. Hart was eventually coaxed back on set and looked terrified as he unwillingly held a falcon on his arm.
On Friday night's show, the young Irwin told Fallon that he loved the attention his segment got because it was viewed by over 100 million people, helping to bring awareness to animal conservation efforts.
Wildlife conservation and the chance to watch Fallon's awkward animal encounters sounds like a win-win to us!