Trisha Sharp, a second-grade teacher at Shawnee Heights Elementary School in Topeka, Kansas, has always understood that her role as an educator allows her to impact kids' lives. But never had an opportunity to practice what she preaches so perfectly aligned with a classroom activity than when she learned of a dog in need of some help.
Her class had just finished reading a book called "Sheepdog in the Snow," about some kids who find a stranded sheepdog with a broken leg, when Sharp happened upon a Facebook post from the Helping Hands Humane Society that she knew the kids would love.
"So we were able to get on the shelter's website and they had a video," Sharp told TODAY. "And they were asking for donations for $400."
RELATED: 'Grateful' dog snuggles new mom who rescued him from shelter
The $400 would help pay for surgery for Ryker, an adorable Australian shepherd that had been taken to the shelter after a local veterinarian found him on the side of the road with a broken leg.
"We normally don't post pictures or videos of dogs ... but we did with him," Justin Brokar, the communications director of the Helping Hands Humane Society, told TODAY. "We put his story on Facebook ... and there was a second-grade class that decided they wanted to raise the money for the surgery to help with Ryker."
RELATED: 'Large dogs a MUST!!' Landlord's pet-friendly policy has tails wagging everywhere
After watching the video, Sharp's students were compelled to help Ryker in any way possible, so she sent a note home to their parents.
"They came back the next day and our kids raised over $450," said Sharp. "None of this was me. This was just them out of the kindness of their hearts."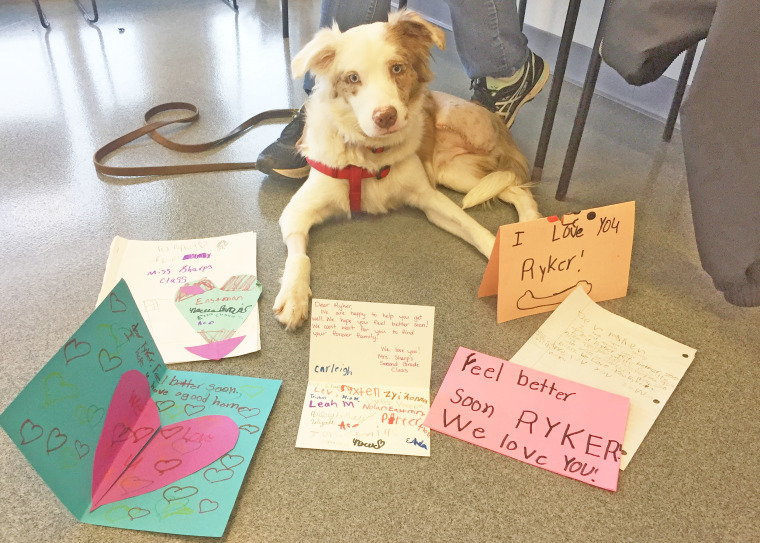 The shelter was thrilled, and it knew it had to do something to thank these sweet second-graders. Besides, Ryker had a lot of thank-you notes to hand out.
So the shelter and Ryker headed off to Shawnee Heights Elementary with the intention of surprising Sharp's class, and they didn't disappoint.
"As soon as we walked into the school, people in the front office and walking down the hallway recognized him," Emi Griess, a volunteer coordinator at Helping Hands Humane Society, told TODAY. "He got lots of attention as soon as he walked in the door."
RELATED: This orphaned calf is now a part of the sweetest family
Clearly, the students were very happy to see Ryker.
"The kids' faces were priceless," said Sharp. "They all got to get a picture with him ... and the shelter was nice enough to make little prints of Ryker's paws."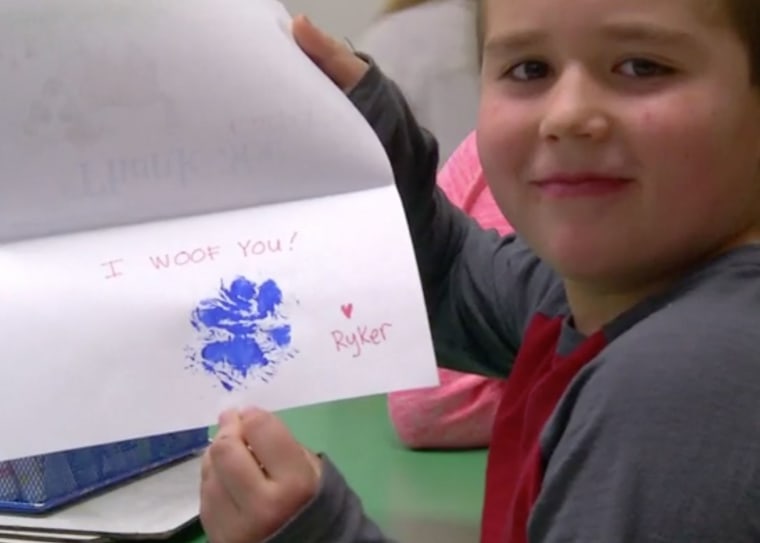 Oh, and Ryker? He loved it. He posed for pictures, issued lots of cuddles and treated the entire class to a face-full of kisses.
"It was very heartwarming to see this group of second-graders who were so excited to see him and know that they had worked so hard to raise money for him and his surgery," said Griess.
RELATED: Mailman builds ramp for aging dog so they can continue their sweet daily greeting
While Ryker is currently in foster care, the shelter says it has received over 100 applications from families hoping to adopt him. But no matter who he ends up with, he already has a family of sweet kids who love him very much.