The four-legged member of the counseling team at the high school in suburban Chicago waits patiently, as a crush of students fills the hallways. Her tail wags with the first pat on the head, then another and another.

"Puppy! Ohhh, puppy dog!" one teenager croons, as he affectionately tousles the ears of the 18-month-old golden retriever. Junie began her role as a "therapy dog" at Prospect High School less than four months ago.
It's just one of a number of ways high schools across the country are trying to address what some call an epidemic of stressed-out, overwhelmed students.
Some schools now offer yoga classes or teach relaxation techniques in the classroom. Others, from California to Minnesota and New Jersey, are instituting homework-free nights or are offering a bit of free time between classes — the equivalent of recess for teenagers.
Stressed over a test? Pet your pooch
In Maine, at least two high schools have converted classrooms into "wellness rooms" staffed by volunteer professionals who offer massage therapy and other stress-reducing treatments for students, with parental permission.
The idea is to help them slow down and cope with their problems in an overpacked, 24-7 world, where many students stay up late to finish homework and fall asleep with their cellphones in their hands.
"Things cycle for them so quickly. So it's hard for them to be able to develop the patience, or the ability to think something through and to realize that it may take some time for it to get resolved," says Douglas Berg, a social worker at Prospect High, where he and other staff are seeing more students hospitalized with anxiety and panic attacks related to stress.
Some might question whether a dog in the school corridors, or a 20-minute break, addresses the deeper issues at hand. But many school officials say they have to do what they can to alleviate the growing pressure to achieve. That pressure, they say, has only been heightened by the commonly held belief that it's tougher than ever for a young person to make it in this economy.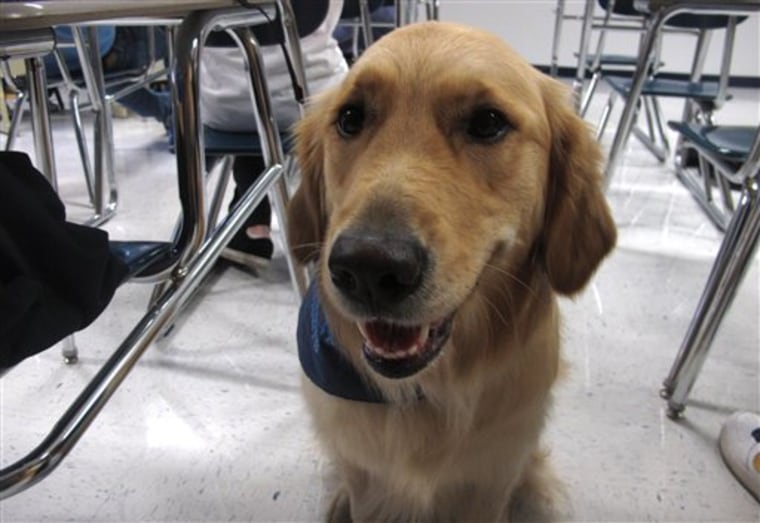 More than ever, a college degree is seen as a must. So more students are taking college courses in high school, and even more are enrolling in rigorous "advanced placement," or AP classes to try to earn college credit. Add year-round sports and after-school jobs and volunteering, as a way to bolster the college application, and many students say they have little time for anything else.
"There's just too much," says Lexi Botts, a senior at Prospect High who sought comfort from Junie and, ultimately, school counselors after her grandfather's death last fall.
The intensity of school has become so great, says one mom in Paoli, Pa., that she and her family have dubbed the senior year of high school "the crying year."
"When does a child get to be a child anymore?" said Carol Meerschaert. "I fear how they will burn out when the pressure has been on them since elementary school."
Abbie Kaplan, a junior at the Boston Latin School — a public high school that requires students to take an exam for entry — knows what she means.
On a scale of 1 to 10, she places her stress level at a pretty steady 9. She regularly has four hours of homework a night, some done before swim practice. She eats dinner around 9:30 p.m., then finishes the rest of her homework and generally goes to bed at 11:30. Then she's up at 6 a.m. so she can be at school by 7:45.
She calls her hectic schedule "the new normal."
"You keep telling yourself that it will prepare you for the future," Kaplan says. "It's just sort of how it is."
She, too, has had anxiety attacks related to her workload, she says. And some parents say school shootings, including the recent massacre in Newtown, Conn., only worsen the stress.
Therapy dogs are 'furry counselors' for Newton community
"My son came home from school and said, 'I'm really worried this could happen at our school,'" says Jane Robertson, a mother of a 16-year-old in Belfast, Maine. She's also a chiropractor, who helped start one of the wellness rooms in her area. The first one opened in Camden, Maine, after a spate of suicides more than 10 years ago, she said.
Overall, a recent national survey of adolescent mental health found that about 8 to 10 percent of teens ages 13 to 18 have an anxiety disorder. And of those teens, only 18 percent received mental health care, according to the National Institute of Mental Health.
School officials across the country, meanwhile, say they're seeing a steady uptick in mental health referrals, often stress-related. Timothy Dorway, a principal at a high school in Chanhassen, Minn., just outside Minneapolis, is among them. He says such referrals have doubled since his school opened in 2009.
"We're asking these kids to do things that we don't even ask adults to do," Dorway says, noting sports and academic requirements that often leave them sleep-deprived.
Besides the mental health issues, he noted that students from his school have been in car accidents after falling asleep at the wheel — one of them on the way to school, at 7:45 a.m.
All of it led him and his school community to come up with a motto — "Balance, Perspective, Growth" — and to look for ways to put it into practice.
Now, Chanhassen High is among a small but growing number of schools that has homework-free nights scattered throughout the school year. Two days a week, students at Chanhassen also get a 20-minute "recess" break in the morning. Some play hackie sack or grab a snack. They chat in the hallways, catch up on homework or rest.
The break is a time "to let all the information of the day settle in my mind," says Zach Anderson, a junior at the school. "We need time to think."
The changes at the school have not come without controversy. A few parents see the break as a waste of time that could be better used at the beginning of the school day.
"Let them sleep in, or get a better breakfast, or come to school at the usual time to talk to a teacher if they need to," says Karrie Shroyer, a mom of a sophomore at Chanhassen High.
When it comes to homework, she says the school would better serve students by cutting back on what some view as an inordinate amount of "busy work," repetitive work that students who've mastered the concepts may not need to do.
"Are we trying to hide the real problem with a simple fix?" Shroyer asks.
Raychelle Lohmann, a professional counselor and author based in South Carolina, says any step schools take to reduce stress for students is a "step in the right direction."
But she says parents, too, need to keep their own expectations in check, even for young children.
"We're seeing parents who are putting their preschoolers in tutoring programs," she says. "The intentions are good. But we're missing the important point, to let them develop and play" — even in high school.
She says parents also have to model the behavior for their children.
"I'll be honest. I'm guilty. I don't take a day off," she says. "But at some point, we just have to stop — and prioritize — and teach our children to do the same.
"We have to give up this 'go, go, go' mentality."
Lisa Lawrence, a mom in Austin, Texas, said she realized this when her daughter, now a sixth-grader, told her she felt like "nothing she did was ever good enough" for her mom.
"It sent chills down my spine," Lawrence says. "I think I felt that way growing up."
So she's backed off. And so has Dorway, the principal in Minnesota who's also a dad.
After his son's seventh-grade band concert last year, he recalls watching three kids "running down the hall, literally stripping out of their band uniforms with basketball uniforms underneath."
"This is insane," he says. So once the homework issue is further examined, he's vowing to take on the "holy grail" of issues at his school — the packed practice and game schedules of student athletes.
Back at Prospect High in suburban Chicago, counselor Lynn Thornton ponders the question of expectations, as she pets Junie, who is sitting next to her in a school counseling office.
Educators are feeling the pressure to perform, too, she says. And while raising standards can be good thing, she wonders if we've taken things too far by making "high school the new college."
"I really don't see it changing," Thornton says, "until maybe colleges would really step up and say, 'Hey, you know what? You guys teach high school and we'll teach college."
Until then, students will find Junie at their beck and call, often on the counseling office couches.
Which breeds top the list as the most adored four-legged friends in the country? The American Kennel Club ranks the most popular.
More from TODAY Pets:
Don't miss a moment! Watch the Puppy Bowl LIVE cam
Mini terrier named world's smallest working dog
Therapy dogs perform 'The Nutcracker'