A lot can happen in 14 years. Consider what's happened in Omar Rivera's life since Sept. 11, 2001.
He's sent his daughters off to college and attended their weddings. He's welcomed two granddaughters — Isabella, 6, and Sofia, 2 — and snuggled and played with them. He's continued to advance in a career he enjoys. And he's been able to kiss his wife goodnight 5,112 times.
Rivera regularly thanks God for these experiences, and he also thanks someone else: a steadfast friend named Salty. Salty is the guide dog who led Rivera to safety from the 71st floor of the World Trade Center's north tower during the terrorist attacks of 9/11.
"That guy Salty will always have a special place in my heart," said Rivera, 57, of Westchester, New York. "To see my family grow, to see my daughters grow, to continue to be together with my family — it's such a gift. Life is a gift."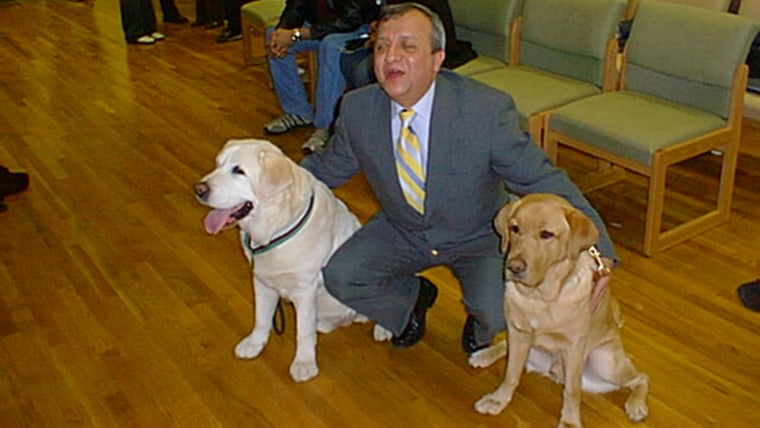 Rivera said Salty, a yellow Labrador retriever trained by Guiding Eyes for the Blind, "looked like a lion" and "seemed like an arrow" — he had an uncanny ability to navigate his way through crowds and open a pathway. Rivera grew to love the big, happy dog deeply and trust him entirely. Today, one of Salty's relatives is in training to earn that same level of trust: Wrangler, TODAY's Puppy with a Purpose.
Salty and Wrangler were born 19 years apart but they share common ancestors: Salty's great-grandmother Jocyn and great-grandfather Sailor are both in Wrangler's lineage. TODAY has been chronicling Wrangler's path toward becoming a guide dog or pursuing another profession as a highly trained working dog.
RELATED: Wrangler has many career options: Guide, companion or even detective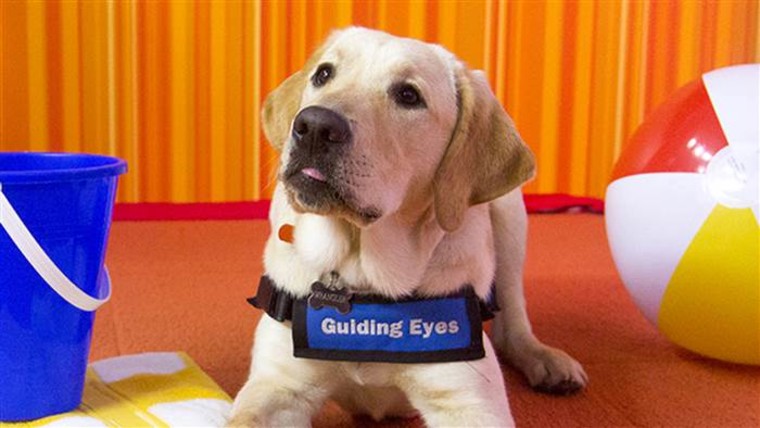 "If Wrangler becomes a guide dog for a person with vision loss, it will be his job to keep that person out of harm's way like Salty did for Omar," said Risa Nicolosi, a spokeswoman for Guiding Eyes for the Blind. "The culmination of Wrangler's training should produce a guide dog that would do exactly what Salty did."
Rivera still marvels at what Salty did for him on Sept. 11, 2001. The pair arrived at the World Trade Center early that day — at around 7 a.m. — because Rivera needed to prepare for a meeting for his IT job with the Port Authority of New York and New Jersey. He had just hit the "print" command on his computer at about 8:45 a.m. when he heard a crashing, whooshing, unfathomable sound coming from 22 floors above him.
It was the sound of American Airlines Flight 11 tearing into the World Trade Center's north tower at an estimated 466 mph. Rivera's computer tumbled to the floor. Salty, who had been sleeping in Rivera's cubicle, jumped to his feet and began running, back and forth, back and forth, along a hallway near Rivera's desk.
"He did it at least five or six times — I think he was trying to search out what was going on — and then he just came back to me and sat down next to me, very anxious," Rivera recalled. "The thing I remember most was the way he tried to communicate with me to tell me, 'This is urgent. We need to act on this immediately.'"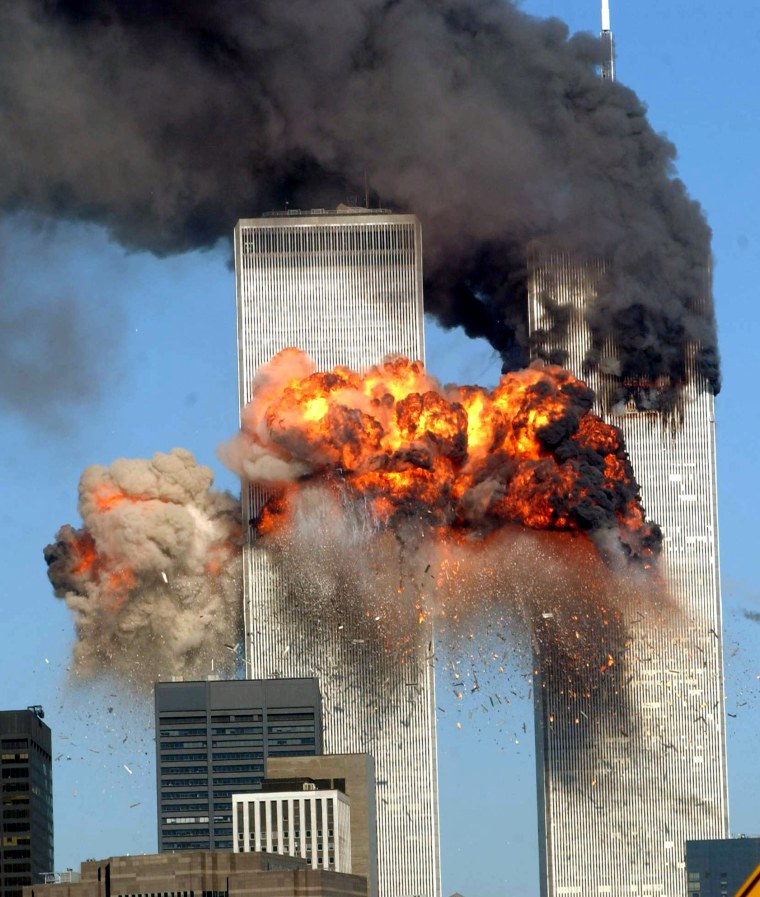 Rivera put Salty's harness on him and they began their escape down the nearest flight of stairs. The narrow stairwell filled with smoke and became very hot. People screamed in panic. Yet more people entered the stairs from other floors. It was so crowded, so confining and so terrifying that Rivera thought it was too much for Salty. He let go of Salty's harness so the dog could head down unfettered and alone.
"I tried to let him go down first for a few minutes, but he said, 'No,'" Rivera said. "He refused to leave me. He came back to me. He said, 'We are together. As long as we are in here, we are together.'"
They made it down to the street level, and when the tower collapsed, they ran as fast as they could. Like an arrow, Salty opened a path for Rivera. Together, they survived.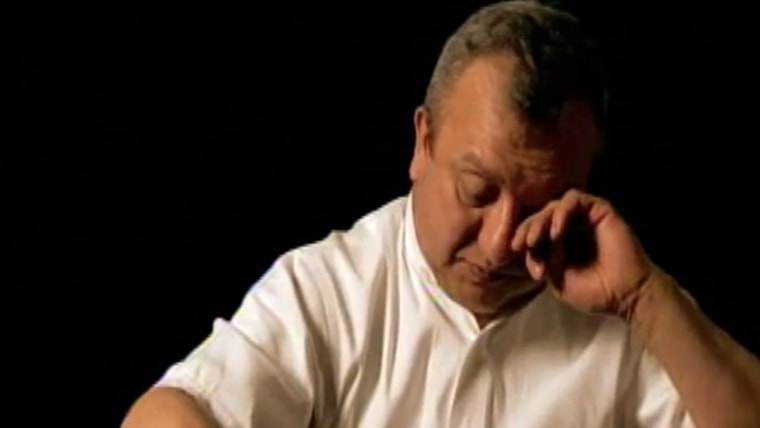 Another guide dog named Roselle helped her blind owner, Michael Hingson, escape from the 78th floor of the north tower that day. Roselle became the subject of two books and was named American Hero Dog in the American Humane Association's 2011 Hero Dog Awards.
Rivera said he felt overwhelmed by the crush of media attention immediately after 9/11. In the years that followed he has been more reluctant to talk about the past, although he did appear in Allison Argo's film "9/11: Where Were You?" for National Geographic on the 10-year anniversary of the attacks.
The Colombia native agreed to talk now because he is so grateful for what Guiding Eyes for the Blind has done for him over the past 30 years; Salty was his third of four Guiding Eyes dogs.
"I lost my sight at the age of 28, and that was hard," Rivera said. "But with a guide dog, I became independently able to move around again. That freedom, that confidence gave me the ability to go to my work, and that was the foundation for me to go out and start living my life again."
Rivera retired Salty as a working dog in 2007. The dog relaxed, played obsessively with tennis balls and exuded relentless joy until he died at age 13 in 2008.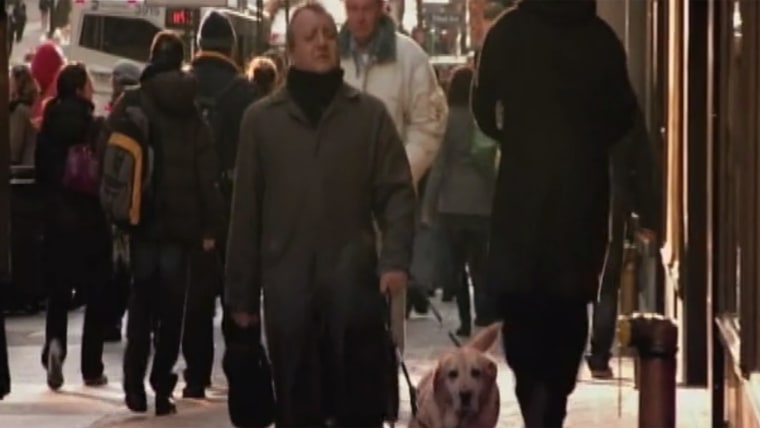 Montana, Rivera's current guide dog, walks at least four miles a day with Rivera as Salty once did. Rivera adores "Monty," and he knows he'll love more dogs in the future — but he's not sure there can ever be another dog like Salty.
"He was so happy," Rivera said. "If he saw me sad and discouraged, he would just engage me into playing with him. He'd say, 'I know it's hard, but let's keep playing. Let's keep going.' Each time I think about Salty, I think about something happy. He was a special, special guy."
Connect with TODAY.com writer Laura T. Coffey on Facebook, Twitter and Google+ and at MyOldDogBook.com.