Three Saint Bernards who have been inseparable since birth have finally been adopted!
The 5-year-old litter mates — named Gasket, Goliath and Gunther — have been living at the Edmonton Humane Society in Alberta, Canada, since they arrived in late September from a different animal welfare agency. They are bonded, which means they struggle with being apart from each other.
"When they're separated, they're showing high levels of anxiety and a high need for each other," Leigh Milligan, EHS' supervisor of animal behavior, said. "They were pawing at the kennel doors, trying to escape, trying to get to each other, crying."
In a Facebook post on Oct. 9, EHS put out a call for people interested in adopting the trio. More than 250 requests to adopt poured in within the first day.
"We were overwhelmed by how many people were willing to open their homes to these three dogs," said EHS' manager of animal health and protection, Jamey Blair.
The dogs are certainly happy to be in their new home, where they'll have a one-acre yard to share with the owners' other dog. The family, who live in Calgary, have chosen to remain anonymous but recently sat down with EHS to talk about their new furry friends.
"We are beyond excited to be giving these three dogs their forever home," the family said. "When we found out that we were getting the opportunity to meet them, we cried tears of joy.
"We immediately fell in love with them," the family added. "The dogs are so friendly, they're so rambunctious. They're going to fit so well into our home."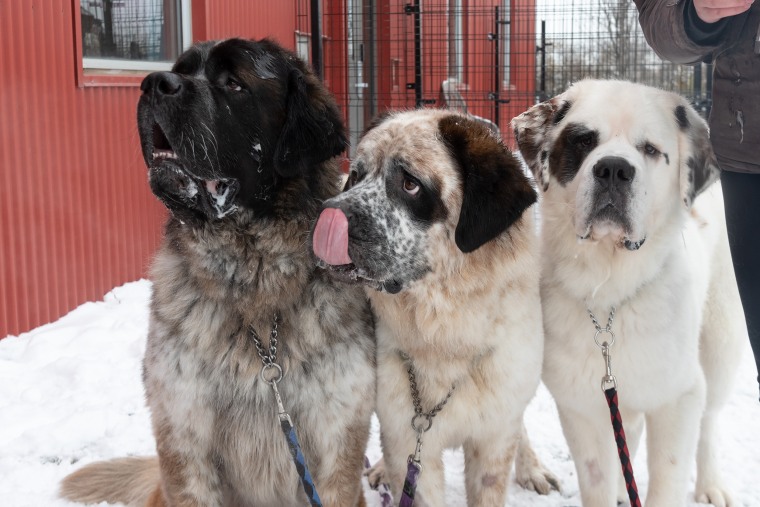 For the rest of the applicants who were not selected to take home the Saint Bernard buddies, it's never too late to adopt a pet.
"We hope that others consider the thousands of pets that are still in shelters that need forever homes and hopefully they'll consider adopting from their local shelter," Blair said.