When a large bull elephant walked directly up to the staff at the Bumi Hills Safari Lodge in Zimbabwe, they didn't turn and run. Instead, they offered a helping hand.
The elephant, which they named Ben, had two holes through the lower part of his left ear and a prominent shoulder wound. Nick Milne, the safari lodge's trust manager, believes the injuries were likely caused by poachers.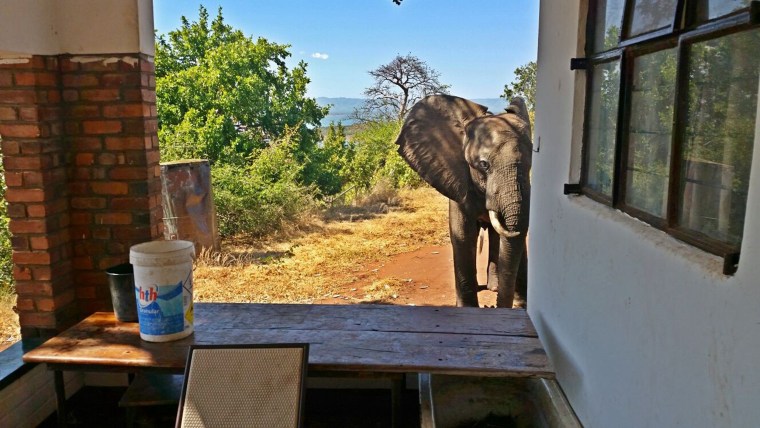 RELATED: Can you find the panda hidden among the elephants? Try the latest viral puzzle
While the holes in Ben's ear were determined to be caused by bullets, staff at Bumi Hills were "puzzled" by the laceration on his shoulder.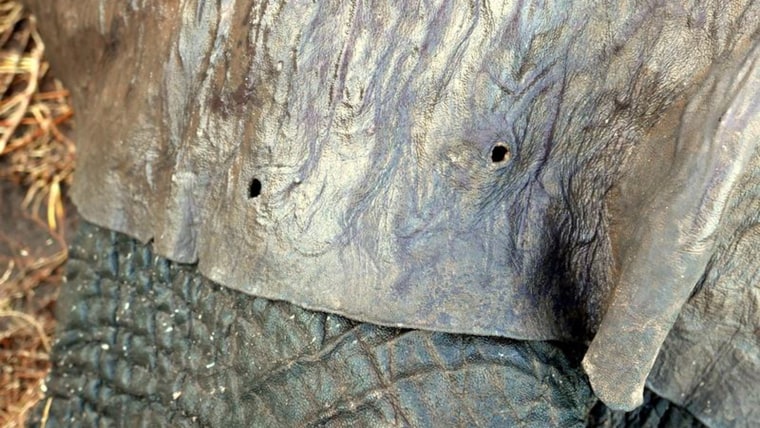 "The nature of the wound suggests that if caused by a bullet, it was fired from an elevated position down onto the animal, not a commonly used method of shooting an animal," Milne told TODAY via email.
He says the entry hole is large, approximately 4 centimeters in diameter. It extends nearly 10 centimeters downward into Ben's shoulder joint and affects mobility in his leg.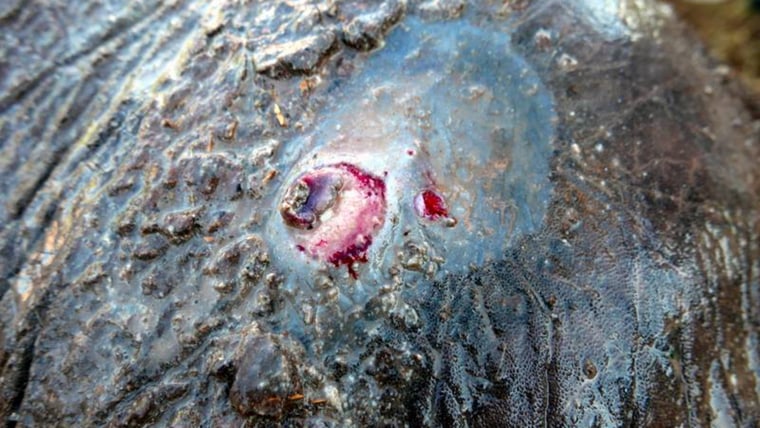 "The fact that no other wounds were visible, it is impossible for the bullet head to have exited the animal, but nothing was picked up on the highly sensitive metal detector," Milne said.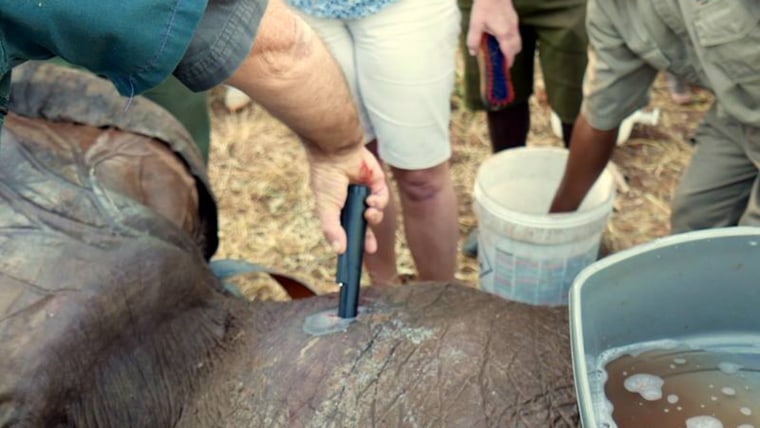 RELATED: Ringling Bros. elephants are retiring! Find out where they're headed next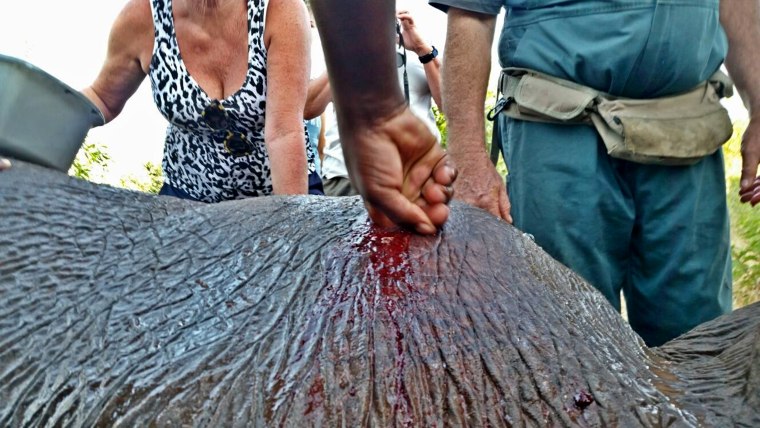 While some thought Ben came to the staff as a plea for help, Willie Theison, the elephant program manager at the Pittsburgh Zoo, suggests the elephant was likely suffering from exhaustion when he wandered onto the safari grounds.
"Bull elephants are usually uneasy abut situations and environments, so he obviously had no apprehension about going in there and hanging out. It seems he was just trying to get his strength back and taking advantage of the fact that no one was harassing him," Theison told TODAY.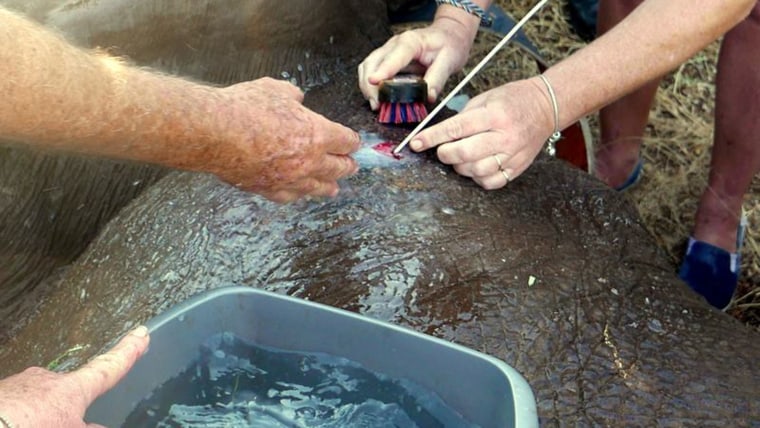 Treatment was made possible in part by strangers who read about Ben's story, donating to the #HelpBen campaign through several crowdfunding websites.
Medical professionals working alongside the Bumi Hills Foundation tranquilized the elephant in order to care for his wounds. They disinfected and cleaned the area, applied insect repellent and rounded out the treatment with long-lasting antibiotics.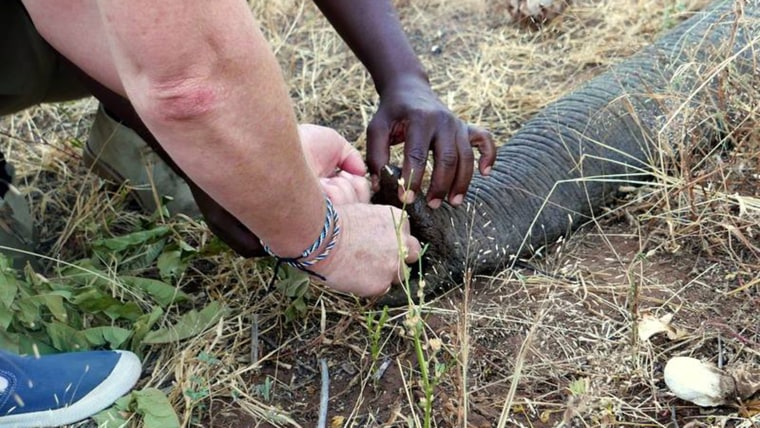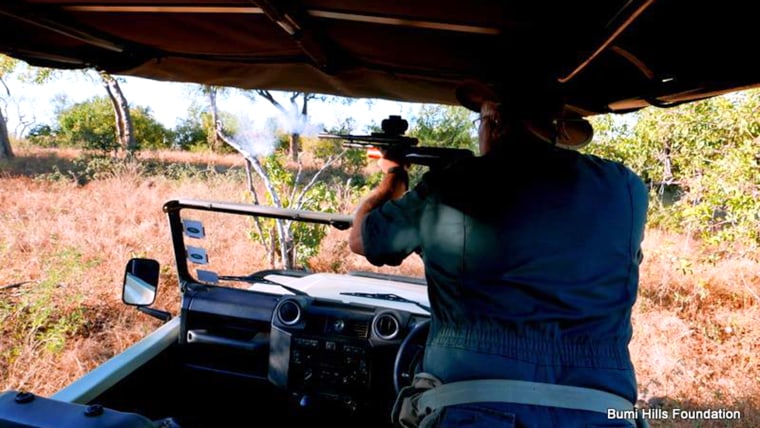 He is now expected to make a full recovery!