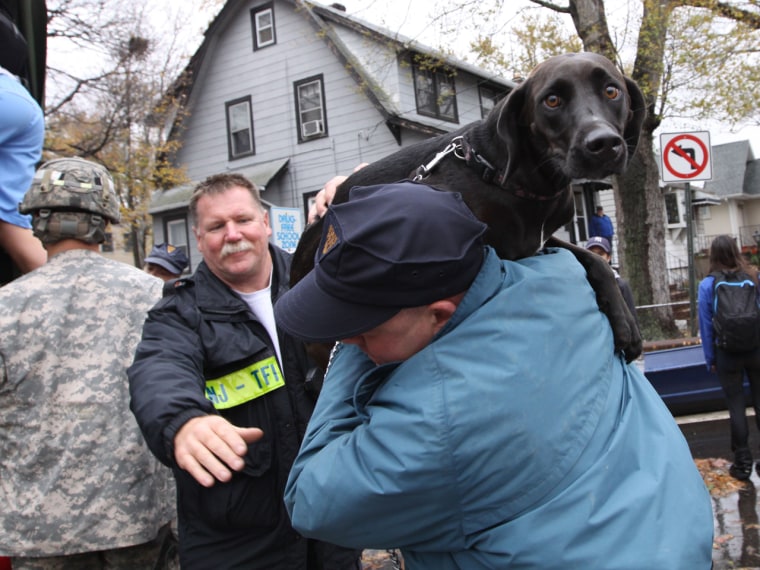 Will dogs, cats and other animals fare as badly in Sandy's wake as they did during Hurricane Katrina, which left an estimated 250,000 pets stranded and struggling to survive?
Animal rescuers say it's still too early to tell — although they're hopeful that animals in states most affected by Sandy's wrath will stand a better chance than they did during Katrina's onslaught in 2005. Their hopefulness is based on the prevalence of pet-friendly shelters in New York, New Jersey, Pennsylvania, Connecticut, Delaware, Maryland and Virginia.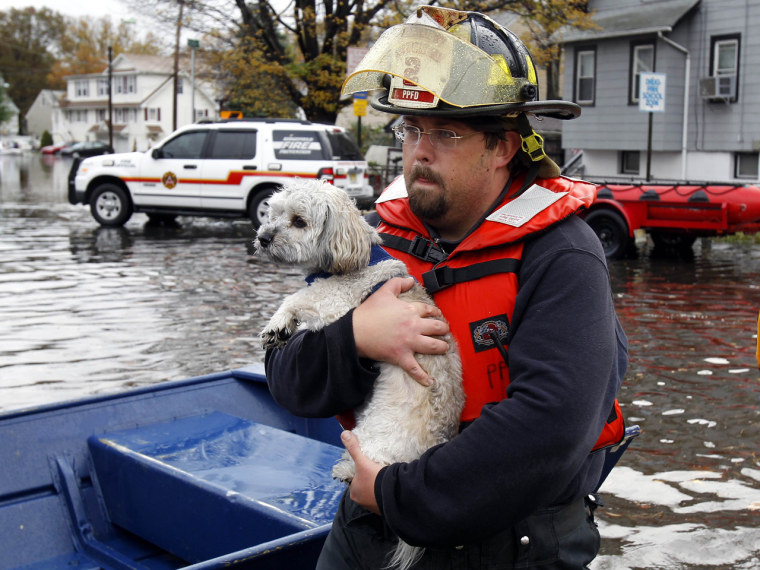 "Up until actual storm conditions started, we had heard of literally hundreds of animal-friendly shelters opening," said Niki Dawson, director of disaster services for the Humane Society of the United States. "Pets were either being welcomed at human shelters, or other resources were being provided if human shelters didn't welcome pets."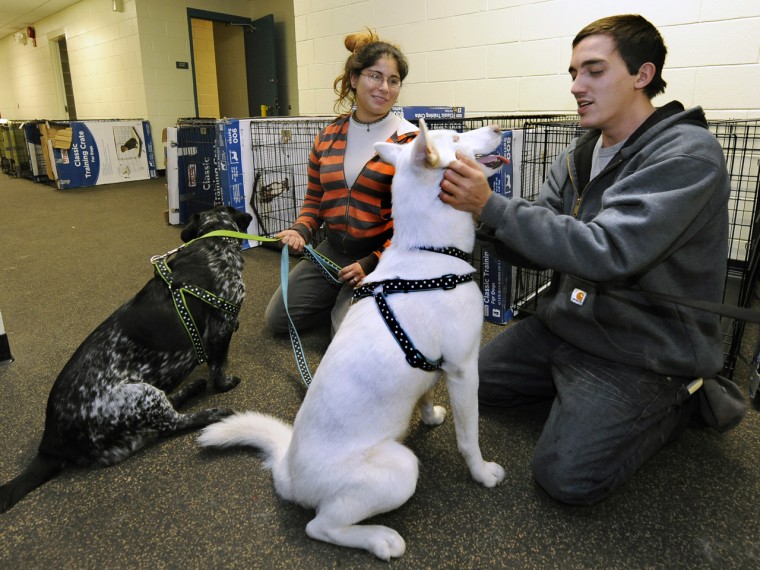 That's not to say that Sandy has been kind to animals. Formal figures have not been tabulated yet, but social media feeds indicate that hundreds of animals are stranded, confused and frightened, and their caregivers are worried sick about them.
The storm is affecting more than common household pets. Officials said an entire petting zoo and an animal shelter in New Jersey were deluged. Such severe flooding occurred at the Wildlife Conservation Society's New York Aquarium in Coney Island that the entire 14-acre facility was under water.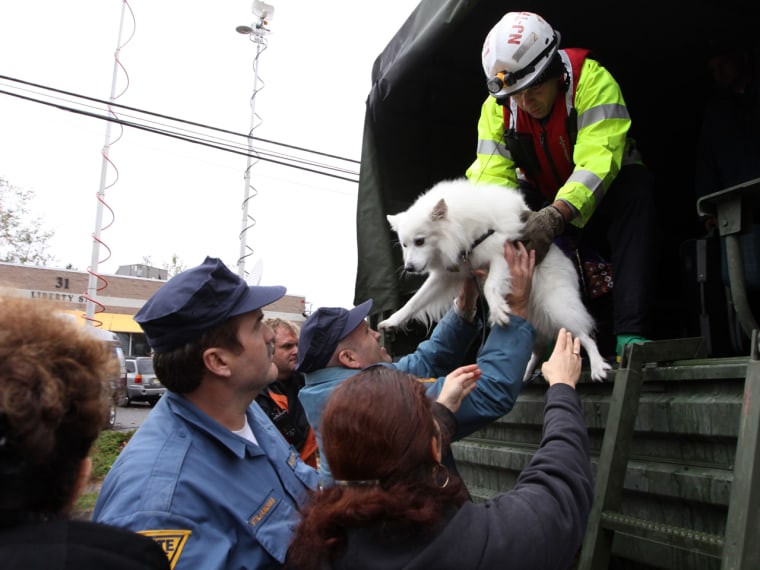 "As the water recedes, we will need time to assess the full extent of the damage," the Wildlife Conservation Society said in a statement, noting that despite the dire conditions, staff members have kept watchful eyes on Mitik, an orphaned walrus calf who recently arrived at the aquarium with health issues.
Baby walrus rides out hurricane at NY aquarium
"We have been monitoring his condition carefully since his arrival and continued this around-the-clock care throughout the duration of the storm," aquarium officials said.
The Wildlife Conservation Society said its four zoos in Sandy's path — the Bronx Zoo, Central Park Zoo, Prospect Park Zoo and Queens Zoo — did not experience serious damage.
Dawson of the Humane Society anticipated that requests for help from bereft animal owners could transform from a trickle to "a river" in the days ahead.
"That's because we'll almost certainly see more inland flooding a couple of days after the storm's landfall," she said.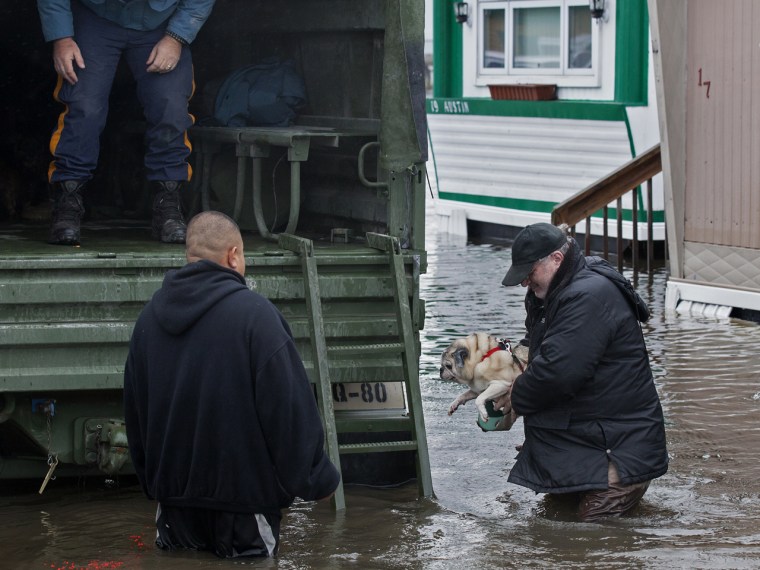 Diane Robinson, a rescue team member with the American Humane Association, said many animal owners prepared early for Sandy's arrival, but "some didn't know where to go, which caused last-minute stress and panic."
Robinson is working with the crew of the American Humane Association's 82-foot Red Star Rescue Rig, which is stationed in Pennsylvania to help animals in need.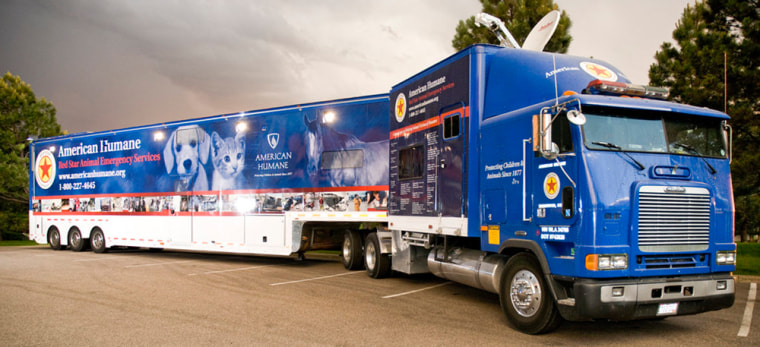 "Two women arrived at our location in tears and panic after being told to evacuate quickly," Robinson said. "They had a cat and a dog and didn't know what they were going to do with the animals or themselves. They cried and profusely thanked us when we said we would shelter them. We were able to calm them down and reassure them the animals would be fine and they could come visit when it was safe and take them home when they were able.
"Today they picked up their kitten and dog. They cried as they hugged them and loaded them up for home. It was a short stay but when faced with the potential loss of your home, knowing your family is being cared for and safe is more important than anything."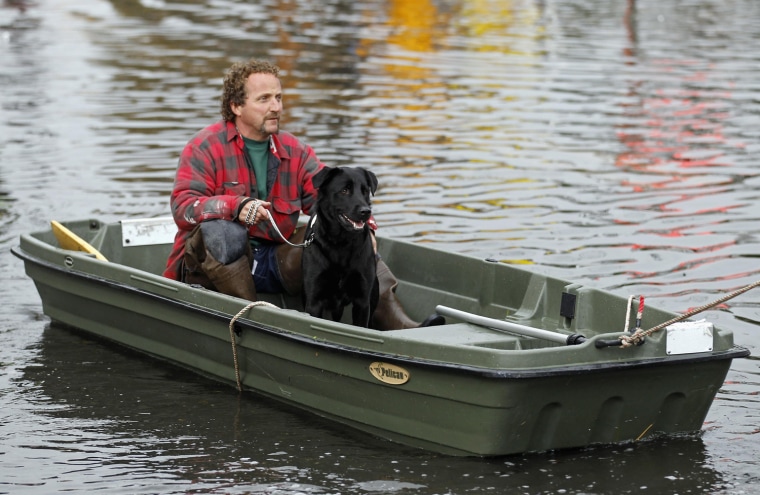 How to help
To donate money and supplies to animals affected by superstorm Sandy, contact:

Connect with TODAY.com writer Laura T. Coffey on Facebook, follow her on Twitter or read more of her stories at LauraTCoffey.com.
More: