An old Rumor has made an amazing comeback.
One year after coming up just short of winning Best in Show at the Westminster Kennel Club Dog Show, a 5-year-old German shepherd named Rumor took the top prize on Tuesday.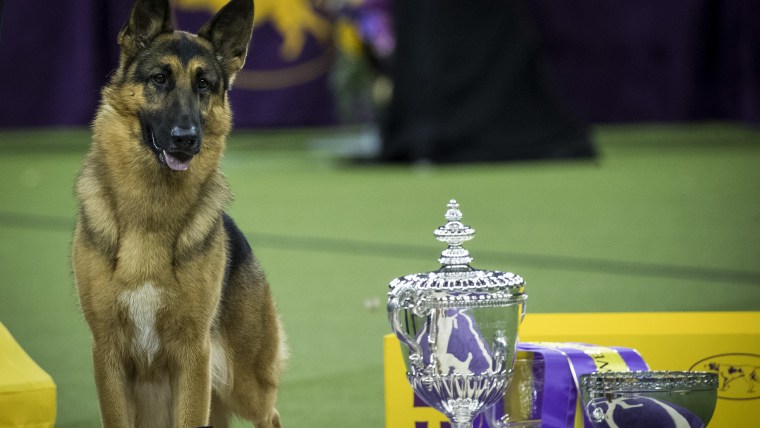 Rumor bested 2,798 dogs across 202 breeds and varieties to become just the second German shepherd to win Best in Show since the event's inception in 1877 and the first since 1987.
RELATED: Distracted beagle wins hearts at Westminster Dog Show with entertainingly bad run
Only two days after Adele was the big winner at the Grammys, a dog named after her hit song "Rumor Has It" had the crowd at New York City's Madison Square Garden roaring in approval of her win. Several proud pet owners watching at home also weighed in.
It was even more impressive considering Rumor had been in semi-retirement after having finished second last year to C.J., a German shorthaired pointer.
Since last year's competition, Rumor had been a house pet for handler and co-owner Kent Boyles at his home in Wisconsin and was heading toward having puppies before returning to competition only last month, according to The Associated Press.
RELATED: The Westminster Dog Show has added cats to the program
Like Peyton Manning retiring after winning the Super Bowl with the Broncos, this is Rumor's final competition before riding off into the sunset and having puppies, according to Boyles.
"Babies, I hope," Boyles said about her future at a press conference after the show. "This is her official retirement day. She can't accomplish any more than she has already accomplished. This is definitely the ultimate type of win for her, so it's pretty awesome."
"Unfortunately for her, she likes to show, so she'd like to come back," Boyles added. "But this is it. This is it for sure."
You know what that means? The door is now open for TODAY's puppy with a purpose, Charlie, to take home next year's prize!
Follow TODAY.com writer Scott Stump on Twitter.