Though polio put Franklin Delano Roosevelt in a wheelchair, his campaign song was "Happy Days Are Here Again." And today a dog named for him has a similar outlook, even though Roosevelt the border collie was born with malformed legs that make it impossible for him to run.
"People think he should have been put down because they think he's suffering," Roosevelt's owner, Stephanie Fox, told the Bangor Daily News in Maine. "But he wakes up happy every day."
If you don't happen to know any border collies, you may not quite understand how remarkable that is: Like Bruce Springsteen, they were born to run. They are working dogs, bred to herd; they need to be busy and stimulated virtually at all times.
Fox had already had experience with the breed when she adopted Roosevelt from New England Border Collie Rescue three years ago, when he was only a pup. So, knowing what she'd be up against, she gave Roosevelt a new deal, just like his namesake gave America: a $900 doggie wheelchair that was originally designed to replace a pair of hind legs, but was re-engineered to support Roosevelt in front. "It's his front-wheel drive," she said.
(Roosevelt's namesake, FDR, would approve. "It is common sense to take a method and try it: If it fails, admit it frankly and try another," he said in a May 1932 commencement address. "But above all, try something.")
Fortunately, Fox's method did not fail; as these pictures show, Roosevelt wheels around happily in a park in Portland, Maine. "The only difference between Roosevelt and other dogs is that instead of a collar, I snap on his wheels to take him out," she said.
"If you had a child with a disability you'd try to enrich them, give them opportunities," she told the Bangor Daily News. "So why not do the same with a dog?"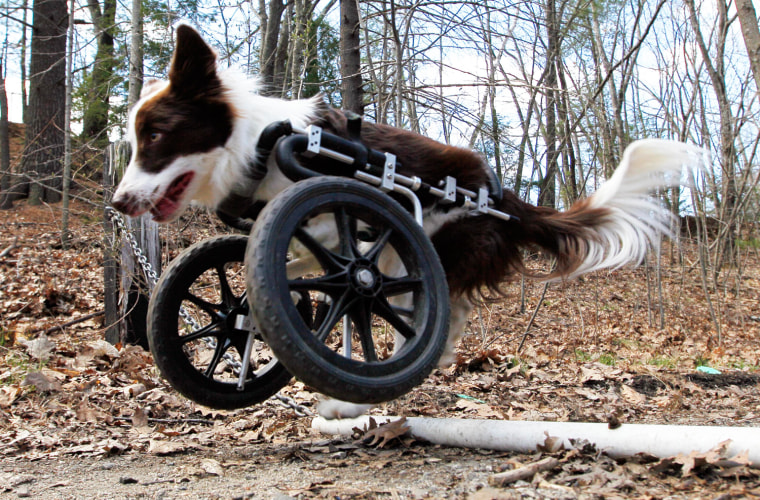 We're confident that Roosevelt the president would agree with Roosevelt the dog's compassionate owner. After all, he was the one who said: "Human kindness has never weakened the stamina or softened the fiber of a free people. A nation does not have to be cruel to be tough."
Rick Schindler agrees with FDR that "happiness lies in the joy of achievement and the thrill of creative effort."
More: 
Video: Trash bag puppy nursed back to health
Video: Reporter reunited puppy with tornado survivor
The story behind Fiona, the blind dog whose video has gone viral