Robin Williams could make anyone laugh — even a gorilla. In fact, the actor forged such a bond with one gorilla that she's said to be mourning the loss of her friend.
Back in 2001, Williams visited the Gorilla Foundation in California and met with Koko, a gorilla who uses American Sign Language to communicate. During their encounter, Williams and Koko laughed, tickled each other and hugged like old friends.
On Monday, Koko overheard Dr. Penny Patterson, her mentor and surrogate mother, talking on the phone about Williams' death. "She became extremely sad," Patterson wrote on Koko.org.
"Robin's ability to just 'hang out' with Koko, a gorilla, and in minutes become one of her closest friends, was extraordinary and unforgettable," Patterson continued in a tribute post to Williams, who was an ambassador for Great Ape conservation.
The Gorilla Foundation resurfaced this 2001 video of the meeting between Koko and Williams on YouTube:
"I recently had a mind-altering experience communicating with a gorilla," Williams said in the video. "We shared something extraordinary: Laughter. Koko understands spoken English and uses over 1,000 signs to share her feelings and thoughts about daily events, life, love, even death. It was awesome and unforgettable."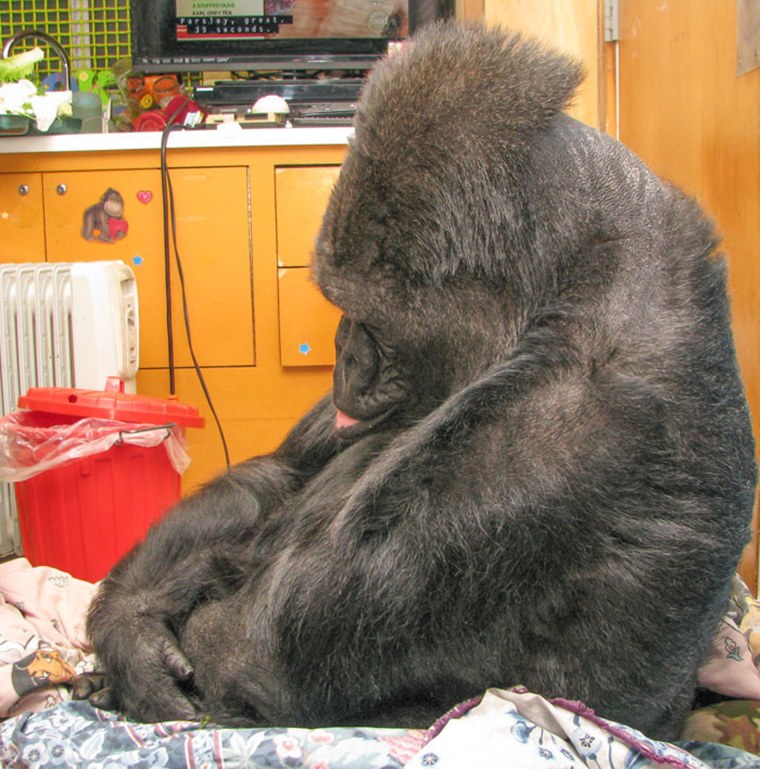 Koko felt so comfortable with Williams during their 2001 encounter that she pulled his glasses off his face and tried them on. She also picked his pocket, producing his wallet and rifling through it.
Near the end of their meeting, Koko kissed Williams' hand, then pulled him in for a big hug.
"Notice that Robin made Koko smile — something she hadn't done for over six months, ever since her childhood gorilla companion, Michael, passed away at the age of 27," Patterson wrote. "But not only did Robin cheer up Koko, the effect was mutual, and Robin seemed transformed."
Need a Coffey break? Connect with TODAY.com writer Laura T. Coffey on Facebook, follow her on Twitter and Google+ or read more of her stories at LauraTCoffey.com.