Just in time for Valentine's Day, the Bronx Zoo has revived its endlessly romantic Name-a-Roach campaign, which gives donors a chance to "make sure your loved one knows your feelings will last a lifetime."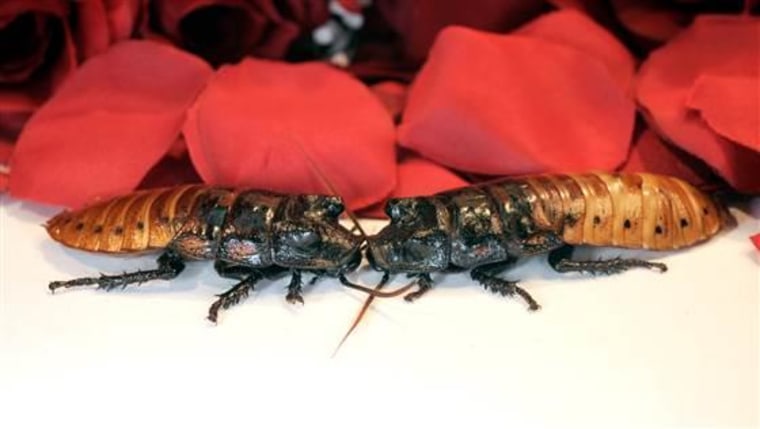 Making its creepy-crawly debut in 2011, Name-a-Roach gives people the chance to name "real live Madagascar hissing cockroaches ... after their favorite loved one, ex, or mother-in-law" while raising money for the zoo's parent group, the Wildlife Conservation Society.
John Calvelli, WCS' executive vice president of public affairs, told TODAY.com he came up with an early slogan to go with the campaign: "Chocolate melts, flowers wilt, but roaches are forever."
For $10, donors can name a roach through the Bronx Zoo's website and receive a "colorful certificate emailed to your loved one announcing that a cockroach has been named in his or her honor," according to the zoo's Feb. 9 press release. The campaign was revived this year after a one-year hiatus. In 2012, the zoo added the cocoa roach to its original campaign, then returned to naming only Madagascar hissing cockroaches in 2013.
Madagascar hissing cockroaches are the world's largest roach species — reaching nearly 4 inches long — and get their name from the hissing noise they make as a defense mechanism, according to the zoo. Craig Gibbs, the assistant curator of animals for the affiliated Queens Zoo, wrote in a WCS blog entry last week that more than 10,000 roaches call the Bronx Zoo home. Many are part of the Bronx Zoo's Madagascar exhibit, which is also home to lemurs, crocodiles and other species from the African island nation.
Even if you find roaches more repugnant than romantic, you might find the cause worthwhile: The WCS' mission is to save wildlife and its natural habitats through science, conservation action and education.
But a little heads-up might go a long way for those who are getting roaches named after them.
"I will be the first to say I made the mistake of purchasing one for my wife, and it did take a little bit of explaining," Calvelli admitted. "But after I explained, she put a big smile on her face, and it gave us a chance to communicate. And what better way to do it than with a roach?"
Follow TODAY.com writer Chris Serico on Twitter.