A dog can bring out the best in a person — especially when what's best in him has gone missing for a while. This becomes clear in the story of a military working dog named Chaney and a U.S. Marine corporal named Matt Hatala. Their story is excerpted here from the bestselling book "My Old Dog: Rescued Pets with Remarkable Second Acts" by TODAY writer Laura T. Coffey.
Matt Hatala didn't mean to lose his way. His four years of active-duty service in the U.S. Marine Corps filled him with pride, and he always loved helping people. But the months he spent searching for hidden explosives in Afghanistan's Helmand province did something to him.
Matt became numb. Numb to the idea of dying. Numb to the idea of living. What started as a coping mechanism became his default setting, and he didn't know how to wake up.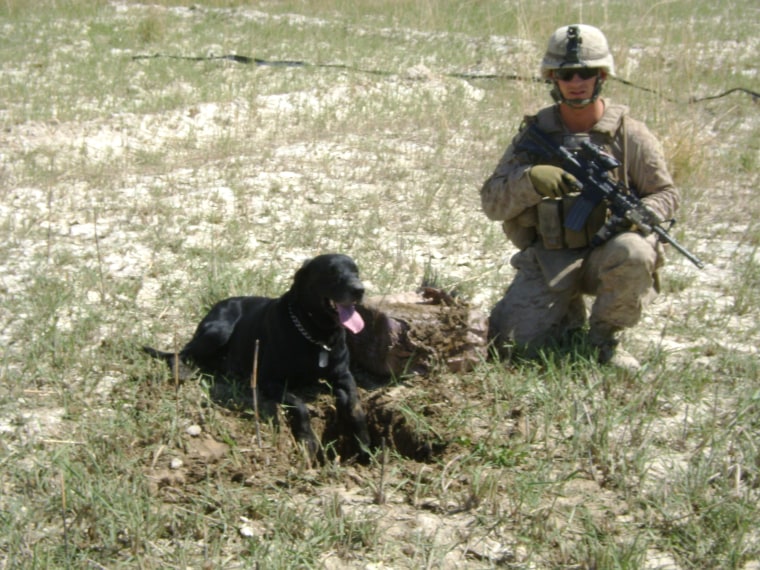 "When we first got over there, it literally looked like we were walking through a sea of lightbulbs: Is this my last step? Is this my last step?" Hatala recalled. "Fast-forward to 6 1/2 months later, and we were stomping around. We just didn't care. That's how bad it is. You just don't care anymore. You have to become that numb in order to survive."
One exceptionally focused member of Hatala's patrol base never stopped caring. He also never stopped being in a good mood. His name is Chaney, and he's a 90-pound black Labrador retriever with a slobbery kissing tongue and a nose like a divining rod. During multiple tours in Iraq and Afghanistan, the dog helped save hundreds of lives by sniffing out deadly improvised explosive devices. Hatala served as Chaney's handler in Afghanistan in 2010 and 2011, and as a team, they enjoyed the closest of bonds — but not right away.
"I met Chaney in South Carolina, where I went to dog-training school, and he was the biggest dog that we had," Hatala said. "At first, he wouldn't listen to me. He wouldn't do anything I was saying. It was really frustrating."
Transitions can be tricky when working dogs part ways with their former handlers, as Chaney had done after serving in Iraq. Before long, though, Chaney and Hatala began to understand and respect each other, and that mutual respect grew into a sense of complete trust.
"I didn't really see Chaney as a dog anymore," Hatala explained. "He's a Marine. He's like a brother to me. I talk to him like I talk to a person."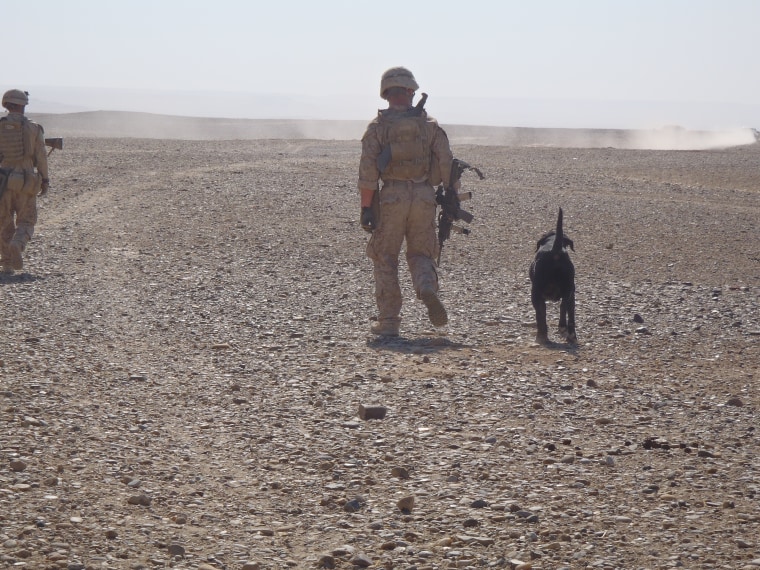 Chaney helped keep his human comrades sane during grueling and seemingly endless security patrols. Over the course of seven months, Chaney, Hatala, 14 other Marines, and several Afghan National Army members trekked 2,600 miles together — entirely on foot. "It was rough. I lost 52 pounds," Hatala said. "It created complications for Chaney, too. I had to look out for the pads on his feet and also carry extra water and IV supplies for him."
Through it all, Chaney stayed lively and upbeat. He'd splash into the Helmand River for a refreshing swim, then shake himself off all over the Marines. When they'd make camp for the night, Chaney would wiggle up to them excitedly and lick their faces.
"He's definitely a lover — you get no personal space with Chaney," said Cpl. Shea Boland, a Marine in Hatala's patrol group in Afghanistan and one of his closest friends. "He always gave us lots of good laughs. Having him there helped calm everybody down, too. It was almost a little sense of normalcy, something that we were used to back home."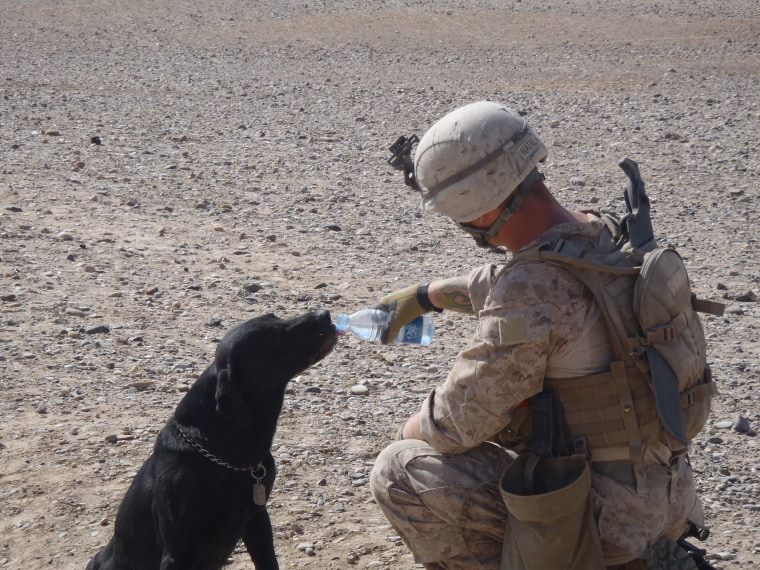 Hatala said Chaney was a "big goober" and a "big softy" who had an uncanny ability to help the Marines forget where they were — and who also happened to possess an astonishing work ethic.
"When he'd smell something, he'd turn on," Hatala said. "His nose is on the ground, his ass is in the air, and his tail is going a million miles a minute. He gets very birdy and starts zigzagging, and when he finds the most potent spot, he lies down on it.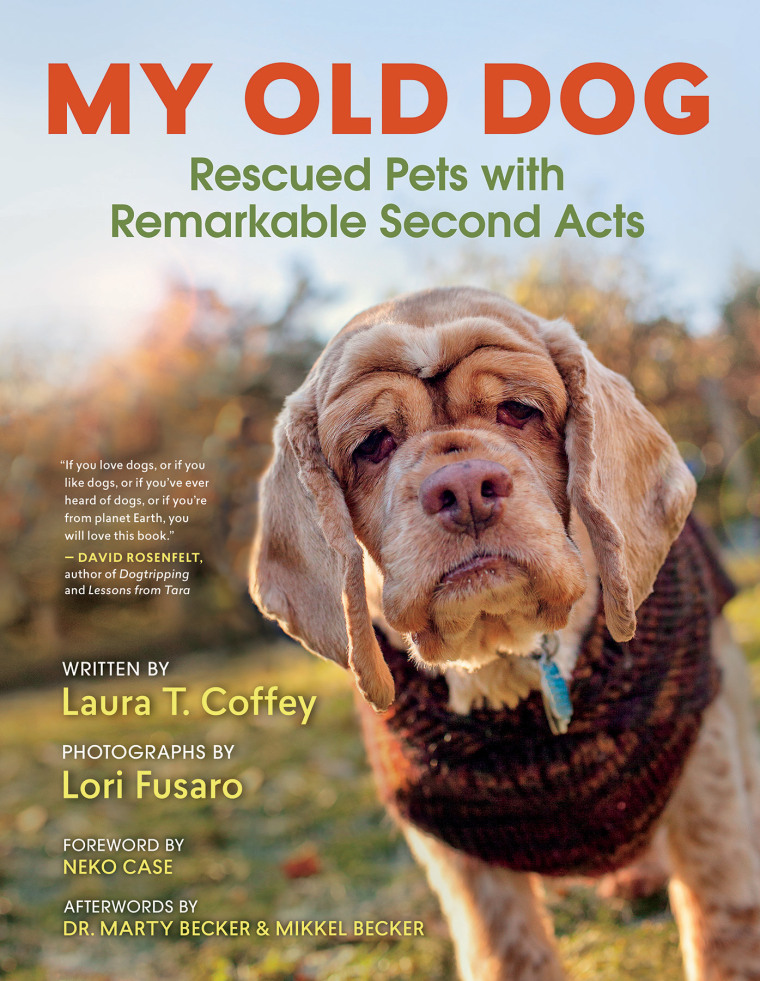 "He was very methodical in his search — very, very good at what he did. I would walk behind him anywhere."
One night in 2011, Hatala and Chaney went to sleep after ending their security watch at 2 a.m. About three hours later, they were awakened with urgency: There had been an explosion, and they had to go check for secondary explosive devices right away.
It was still dark when they rolled out with three Marines from their squad and seven from a different squad. Hatala helped cordon off an area near the bank of the Helmand River that needed to be searched. Then he and Chaney thoroughly swept the left side of the area, but not the right side; Hatala thought other Marines had that side covered.
"There must have been a secondary that everybody missed," Hatala said. "I never sent Chaney over there, so he never had a chance to find it."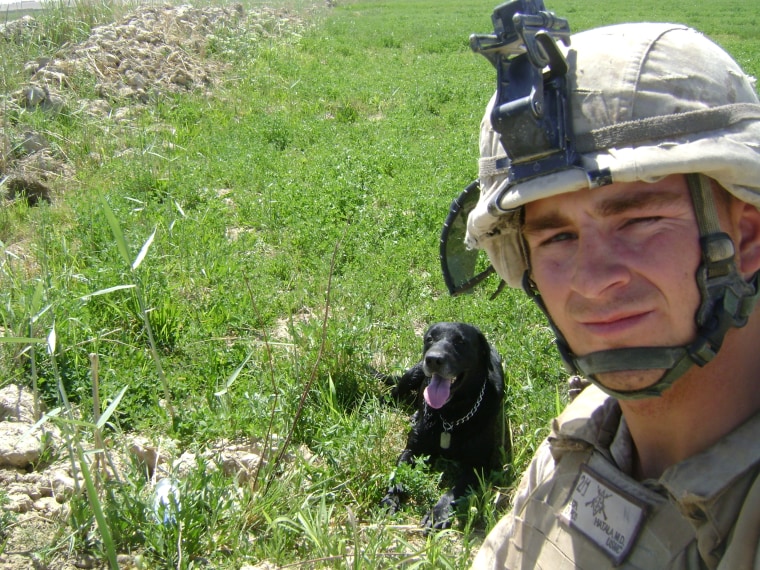 That remaining explosive would cause devastating injuries for two Marines. A couple of days later, one of Hatala's friends tripped it.
"I got to go down there and see my mistake exploded all over the beach," Hatala said.
"My buddy lost his leg and shattered his other one, and another Marine had a major traumatic brain injury.
"I was so worried it was my fault. When I got back to the patrol base, someone singled me out in front of everyone and said, 'If it wasn't for you and your stupid f---ing dog, this would have never happened.'...
"I didn't feel like I deserved to live."
Return to civilian life
Hatala came home from Afghanistan in August 2011. His return to civilian life was rocky from the start.
"We got back to Camp Pendleton, and within five minutes of being there, I had to put Chaney on a truck," Hatala recalled, his voice breaking. "It didn't seem real. We'd gone through, you know, a lot together. It was like losing a friend."
Chaney got shipped back to American K-9 Interdiction, a private company that had a contract to train explosive-detection dogs for the U.S. Marine Corps' use in Afghanistan. Chaney would rest for a few weeks at American K-9's training facility in South Carolina, then begin adjusting to a new Marine for his next tour in Afghanistan.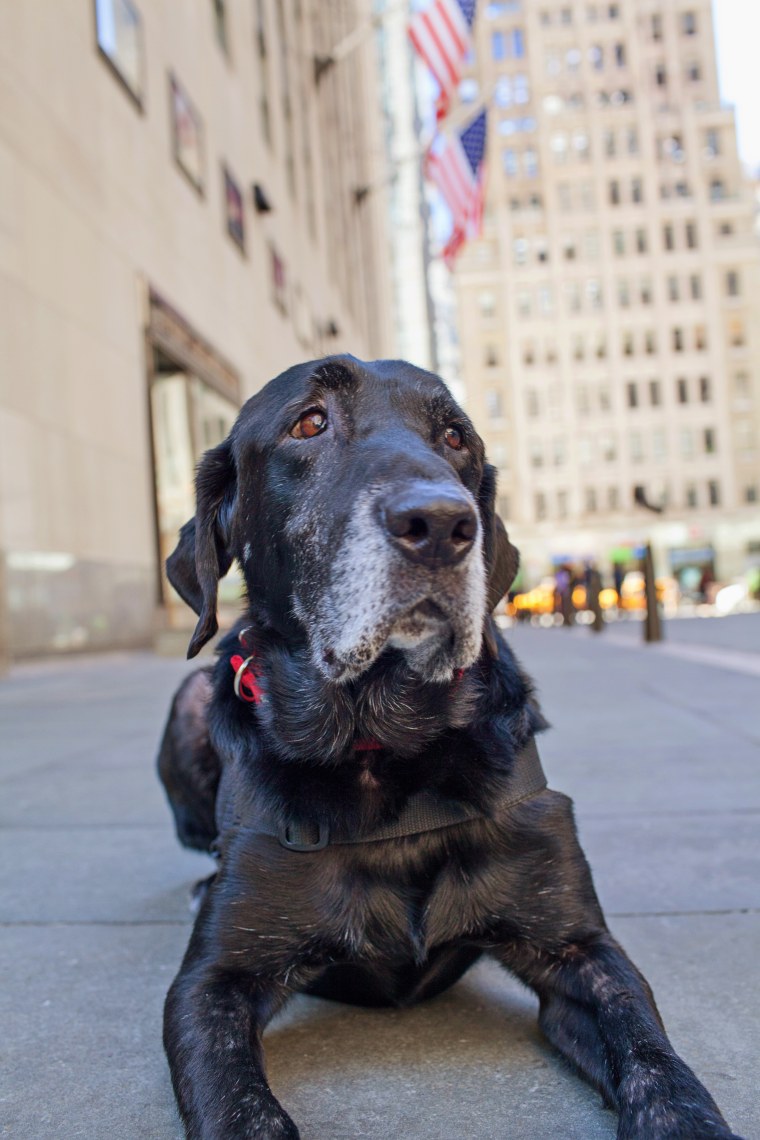 In late 2011, Hatala and his wife, Genna Schoneman, temporarily moved in with Matt's parents in Waverly, Iowa. Both 22-year-olds were looking for work — but most positions seemed meaningless to Hatala after his service in the Marine Corps. In fact, almost everything seemed meaningless.
"When I moved home, it was a huge culture shock, and things got really, really bad, really quick," Hatala said. "I felt alienated. I couldn't relate to a lot of people. I was drinking every day and doing risky stuff just to do it — speeding, drunk driving, bar fights, anything I wasn't supposed to do. I would do it just for that adrenaline.
"My wife, my parents — everyone — was trying to get me to get help. But at that point, literally Jesus Christ himself could have come down and told me to get help, and I wouldn't have done it. Nobody could get me to change the path I was on."
Daily — hourly, even — Hatala replayed that scene on the beach in Afghanistan and blamed himself for what had happened. His wife knew he was struggling but had no idea how to reach him. "It was really scary and really sad," Schoneman recalled. "You want to help someone, but you don't know how."
In January 2012, Hatala's parents left town for a funeral. While they were away, the couple and some friends rented a hotel room and spent the night partying. By the wee hours of the morning, everyone else had fallen asleep — but not Hatala. He stayed awake, drinking by himself and devising a plan. Early that morning, he and Schoneman returned to his parents' house, a ranch-style home on four forested acres with a long driveway.
"I decided that was going to be the day I left the earth," Hatala said. "I kicked my wife out of the house. I moved my truck across the driveway because I figured if cops were going to come up to the house, they'd have to come up on foot, and I'd take them out, too. I remember thinking that I was going to do this."
Hatala loaded his Taurus .45 handgun and a semiautomatic rifle. Then he sent a text message to his mother: "It's over. I'm done with it."
'At least someone cared'
As soon as Hatala banished his wife from the house, she began mobilizing people. She called and texted Hatala's closest Marine buddies, and she also contacted her parents, who lived nearby. They hurried over and called 911. Police officers and sheriff's detectives sped to the neighborhood and set up a loose perimeter around the property.
Alone inside the house, Hatala couldn't stop crying. His parents didn't drink alcohol, but he found a bottle of white wine in a cabinet. He chugged all of it down at about 8:30 a.m., then vomited uncontrollably. Once he stopped being sick, Hatala tried to steady himself. He took the safety off his handgun. He put the gun in his mouth.
Just then, Hatala's phone rang. It was Mark Johnson, one of Matt's best friends and a fellow Marine who lived in Tennessee. As soon as Mark saw a text message from Schoneman, he rushed to find a quiet spot to call Hatala.
"At first, he asked me why I called — he thought it was weird that I had called him right then," Johnson said. "I remember talking to him about how he didn't need to make a life-altering decision in that state of mind. I told him that he didn't need to do anything that he couldn't take back."
Hatala listened to his friend.
"I don't really remember exactly what he said," Hatala explained later. "I just remember thinking: 'Dear God, at least someone cared.'"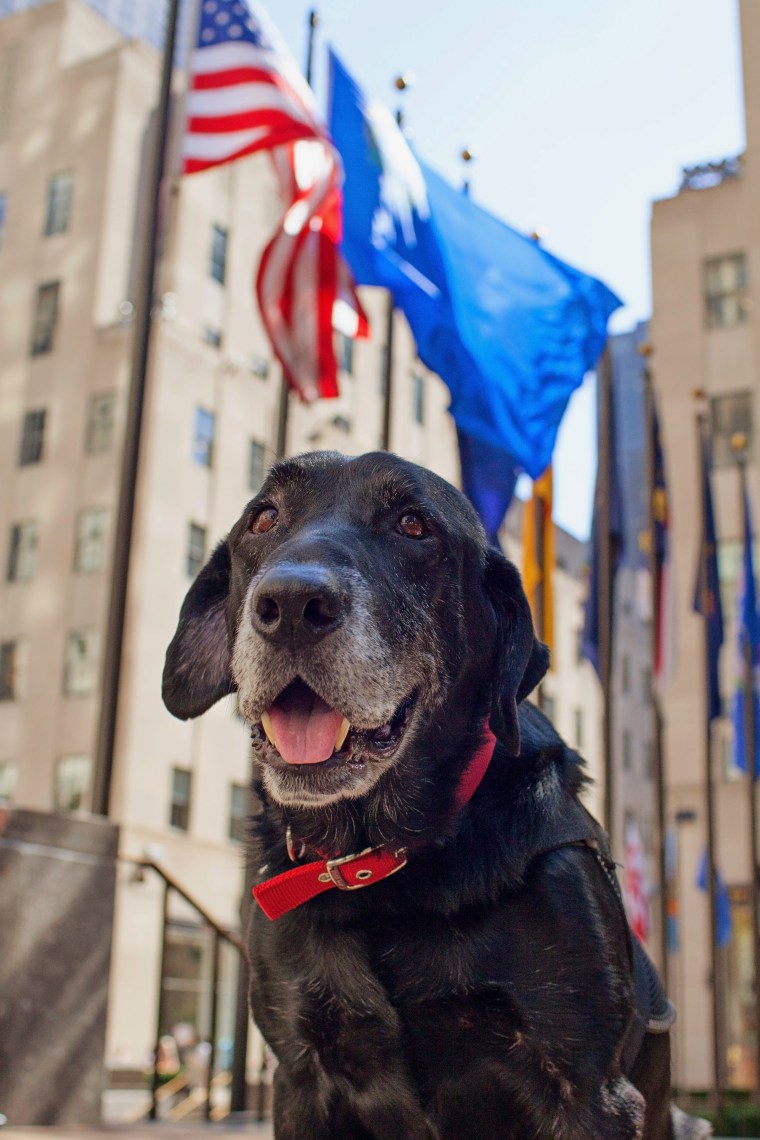 A much-needed reunion
Once he hung up with Johnson and calmed himself down a bit, Hatala decided to drive to the store to buy some cigarettes. He stepped outside carrying both his handgun and his semiautomatic rifle, then climbed into his white Chevy Silverado truck with his weapons. Police monitored Hatala's every move.
He slowly pulled out of the driveway and began heading south on a road that curved up a hill. At the top of the hill, a police roadblock awaited him. Police ordered Hatala out of the truck and told him to get down on the ground. He didn't resist. They handcuffed him and took him, not to jail, but to the hospital.
Hatala ultimately traveled to St. Cloud, Minnesota, for weeks of treatment for alcohol abuse and post-traumatic stress disorder. When he returned to Iowa, Hatala tried to put his life back together. It wasn't easy. He felt like no one really understood him — and he didn't really understand them, either. He could relate to other Marines who had served with him, but he never got to see them. Everyone had returned to different parts of the United States and gone on with their lives. Everyone, that is, except Chaney: He was back in Afghanistan, trudging through miles and miles of desert and sniffing out explosives.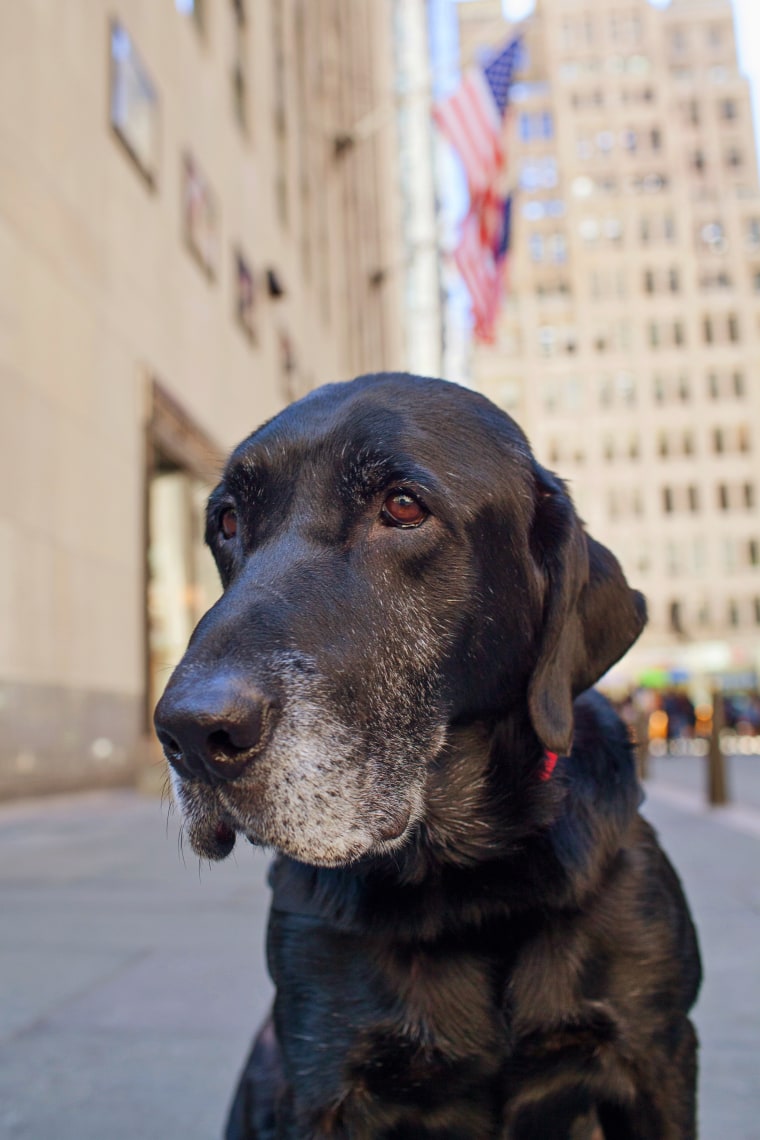 Hatala missed Chaney desperately. Chaney always understood him and helped him feel better. Hatala knew the dog would soon be too old for explosive-detection work, so he began trying to adopt Chaney — a process that proved to be labyrinthine and laborious. As Hatala attempted to submit the right applications to the right places, the Marine Corps' working-dog contract switched from American K-9 Interdiction to another company, K2 Solutions in North Carolina.
"Just finding out where to send paperwork was a nightmare," Hatala said. "Someone would tell you to call guy A, and then guy A would send you to guy B, and he'd tell you to talk to guy C, and then guy C would send you back to guy A."
As he waited, Hatala got involved with Retrieving Freedom, a charity with a facility in his hometown in Iowa. The group trains service dogs for military veterans and children with autism, and Hatala began volunteering there to help get dogs socialized and ready for their future jobs.
Retrieving Freedom's co-founder Scott Dewey said he could tell Hatala was hurting. He sensed how much the veteran would benefit from regular contact with dogs in training.
"I approached him and said, 'Hey, you have experience with dogs. Would you help us get this dog ready for a guy who really needs it?'" Dewey explained. "Then Matt would take that dog out to Walmart and other public places, and that would get people talking to him. Matt would explain, 'Oh, we're training this dog for a veteran who lost his leg.' Pretty soon, people would realize Matt's a veteran, too, and they'd say, 'Thank you for your service. What you're doing here is great' — and that would make his whole day. It was so, so important. It helps you start feeling that everybody's not against you."
Hatala soon realized how much Dewey and others at Retrieving Freedom cared about his well-being. "I started doing this to help them out, but all along, they were helping me," Hatala said. "Working with the dogs made me feel good about myself. I had purpose again."
Finally, in the summer of 2013, Hatala got the message he'd been hoping to receive: Chaney was available for adoption. All Hatala had to do was travel to K2 Solutions in North Carolina and pick him up.
"I can still remember the day Matt walked in and told me it was approved," Dewey said. "He said, 'I don't believe it. This is the best day of my entire life.'"
The love of a dog
Getting Chaney back after nearly two years of separation was such a momentous occasion that it had to be done right. Hatala arranged for a road trip and reunion with his best friends and fellow Marines: Shea Boland, Keegan Albright and Mark Johnson. The plan was to meet up in Indianapolis, drive to North Carolina, pick up Chaney, and then head to Tennessee and stay at Johnson's house together.
K2's kennels were out in the middle of nowhere, and cameras weren't allowed on site. Even though Hatala's reunion with Chaney couldn't be documented, the veterans who were there that day said they'll never forget it.
"As soon as Chaney heard Matt's voice, he became his typical self, licking and snorting and all excited," said Albright, of St. Louis, Missouri. "Whoever says dogs don't remember people, I don't know where they get that. Matt and Chaney were both ecstatic."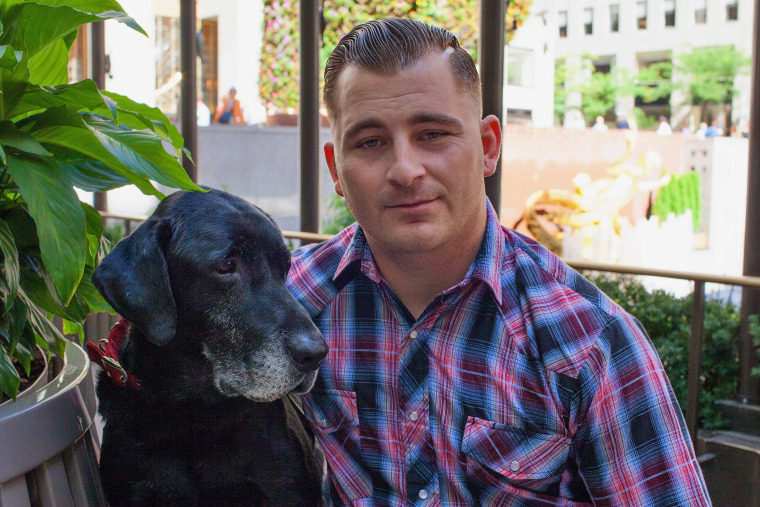 Genna Schoneman remembered how elated Hatala was in July 2013 when he returned to Iowa with Chaney in tow. "He got home with Chaney really late at night, and he was just beaming," she said. "He just seemed like a happier person — he had his best friend back. Chaney would follow Matt everywhere he went and make sure he was OK. He has to keep his eyes on Matt at all times."
Hatala immediately began sleeping better at night once he had Chaney with him. He found himself talking to Chaney constantly, without reservation, and that helped him feel better, too. Then, all at once, Chaney's presence prompted a realization — and a rush of relief — in Hatala's mind.
"It occurred to me that I would never, ever, ever, ever, ever consider hurting myself again, because what would that mean for Chaney?" Hatala said. "Where would he go? How would that affect him? He's like my kid. I want to give him a good life."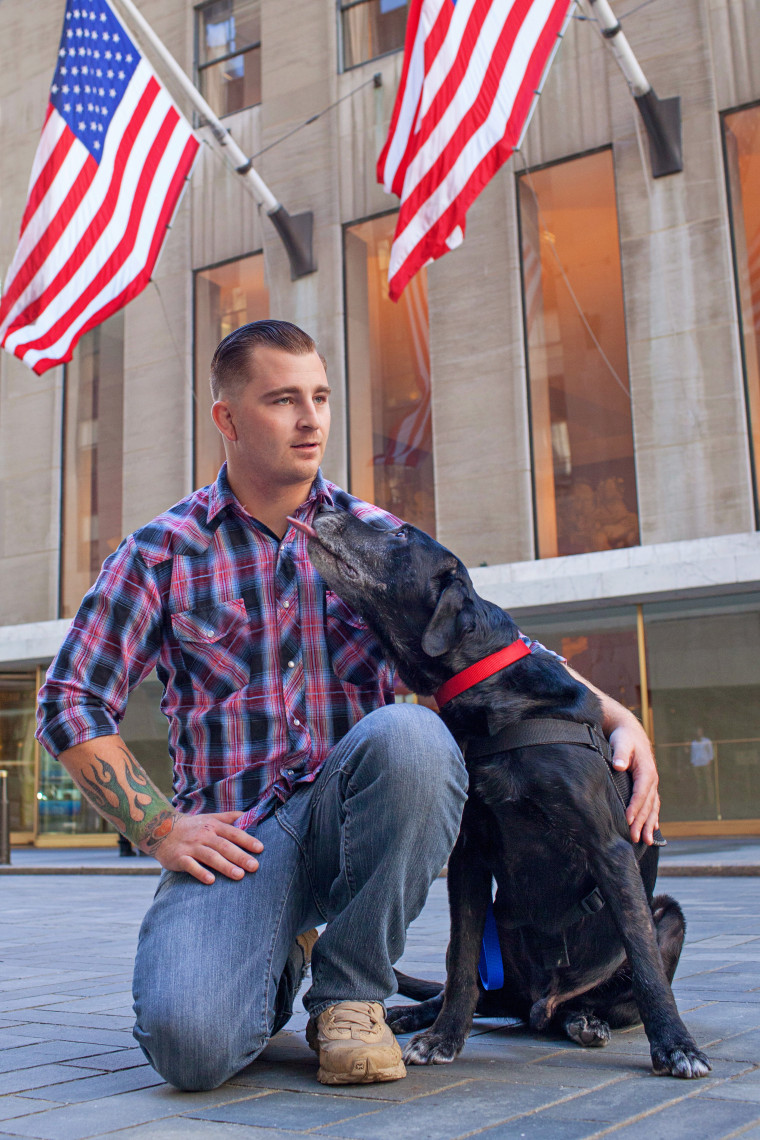 Honored as heroes
As Hatala grew stronger and more stable, he and Schoneman came to a mutual decision: They would file for divorce. Hatala moved to Lansing, Michigan, in May 2014 and began training to become a firefighter. His Marine buddy Shea Boland had started in the program first, so Hatala and Chaney moved in with him and his dog, Reagan.
"I don't know a lot of people here in Michigan, so a lot of time it's just me and Chaney hanging out while I do homework," Hatala said. "In the past, I was wanting to drink all the time, but now I can't. I've got to get up early in the morning and take Chaney to the river or get to class."
After he moved to Michigan, Hatala got a surprise: Retrieving Freedom had encouraged him to nominate Chaney in the military dog category for American Humane's annual Hero Dog Awards — and Chaney won. The designation resulted in two adventure-packed trips for Hatala and Chaney in September 2014: one to New York City for an appearance on the TODAY show, and another to Los Angeles for a stroll down the red carpet at an awards gala at the Beverly Hilton hotel. Schoneman came to the black-tie event as Hatala's bursting-with-pride date.
During the awards show, Hatala and Chaney walked across the stage together. Hatala looked dashing in a navy-blue tuxedo; Chaney wore a dog vest that was red, white and blue. Poised and polished, Hatala addressed a room packed with celebrities as television cameras rolled.
"I'd like to take a second to speak directly to all the combat veterans here tonight and those watching at home," he said. "First off, I'd ask that you never forget who you are and the proud warrior culture that we come from. Secondly, don't ever stop checking on your brothers. When we get back from war, our dedication to one another does not stop there.
"And lastly, to my brothers out there that are living with post-traumatic stress, I want to remind you that post-traumatic stress does not mean that you're weak. Post-traumatic stress does not mean that you're broken. The one and only thing that post-traumatic stress means is that you have walked through the fires of combat and are still alive to talk about it. ... We need to spend every day honoring the memory of those that can't say the same thing. Thank you all, and Semper Fidelis."
The 650 people in attendance leapt to their feet. Hatala received one of the most thunderous standing ovations of the entire evening.
After that whirlwind weekend in Beverly Hills, Hatala returned to Michigan and hit the books. His diligence paid off: When he completed his firefighter's certification in late 2014, he graduated as fire academy captain.
"I got voted as captain by my peers," he said with a proud smile.
The next phase of his education would be paramedic and emergency medical technician training, which Hatala planned to tackle in Des Moines, Iowa, with Chaney as his roommate.
"It means the world to me that I have Chaney with me," he said. "It's like getting a buddy back. You lose a lot of friends when you get out of the military, but to be able to have one of them live in my house with me every single day is amazing. It's a blessing. ...
"Chaney has helped me so much. I had been at my lowest point — I don't know if I could have gone much lower — and then just two or three years later, here I am winning the Hero Dog Awards and getting flown all over the place. It's incredible. The main thing I would tell any veteran is this: Never give up. Just never, ever give up."
Excerpted from the book "My Old Dog: Rescued Pets with Remarkable Second Acts." Text copyright © 2015 by Laura T. Coffey. Photographs copyright © 2015 by Lori Fusaro. Reprinted with permission from New World Library. Learn more at www.MyOldDogBook.com.
Related: