On Thanksgiving Day, Blossom the turkey will go out hiking with her best friend, a dog named Minnow, and her foster mom, Abbie Hubbard.
"It's also one of Minnow's very favorite activities and I think she feels proud to be hiking with Blossom. I sure do," Hubbard told TODAY. "Then we'll have a lovely plant-based meal at home. Blossom and Minnow both love veggies so there will be plenty."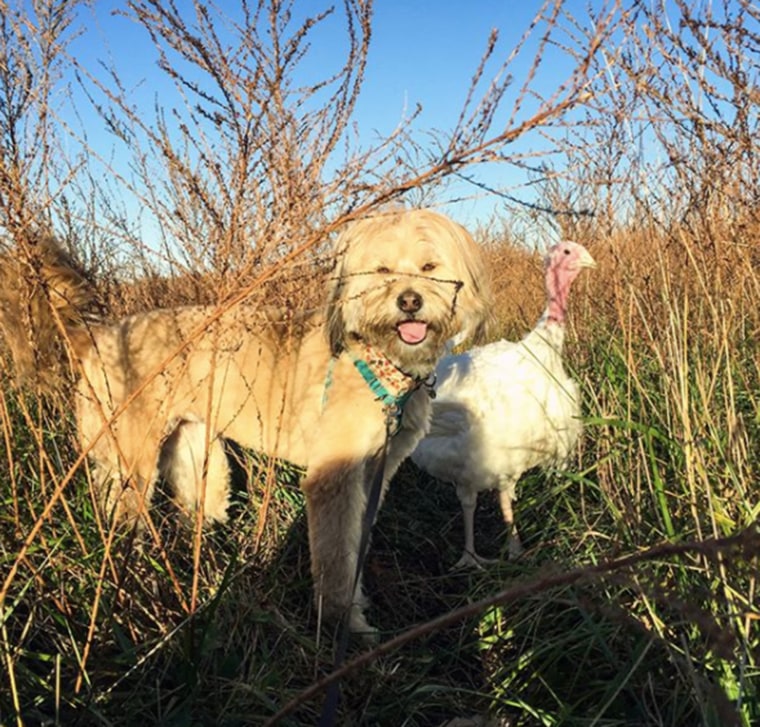 Blossom is Hubbard's foster turkey. Hubbard is 40 and lives in northern Virginia, where she is deputy director of the Animal Welfare League of Alexandria. She took Blossom in a few months ago, after the then-just-five-week-old bird was rescued from a slaughterhouse.
Hubbard is no stranger to welcoming animals from meat farms. Earlier this year, she cared for a rescue chicken named Chickpea until Chickpea was old and healthy enough to go to Burgundy Farm, a school that is also a home for animals. Minnow, Hubbard's dog, was also saved from the dog meat trade.
"My heart beats for farmed animals," said Hubbard.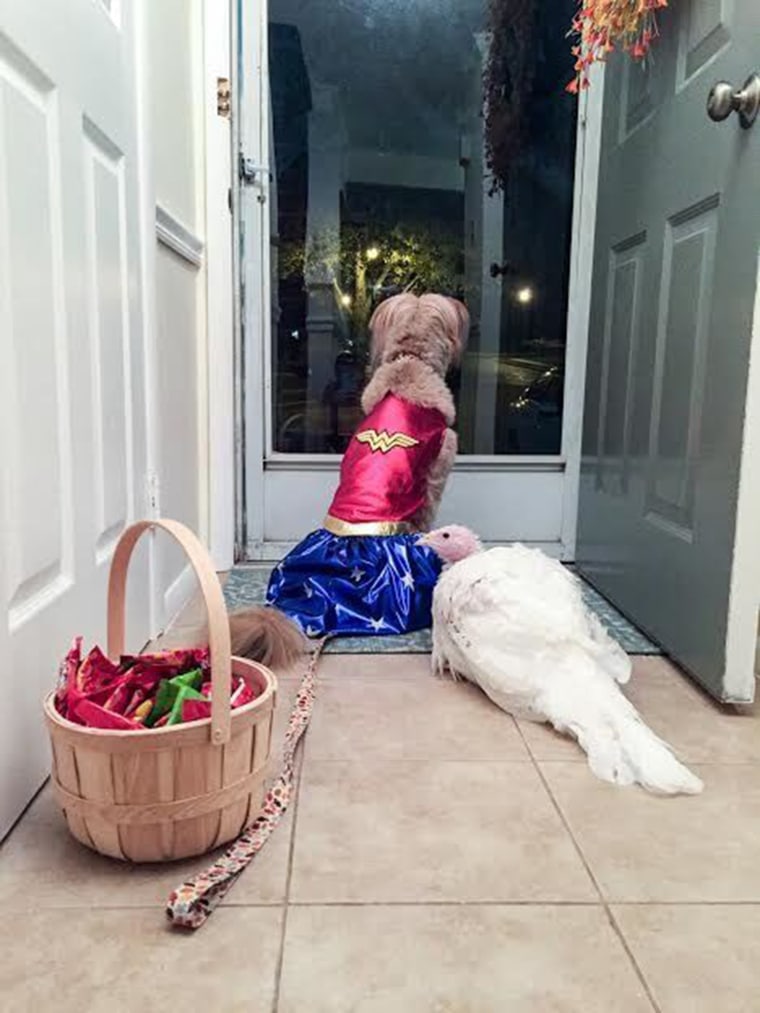 Minnow's does, too. She always welcomes Hubbard's foster pets with open paws.
When Blossom arrived, for example, Hubbard unlatched the door to her carrier. Minnow "went right up to her in a very soft, kind manner. She nudged her and kissed her and then led her to the living room," Hubbard said.
They've been inseparable since — napping together, hiking together, even greeting trick-or-treaters on Halloween dressed in twin Wonder Woman costumes.
"We had a line at the door of people who wanted to meet her. Lots of people asked if they could take a picture," Hubbard said.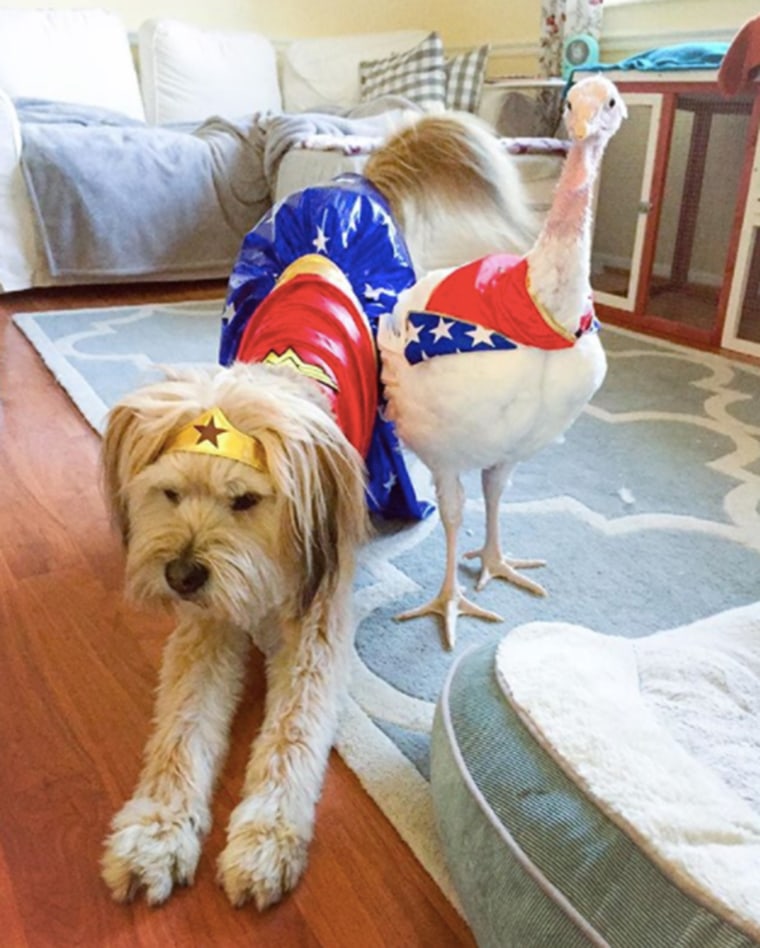 Thanksgiving will be bittersweet. This is partly because Hubbard loves Blossom so much "but I feel sad that I can't save all of her kind," she said. "I believe a turkey, or any animal, can nourish our souls far more than any meal ever could."
That's not the only reason. The other is that soon, Blossom will be leaving Hubbard's home and joining Chickpea the chicken at Burgundy Farm.
Hubbard knows Blossom will be happiest at the farm — and that having Blossom there will be wonderful for the kids who attend Burgundy, as well.
She also knows she — and Minnow — will miss Blossom, pretty desperately.
It's not the end, though. Even once Blossom's moved to Burgundy Farm, Hubbard plans to collect the turkey on Sunday mornings. She'll take Blossom and Minnow out for their regular hikes — like the one this unusual group of friends will embark on this Thanksgiving.
"Minnow and Blossom remind me every day there is no greater gift in life than love," said Hubbard. "That's Thanksgiving to me."