That's it. That's it. The world's gone mad. If this raccoon dog isn't a sure sign of the apocalypse, we don't know what is.
OK, so let's just get all the facts straight. Tanu, as it turns out, is definitely a "Japanese raccoon dog," also known as a "tanuki."
RELATED: Meet Pumpkin, the rescued raccoon who thinks she's a dog
But his owner's Twitter feed, overflowing with funny photos of the unusual pet, is still causing quite a commotion. After all, Tanu, who was taken in by his owner after he was abandoned last summer, is an anomaly. He just doesn't look like anything we've seen before.
And even if we're sure he's a "raccoon dog," does that make him a dog that looks like a raccoon — or a raccoon that looks like a dog?
(Science — er, Wikipedia — would argue for the former, but we're just saying.)
Meanwhile, we're not the only ones with a serious case of raccoon confusion. Yesterday on TODAY, Dustin Hoffman revealed he wasn't sure what species Master Shifu was. (For the uninitiated, Master Shifu is the character Hoffman voices in the "Kung Fu Panda" films).
"Is it a raccoon?" he asked, and Matt Lauer agreed.
But Master Shifu is actually a red panda, as Hoffman and our anchor were informed off-camera.
RELATED: Dustin Hoffman reveals the roles he turned down: 'I had a problem with success'
"I'm a red panda?" Hoffman said incredulously, whereupon Lauer declared: "Dustin Hoffman has made $930 million dollars off of a character, and he's not completely sure who the character is."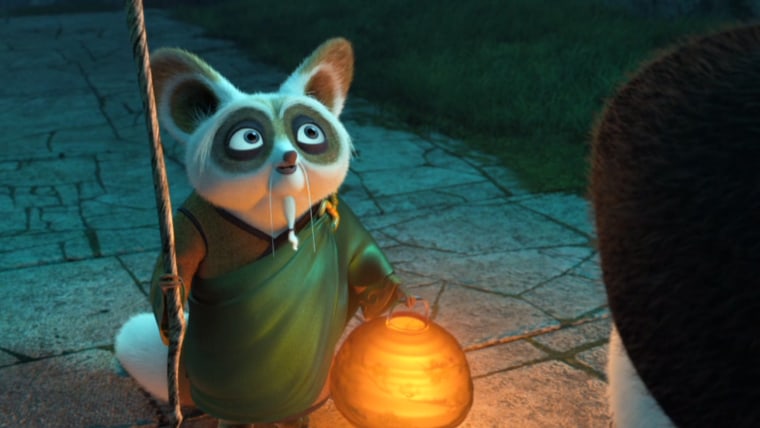 "I thought he was a raccoon," said Hoffman simply.
We feel you, Dustin.