First residents heard the barking. Then they spotted it: A puppy resting at the bottom of a West Dallas storm drain. 
On Monday, the city's Animal Control worked with Dallas Fire-Rescue crews and Watershed Management to successfully rescue the small dog from the drain it's possibly been living in since Nov. 16. 
"We finally got a trap down there, and he went in it pretty quickly," Cate McManus of Dallas Animal Services told TODAY.com. "From appearances he seemed to be in good condition."
NBC 5 News reporter Lindsay Wilcox has been on the ground with the rescuers since this morning, tweeting about the experience as officers monitored the situation and then set traps at the drain and in an opening 100 yards away.
The stuck puppy first came to the attention of Animal Control on Nov. 22, when Lynda Roth, a local school teacher, reported the presence of a tiny dog in the storm drain. Roth told Animal Services she believed it to be one of the 13 or 14 puppies born to two stray white labs underneath her portable classroom two months ago. But when officers arrived at the scene, they couldn't hear or see the puppy, as it was likely scared away by the commotion.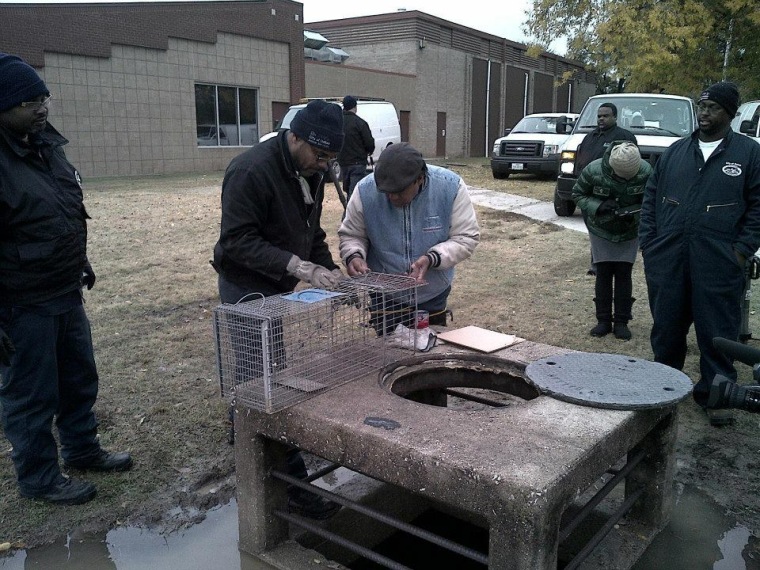 Animal Services returned to the drain for a second time Monday morning, after receiving a call from NBC 5 News. There they saw the puppy and heard its barks below. As the drain has an outlet close by, McManus believes the little dog could've escaped but was likely confused and naive after getting lost.
"There was no obstruction going on or anything," McManus said. "He could've been coming and going through the opening."
The puppy, believed to be roughly 2 months old, appeared to be dry and in good health on Monday afternoon. That may be in part because Roth's son started delivering food to the storm drain when she first discovered it, according to McManus. 
Now the rescued pup will be examined by a vet at Animal Services, where he will be available for adoption after a short holding period.
"People are so compassionate," McManus said. "So many people have come out to assist."