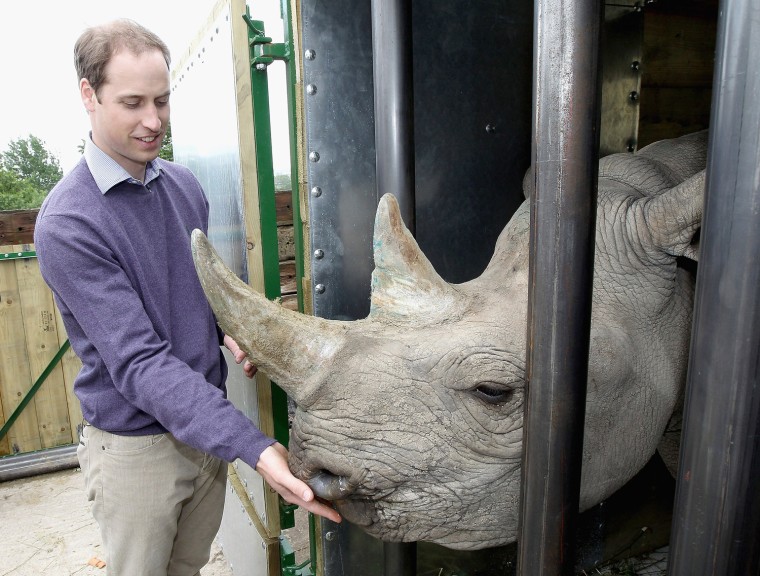 Prince William spoke out on Monday against illegal rhinoceros poaching and warned that if action isn't quickly taken, they could soon be extinct.
The rhino is one of "the most heavily poached animals in the world and if we don't do something about them it will be a tragic loss for everyone," he told the BBC in an interview on Monday.
He made the comments as three black rhinos were transported from a UK wildlife park to Tanzania in the hopes that they will breed and increase the population there.
Poachers are a continual threat to African rhinos. Their horns are in high demand in China and other parts of the Far East where it is believed that they can cure a variety of illnesses and conditions.
The prince called illegal poachers "extremely ignorant, selfish and wrong," adding, "It makes me very angry. It's a waste."
In the past five years there has been an escalation in the poaching of rhinoceros and elephants in Africa, with up to two rhinos a day being killed, according to the Tusk Trust, a U.K.-based charity which aims to conserve wildlife in Africa. There are around 4,880 black rhinos in Africa, according to the latest figures from the World Wildlife Federation. In 2011, 19 black rhinos were illegally killed in South Africa alone.
"My message to [people who buy rhino horn] is that we stop," said the prince. "It's a message about educating people and understanding that when you buy that rhino horn or ivory, you are taking this from an animal that has been slaughtered for this decorative ornament you have on your mantle piece at home. Is that really what you desire and what you think is right in the world?"
Prince William has long supported the Tusk Trust and visited Botswana with his brother, Prince Harry, on their first joint overseas tour.
"The Duke of Cambridge has managed to raise the profile of the poaching crisis in a way that no other person can," Charlie Mayhew, CEO of Tusk, told TODAY.com.
More from TODAY.com: