After having to break a car window to rescue a puppy stuck in sweltering heat, a Florida police department delivered a message that resonated well beyond local residents.
"Don't. Just don't,'' the Pensacola Police Department wrote on its Facebook page. "If you leave your dog in a hot car and that dog is suffering, we will do whatever we have to do to free him. Or her. Doesn't matter, we like both kinds of dogs."
The department also had a stern message for those who choose to allow their pets to suffer in the heat.
"We will drive your pooch to the caring folks at the Escambia County Animal Shelter and we will drop you off with the caring folks at the Escambia County Detention Facility. You will both receive attention, food, and shelter, albeit different kinds. So, don't."
RELATED: Man breaks window of BMW to rescue dog trapped in hot car
Dogs being rescued from hot cars has been an ongoing issue this summer, whether it's a Canadian man breaking a stranger's window to rescue one pooch or an NBC anchor in Denver "apologizing" to a dog for its neglectful owner.
The incident that sparked the Facebook message occurred at about 1 p.m. on June 26 in the parking lot of a Pensacola mall.
Cops received a call from a bystander who heard a puppy yelping from a car on a day where the heat index was 108, according to police Capt. Stephen Davis.
Officer Anthony Giorgio did not see an owner around and the puppy looked listless, so Giorgio broke a window with his baton.
He then put the puppy on an ice pack that he had in his lunch box.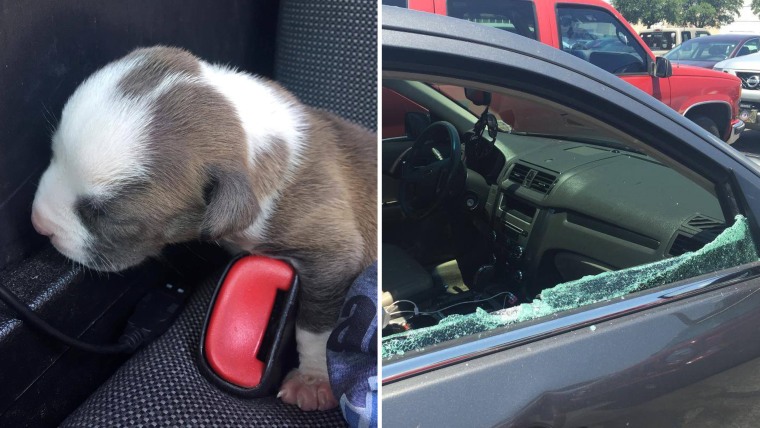 "We know everyone has lapses in judgement, but an animal's life is at stake here, so think about what you're doing," Davis told TODAY. "We weren't trying to roast the owners, just trying to bring attention to it."
RELATED: NBC anchor 'apologizes' to dog he found crying in a hot car
Escambia County Animal Control issued the dog's owners a $150 citation for the offense, which was their first, Escambia County spokesperson Joy Tsubooka said.
Florida passed a law in March that allows good Samaritans to forcefully enter cars without civil liability if they see a vulnerable person, usually a child, or an animal in distress.
RELATED: Summer pet safety: Cool off your hot dogs!
Anyone who breaks into the vehicle has to call 911 and remain on the scene until police arrive.
"People think you can just roam parking lots with a hammer knocking out windows, but there has to be other factors involved,'' Davis said.
"Just because a dog is in a car doesn't mean he's in distress. If there's any doubt, call us and let us make that decision."
Follow TODAY.com writer Scott Stump on Twitter.